This Monday was a stressful and difficult day for our office. And I am so delighted that it went well for our department. Actually, why was it stressful as compared to the usual days? I have already shared the reason for the noise.cash but now I am sharing it in detail with you guys on this platform.
Today our CEO visited our office. Let me brief you guys a little about our CEO. He usually lives in Dubai in his Villa. Well, he has villas and farmhouses in major cities of Pakistan. He always visits Pakistan once a year for a month. His team makes his schedule of visits because he has more than 20 ongoing projects in Pakistan. So he almost one day to every office. He visits to site and development projects to evaluate the progress.
Let me assure you something he is not easy to please. He always scolds his employees and treats them harshly. In short, he is a short-tempered and extremely rude person.
So he scheduled a visit to our office on Monday and shared it on Friday. I was carefree and enjoyed my weekend with my son but my boss was in tension on weekend due to an upcoming visit. Our boss always arrives office late but today he reached 15 mins before others arrived because he was worried about the visit. 🤣 Actually, I won't blame him too. The reason is for example if he visits the site and gets angry after seeing any poor and disorganized work. And after coming to the office, if any mishap happens related to IT like slow internet or any other, he would vent out all his anger and frustration on the IT department. This was what he feared.
But luckily everything went well. Internet was working smoothly, video conference setup was working efficiently. Two things happened that made us scared like hell, in the early morning but luckily he wasn't in the office that time. One thing when someone complained about no internet connectivity from the ground and first floor. Our office is in the basement and every floor has a patch panel room. We have racks on every patch panel room in which cables are connected in switches. These cables are used for internet connectivity for PCs and Mobiles.
All these switches are interconnected through fiber optic cables. But today one switch went down in the ground floor patch panel room which resulted in no internet connectivity in the ground and first floor. We didn't have time to check and resolve the issue but luckily the switch started work itself after 10 mins which saved our ass*s.
The second issue was our fault. We tried to check a backup internet link but one of our employees unintentionally loosen the power adapter of the firewall of the main videoconference room which resulted in shutting down our videocon room. We got lucky because our CEO was in his office not in the videocon room. Otherwise, I would have been writing about my termination here.
So everyone was trying to be efficient and make things work smoothly. Even our department cleaned IT repairing lab which they didn't for a long time.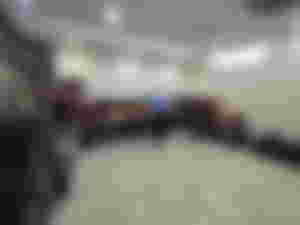 Just checkout the picture of our IT lap. The equipment you are seeing was in the middle of the room but they cleaned it up. 🤣
However, everything went well but our CEO visit wasn't good for other departments especially the maintenance department. The reason was dirt on the roads and it wasn't their fault. Because last night it rains like cats and dogs which made the roads dirty with mud. And it was impossible to clean all those roads in a day. And how would they do with 49 KMs road in their jurisdiction and they have only 50 road cleaners? Mean one cleaner needs to clean 1 KM which is quite impossible.
So our CEO got angry after seeing that dirt on the roads. After seeing his angry mood, our general manager HR decided to not present the policy he made for our annual increment which made us all disheartened. 😔 Because he feared it would make him angrier if he sees employees are asking for a raise.
That should not be the attitude but what can we do?
Anyways, tomorrow is a holiday so I am on my way home and hopefully, I will reach in half an hour in sha Allah. I am very tired because I went through the same journey in the morning and now I am going back again. Also, I wrote this whole article using my Mobile, so now my fingers are tired and hurting. I can't upload the Plagiarism checker report because I am tired and lazy enough to do it.
I know there would be mistakes in my article because I wrote this article on my mobile. So please bear it for today. 🤣
Thank you so much for reading my article.