Because Christmas is so near, I'm off to share a mass we do at every break of dawn and we call this Misa de Galio and we need 9 nights to complete this and my mom said if you were to complete this mass you can make your wishes come true.
I was then so young when she first took me to witness the 9th mass, I was so sleepy and didn't want to came up. But she told me I will see an angel going to the altar or Belen. Where Jesus was born. And then I noticed she brought with us a folding chair inside the church but I know there was so many chairs inside the church. Then I saw so many people inside, it was crowded a bit but my mom will never stop from her wants to witness that. Then we were excusing people for us to pass by. Then she found a perfect place and opened my folding chair. Inside the church I never heard a mass. But all of sudden lights went off the whole room went went dark and then I heard a voice I really forgot the whole words he was telling but I know and remember its all about Jesus and 3 kings that will be visiting the our baby Jesus. Then all off a sudden a saw ang angel moving really slow with a bit of low light in her. I was really starring at her and I was really amazed by how it's so magical but I know it was on strings but we there inside the church and hearing words of God that was really magical and you feel spiritual thoughts about it. From how did Joseph and Mary survive their hard part when Mama Mary is delivering Jesus. And all of the sudden the angel went down and we saw the beautiful belèn lighting up and all of us clap our hands and rejoicing our Lord was born.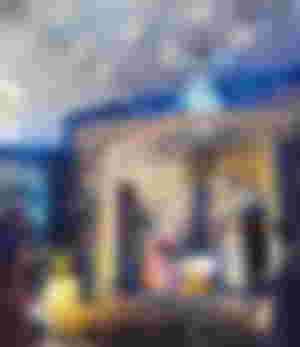 The angel brought the three kings so that was the reason why he was up there to guide those 3, and they brought gifts for our Lord. My mom told me that Christmas is not what we used to know, Santa clause, gits, Christmas tree. We have a tall Christmas tree and I was happy helping my mom arranging it the lights the decorations we offer it hours just to make it more beautiful. And most specifically the Bėlen. She told me that the Bėlen is the most important of all because that was the place where Jesus was born. So I told her mom every December 25 Is Jesus birthday then she told me yes. And up to now I'd still believe it.
Every year I waked up with gifts on my bed, under the Christmas tree but why I am not happy? Because as a child I want some child like me play with me along. We have neighbors I envy them because they have siblings. But I'm still happy because I have a lots of toys VHS to watch all over again my mom tried to give all that she can but it seems that time didn't have any voice to shout up. What Is important is today and tomorrow, and Christmas is getting so near so we need to have peace of mind and focus on the things that will make us happy not only by gifts but what we already have. To be contended and happy for what we already have and the true meaning of Christmas is love for ourselves and for one another.