Here in our country we have different kind of beliefs or (paniniwala) have you had that in your country? I want to know, and I also want you to know beliefs we have here in our country. I was born in Manila about 16 years and then after I was brought in this province and I was fascinated by the beliefs I heard! Does it really exists or happen?
Before we proceed thank you so much for reading my previous article "Not Aborted, But Adopted" (part 1) the second part will probably be tomorrow, but for now Let's proceed
Sponsors of UsagiGallardo215
Thank you so much my dear sponsors, do visit their works because you have so much to learn from them.
In our country, a handful of superstitious beliefs exist that are very famous amongst the natives. Theses beliefs are typically introduced to them at the early stage through childrens book or bedtime stories. It is believed that if natives aren't careful to follow them, a curse will befall to them.
But my mom never told me about those stuff, except for we have our little garden at the back of our house and maybe I did something wrong. My foot really swollen and I couldn't walk, when my grandmother saw it, she assumed that I was played by a dwarf because I did something wrong and I forgot to say tabi tabi po or excuse me I'm sorry. Then I was need to bought to a faith healer and after he sees me he knows that a dwarf played a trick to me and it's all my fault. After he cured me he said that I need to apologize to the dwarf I disturbed or I'll never be healed. Then after I got home i apologize instantly and told to never do that again.
When I was a kid me and my cousins knocked on the wood after we said words that were not meant to be, specially when its terribly bad. Like a slip of tongue, something unintentional. For example I might hit by a car after I cross the road and die. The person with you will knocks on the wood so it will come true. And we don't have to predict our life we just need to keep safe and be sure of our moves.
In manila the wake or remain stayed in the funeral. Unlike here in the province the wake stayed in their houses before being buried in the cementary. They'd said after you came visit the dead you might as well don't go straight your house they said the spirit of the dead may might follow you. You might stay somewhere else before going home.
I've first saw this when I was in my in-laws house, my father In law where running away in a hurry it was important so he got away while were on the middle of eating. All of a sudden they turned all the plates in the table then I wonder why? It's because they said it can prevent an accident to happen.
Another superstitious beliefs in the table is, after you finished eating and a person is left behind, you shouldn't not leave them for he or she will be lonely for the rest of his or her life.
After having four child I found myself believing this kind of superstitious saying that when someone noticed your child they need to hold the tummy of my child and said "pwera usog." For example at the vaccination center If someone noticed my baby and said, you're baby is so healthy and cute. I'll say "pwera usog po" Because If they told that my baby will experience pain in their tummy or even vomiting. We also put red lipstick with cross signs and wearing red bracelets so the bad spirits will not get near my baby.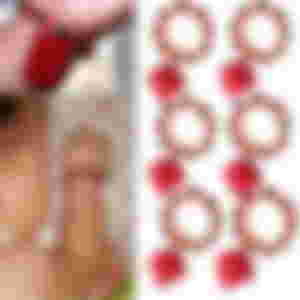 This superstitious is called "sukob" Me and my husband were decades together but where not yet married. Yet I heard that when it comes to marriage, siblings should not marry within the same year because they said you'll divide the luck between the two couples.
Another one was before the day of your marriage you should not wear your weddings dress or your not allowed to see each other or else something will happen.
We may may have different beliefs, either they are good to be true or not. But it's always up to to us to believe or not. But I do believe and as the old ones said there's nothing to loose If we believe and do the things we should do. We may not proved that things will happen if we disobeyed but at least we give it a try and thats only a proved that we are a true Pilipinos. And they are so many beliefs and I'm not even in one fourth but here are just some beliefs that I've known after I got here in the province and thank you for reading.
Thank you so much for dropping by, your comments are important to me.
Love, UsagiGallardo215 🌙