How to Apply for a Job on Twitter
Today, I have learned a unique skill from a highly followed content creator. And he is "Mr. Beast." Yes, the very famous "Mr. Beast," our friend @Pantera, recently featured in his article.
"Mr. Beast" showed how to send a Tweet and explore a suitable job on Twitter.
The Tweet is displayed below from a simple screenshot of my reTweet.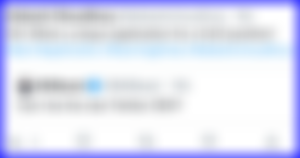 Screenshot Source
---
I don't know what you would do, but I will learn and apply the skill very soon.
I don't rule out for myself applying for such job positions!
Yes, I may apply for a possible job position in public.
---
This is the concise article in my shortest series on Personal Branding.
It won't take more than a minute or so to read!
---
Twitch: Debesh Choudhury.
Odysee: Learning Times, Debesh Choudhury, Music, Film, etc.
YouTube: Learning Times, Debesh Choudhury.
Check my recent short video on the topic of personal branding!
Video Source
Cheers!
Unity (Debesh Choudhury)
Text Copyright © 2022 Debesh Choudhury — All Rights Reserved
Join me at
Twitch, CashRain, Odysee, LinkedIn, Twitter, NoiseApp, ReadCash, Publish0x, and Facebook.
Lead Image:  Screenshot Source.
All other images are either drawn/created/screenshots by myself or credited to the respective artists/sources.
Disclaimer: All texts are mine and original. Any similarity and resemblance to any other content are purely accidental. The article is not advice for life, career, business, or investment. Do your research before adopting any options.
Unite and Empower Humanity.
#job #application #socialmedia #twitter #personalbranding
Dec 23, 2022