Freedom is the Best Wealth
If you boast of your wealth, what is the best wealth you think you have in your life if you do so? You might show your expensive and imported car. People often post photos of them with their new and costly vehicles.
People post their cryptocurrency holdings. Bloggers also post about their earnings. I have read innumerable articles on different platforms. Users on our lovely platform regularly publish their monthly/yearly earnings.
---
Boasting and bragging are a habit of humans
Bragging is not at all bad for the bragger. Boasting and bragging can act as boosters to enhance self-belief. The simple act of a self-bragged person can help them to get rid of negativities.
What should you boast of depends on your choice and also on the mental state you are going through.
The article's title implies I like freedom over many other things in life.
---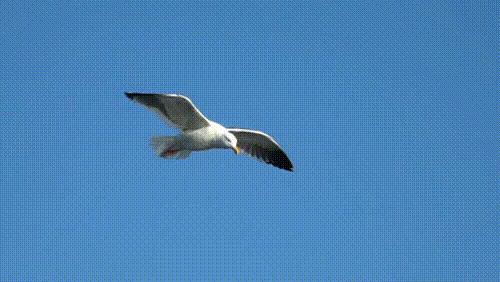 Graphics: Video by Michael Scott from Pexels converted to GIF.
Have you looked at the free birds flying in the sky and the captive birds that some of you put inside a cage in your home?
The basic difference between the birds, or any other pet animals, and the animals who are living in nature is freedom.
The animals in nature enjoy an abundance of freedom.

The animals inside your cage that you show with pride live a life of prisoners.
The animals in nature live an independent life. They face nature's seasonal gifts, such as storms, rainfall, snowfall, and similar natural changes during the year.
The emperor penguins walk miles under snowstorms and reach a safer and warmer place to lay eggs. They walk miles to reach the seawater and catch fish to eat. A few unfortunate penguins may become food for larger aquatic animals inside the sea.

Sometimes, the animals face severe drought. Some animals die due to scarcity of water and food. Most of them survive the rough seasonal calamities. Above all, the animals enjoy freedom.
On the contrary, look at the animals inside the zoo who get regular food, water, sometimes electrically controlled environment, but in a prison.
---
I quit a permanent government job for freedom. I had a decent salary and other parks. But, it was a tyranny and compromisation of ethics and integrity.

I rejected proprietary software and have been using GNU/Linux, free and open-source software, because I want freedom of using software in my computing life.
Freedom is probably the most valuable feature of our lives.
If we lose freedom, we can't do anything that matches our ethics and integrity.
People proposed and developed cryptocurrencies to get rid of the tyranny of the governments' financial control by centralized banks and fiat currencies.

People prefer self-custodial cryptocurrency wallets to custodial wallets in centralized exchanges to avoid third-party control and chances of getting tracked by the government regulatory boards.

People want a blogging platform that supports freedom of speech. We say a lot of censoring on the mainstream Internet during the last two years of the so-called pandemic (or PlanDemic).
In each case, we can see proof that most global citizens want freedom.
---
We can understand from our life experiences what matters most. Having a considerable material wealth without any freedom of living is similar to living in a golden prison.
Can we say that freedom is the best wealth?
Again, it depends on the choice and mental state of the person concerned. That is the reason we see people accept tyranny over freedom. The compromise some people make is for money and food.
Try your best to attain self-sufficiency by earning a basic livelihood without compromising ethics and integrity.

Acquire more skills, and attain freedom of living.

Have a minimum grit to intensify self-resilience.
Enjoy freedom in almost everything in your life.
---
I am from Science, Technology, Engineering, and Mathematics (STEM) field. I have also added "Arts" and "Fine Art" to my interests and made my current interests STEAM - Science, Technology, Engineering, Arts, and Mathematics.

I develop password security and cybersecurity solutions relevant to cryptocurrencies, blockchain, and other block-less distributed ledgers.

Thanks to all my sponsors, whose names appear in the "Sponsor" pannel.
I hope that the entire blogging community will strive here and elsewhere.
If you have a little time, consider to explore my "Learning Times" and other channels on Odysee-dot-Com and earn crypto coin LBRY Credit or LBC for consuming and creating content.
Cheers!
Unity (Debesh Choudhury)
Text Copyright © 2022 Debesh Choudhury — All Rights Reserved
Join me at  
Odysee, LinkedIn, Twitter, noise.cash, read.cash, publish0x, and Facebook
Lead Image: Animated GIF created using the title text and a Photo by Andrea Piacquadio on Pexels.
All other graphics and videos are credited just below it.
Disclaimer: All texts are mine and original. Any similarity and resemblance to any other content are purely accidental. The article is not advice for life, career, business, or investment. Do your research before adopting any options.
Unite and Empower Humanity.
April 15, 2022.