In the previous section we know about the formations of lines in ichimoku. Today we will continue with the next part. The Cross lines
Every time when price crosses each line, it has meanings, such as the price crosses the Tenkan sen, crosses the Kijun sen, crosses the Chiko span, crosses the Senko span 1, and crosses the Senko span 2. But not only that, when a line crosses the other line also has a significant meaning to know how the market sentiment is changing at a glance.
 In Ichimoku Kinko Hyo, crosses of each line are significant.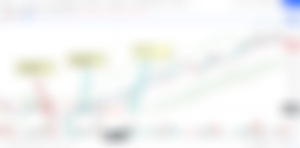 For example, famous one is the crossover between the Tenkan sen and the Kijun sen. When the Tenkan sen crosses the Kijun sen upwards, it is called a sign of an uptrend (so-called buy signal), and if the Tenkan sen crosses the Kijun sen downwards, it is called a sign of a downtrend (so-called sell signal).
Now, there are many times where any two of the five lines cross on the market. In fact there are important crosses and non-important crosses, which I will explain step by step in later part. For now, just keep in mind two things as below.
 • All lines become potential resistance and support lines.
Crossesofeachlineareimportantandhavedifferentmeanings
Sponsors of Trading6677028