The above figure is a chart with Ichimoku Kinko Hyo. Ichimoku consists of five lines. The five lines are "Tenkan sen", "Kijun sen", "Chiko span", "Senko Span 1", and "Senko Span 2". Then, the space between the Senko span 1 and 2 is colored, and the area is called a "resistance zone" or so-called Kumo (Cloud).
Among these 5 lines, first get used to the names of each lines so that you can quickly identify which line is the Kijun sen and which line is the Senko span 1 etc.
Now, let me tell you how to distinguish these lines.
First of all, you can easily identify the Chiko span, which is the only one that's lagged or delayed. On the above diagram, the purple line is the Chiko span.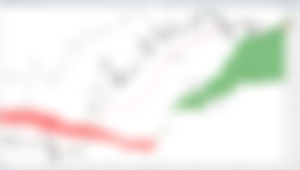 Next, look for the Senko spans 1(A) and 2(B). They create a zone called "Kumo" and it's forwarded to the future, so you can easily identify that this is the Kumo, Senko spans. Now the question is, which one is the Senko span 1 and which one is the Senko span 2?
It might be a little tricky because sometimes the Senko span 1 comes on top of the Kumo, and sometimes the Senko Span 2 comes on top of the Kumo. Here is a simple way to identify them. Senko span 2 gets flatter than Senko span 1. Senko span 1 moves up and down more often as compared to Senko span 2. Also, when Kumo is moving up, the Senko span 1 is the upper part of Kumo and Senko span 2 is the lower part of Kumo. In contrast, when Kumo is moving down, Senko span 2 locates the upper part of Kumo and Senko span 1 becomes the lower part of Kumo.
Finally, let's try to identify the Tenkan sen and Kijun sen. Simply, Tenkan sen is a line that is often close to candles. And the line that is usually far from the candles is the Kijun sen. Also, when the market is in a range, Kijun sen becomes flatter than Tenkan sen. (There are cases when Kijun sen comes closer to candles, like when price goes up and down rapidly. But in general, Tenkan sen gets closer to the candles than Kijun sen because it takes shorter period.)
Sponsors of Trading6677028