Hello awesome people! I actually posted short post on the day I created this account. So yeah, this my new account here. I get rid of the old one since I created it maybe about 7 or 8 mos ago. It only had maybe 4 articles I posted coz I was a busy person. I just want to get started to this platform again and maybe make more time than I spent before.
Let's get started!
I want to remember this very first article I am going to publish as YOU getting to know me. Today is November 7th, 2021.
Since everyone is raised in a different family, so let me start giving you some side of me being in the family.
FAMILY
We are 6 in the family, no, 5 i mean and I am the eldest and only daughter and a second child of my parents. We lost our father just this year and I actually posted an article about it on my prev acc out of the sadness I felt. Anyway, Im the first one who graduated college. Way back high school, we tend to argue with my siblings coz I am very particular in organizing the things at home, keeping the home clean and of course, and everyone should have atleast assignment at home. 😅 and you know most of the boys don't care about it. I was a papa's girl. Ain't that close with my mother but I love them both so much. I have this thought in my mind that they didn't love me. I don't know, I just felt it but it doesn't change the love I have for them and even to my siblings.
To my grandparents,
College days aren't all good. Sometimes, my parents had a hard time finding money for my allowance and then grandma sometimes gave me money secretly and says"don't tell your mom that I gave you money". Who can relate to it? The parents of my mother are very affectionate to their grandson and granddaughter. Thus, we also love them so much. If I have extra money, I always give some to them. Not as a return of their goodness to me but as them being a good grand parents to us. I even bought lola(grandma) a cake on her birthday just this year.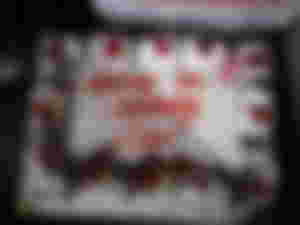 My favorites
I always like Brown and pastel colors, from shoes, wallet,bags and some other stuft except for lipstick, of course😅. My cousin Charlotte knew about it since we had lived in the same roof before. Moreover, Charlotte is my favorite cousin. I adore her that much. She's the only cousin I have whom I can share my problems with. we don't hang out often since she's busy with her small business and I'm busy with my work and some personal stuff too but when we're together, we won't run out of topic. We talk so much when we're together. Haha
I don't have a fovorite sibling since I all love them fairly. I'm a type of sibling like I will do everything to make them happy in anything. Whenever they need me I always make sure that I'm there for them. In fact, I'm the one who sends our younger sibling to college. Though, there are times that the money I have seems not enough but still his allowance should always be a part of the budget and I make its enough for his weekly allowance, unlike when I was in college.
My favorite person is my boyfriend. He's always with me during my downfall and joyful period of my life. He makes me happy. He makes me go out of my comfort zone. He is the person I have who gave me flowers and chocolates on our nonethsary and anniversary. If you have someone who turns your darkest days to a bright day, as much as possible fight for them.
In terms of luxury
After I graduated college and earned the license, I become the breadwinner of the family. I tend to forget buying expensive things for me. During my payday, I just treat myself with foods and male myself full. That's all! Seeing my family happy and living a way comfortable is enough for me, its makes me so happy.
I like doing and going..
Beaches. You can see sunrise and sunset there. Hearing the sounds of the wave is a music to my ear. They made feel relax and meditate sometimes. Realizing my problems and getting to know me more. I always choose to go to beaches rather than going to an adventure places. Adversities in life. They were my twin. They also make me strong everyday.
I'm n indoor person. Rather than visiting to places I'd like to just stay at home. Cleaning the house and taking care of our youngest is very satisfying to me. I felt productive. I overjoyed cleaning the house while music is playing. I like classic music. Their meaning are very heartfelt.
Seeing other people suffer and in pain is so much hurtful for me. I always pity them. Sometimes, I'm afraid to help coz maybe my help was rejected before. It was painful. At times, I offered help when I can.
To all breadwinners,
We get exhausted in evrything but preserverance, passion and drive is we need to keep going. To all bread winner, I know it isn't just a cup of tea to fight our silent battles and all. Remember that all of this will be paid off soon. I know we had lost our own dreams to fulfill others dreams but one day will come to us and we will be given enough opportunity to be more better and be successful. Things we desire aren't our thing anymore, instead we think of our families needs. Sending hugs to everyone!
---
That's all for today. Have a blessed Sunday everyone! Thank you for dropping by. Nice meeting you guys.
Lead image from Google..
---
If you want to know my daily activities you can see me at noise.cash too. Here's the link: