The wedding dance: revelation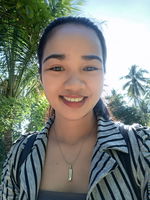 "Lumnay I want to invite you to my wedding with Madulimay. I'm sorry but I have no choice but to marry her because I need to have a child and you can't give me that." Awiyao is hesitant but continue. Lumnay face Awiyao and slap him,"Is that easy for you to replace me? Really? Is that really easy for you to replace me? This is absurd." She cries while she says the word. Her heart broke a thousand pieces but she's angry upon hearing Awiyao.
Lumnay leaves Awiyao in silent and went to the mountain crying. She thought of everything and realize she still inlove with Awiyao and she cannot accept that he will be married to another girl.
Meanwhile at the wedding.
"I now pronounce you husband and.."
"Stop, stop the wedding, Awiyao can you just please come back to me? I'm here now. Let's get back together again. I've been thinking it all. Let's not throw everything away just because I couldn't give you a child."
Awiyao doesn't know what to do. "We're over Lumnay."
Madulimay is in total confusion. " What's happening? I thought you are okay that Awiyao will be remarried."
"Please Awiyao let's be together again." Lumnay begs Awiyao.
"Just accept it Lumnay" tells Madulimay
"You conniving woman, you take this man away from me." She answered Madulimay with eyes full of anger.
"Oh, really? You are just jealous that I can give what Awiyao needs but not you." With mockery in her face Madulimay stands near Lumnay.
"Stop, stop the both of you! Stop it! I have a confession to make. I, I can't be actually fully committed to any of you, I actually love someone else." He grabs the his best man. The one that I truly love is Rai."
Everyone is shocked.
" I am a gay." Awiyao continue. " I'm so sorry, I have been hiding this from so long. "
Madulimay slaps Awiyao," you decieved us. Really? With my own brother? How could you?" She attacks Awiyao but her mother hold her. " Let go of me."
"Let's go my daughter. He don't deserve you." Her mother console her. She cried and they walk away.
While Lumnay tries to process everything and realize after hearing it all he still loves Awiyao," I could still accept you for who you are Awiyao just be with me."
"No, Lumnay. I love Rai." And holds Rai in his arms.
"Then I might accept that you no longer love me, goodbye Awiyao. I hope you will be happy." She walks with tears in her eyes.
Thanks as always to this wonderful soul. God bless.
This is an adaptation of the original story of the wedding dance by Amador Daguio. The wedding dance is a story of A girl named Lumnay whose husband named Awiyao was married by another girl name Madulimay because she couldn't bear a child for her husband who is a chief in their tribe. The law of their tribe entails that a chief must have a child in his marriage for him to have his heir since Awayio did not have a child with Lumnay thus he is bound to marry another girl. That's how this story goes but I ask my students to create their own script for this story and write a creative one and this is the result. Thanks for reading.