BCH had saved me from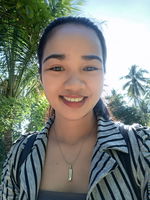 It's Monday again, another week has started and I am grateful that I survived for today. When Monday passed I would feel that days will gone by so fast. Tomorrow is Tuesday and Wednesday will come soon and Thursday too and yeyy it will be flyday again. Haha sorry Naman excited lang po ako.
Anyways, so much about Monday. Hehe Before I continue, lemme flex my sponsors.
To all my lovely sponsors. Thank you, thank you so much. To @foryoubtc09 thank you very much for the renewal.

Know that you are all appreciated. God bless.
Since the beginning BCH had become my savior. It really helped me a lot on many things from small to big things. I am much grateful being a part of this platform. And I am grateful to @Zhyne06 for giving me the opportunity to earn in this platform. Thank you for the patience ate I would be forever grateful to you.
Home Credit Bills
I have my monthly bills since I get to credit a mobile phone to be in this platform. Since the beginning, my earning from this platform is what I paid for it. And proud to say that I had finished my 1 year contract for my credit, thanks to my BCH earning here.
Monthly Load
Since I earn BCH here I get to have my monthly load. I put different wallet for my monthly load thanks to my BCH earnings. Though I get to stop for few months after Odette because the internet connection is very much unstable here in our place. But this month I get to have the chance because I finally get active here again. I hope I would be consistent.
Emergency Bills
BCH had saved me from different moments that I need money for emergency aspects such as father's hospitalization after he fell from his work and injured his ribs and back. I get to cash out few thousand from my wallet. Thanks to BCH I don't know where to get money if I don't have earnings here.
PRC registrations
I also get to pay my registrations in PRC for different documents. And everytime I need some money in gcash for the online transactions, I am always saved by my BCH earnings. If I don't have my BCH I don't know where to get money to pay for the registration.
Helping a friend
My BCH earnings does not only saved me but also my friend and family. Whenever my friend need some gcash amount to pay for tuition or any emergency bills they need to pay, I can't say no to them because why not. I can't tell them I don't have when I do have, because they say if you say you don't have it will surely vanished.
BCH is a blessing to me and to my entire life. It makes money matters some what manageable because unlike before I don't have anything to spend whenever I need money especially for emergency bills because I don't have any savings or extra amount. When BCH came I could tell the big difference.
BCH not just saved me but also pampered me of my wants and provided me my basic needs. I could spoiled my mama for some extra fruits and bread. Simple things and needs in the kitchen. It's quite small but makes a huge difference. There is a huge difference from before I meet read.cash and earn BCH.
Few months from now I will be celebrating my one year here. I could tell more stories and could share to you how I become part of this platform and how I am as a writer here.
That would be all for today dear readers, thank you so much for reading. I appreciate you all. God bless you always.