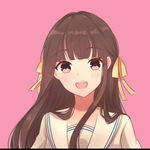 Long time no see! Readers, I am finally back to share some stories with you all, but this time I am gonna write my dads near to death encounter with sharks. Hope you enjoy and continue reading this. I'll go straight to the point and let's focus in the main topic.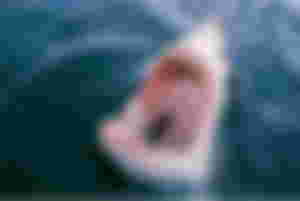 The True To Life Story Goes like this
Shark attack: Attack of a person by a shark. Not all shark attacks are feeding events. Sharks sometimes grab people by mistake. Other times an attack may protect a shark's space, much as a dog barks at and bites intruders.
When he was around 19 years old, my dad lives in a coastal area, and fishing is what they do for a living. Everyday, he was always fished at dawn in the deepest part of the ocean all alone.
To make it short, my dad woke up early in the morning to do his daily routine. When he was in the shore already, he was bothered with the deafening silence that gave him a hunch that something will bad happen, it sounds odd but that's how it goes. The sea was so calm but he feels that there is something underneath the water. 1 hour later, he was so happy because he caught a lot of fish, but suddenly a solid object was banging her boat below, he started to feel uneasy and got panic. He was praying to God hoping that he will be save from that nightmare. He shouted for help, and calm himself. The shark kept on hitting his boat and even surrounded him as if it were threatening to attack him. He stayed at the shore for almost 3 hours but no one had seen him yet, he almost cry and loses his hope that he will die there.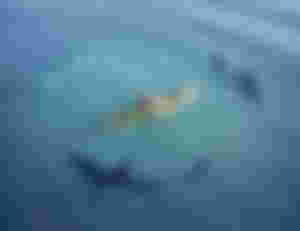 After a long time of waiting, a boat was passing by for about 30 meters away from him, she quickly took the chance to shout for help with all his might. Luckily, the stranger saw him but when he saw the shark that surrounds my dad, he got scared and paddle away. When I hear my dad's story I felt pity for him because he needs to experience that kind of horrifying encounter. To continue, he was losing any hope, he was afraid to make a sudden move because he knows that any vibration from the water would get the sharks attention. God was the only one He could ask for help, and finally after an hour a palm boat has arrived to rescue him, he was so confused who told the rescuers about his situation. Instead, of thinking that matter, he immediately jump to another boat and just praise God for the miracle and he almost hug the fishermen who rescued him. He asked, who told them about his tragic condition back there, and all they say was, a fisherman saw him surrounded by shark and he hurriedly ask for their help to rescue my dad. My dad thought that the man who run away was the one who approach the rescuers, even though he didn't know the name of the man who save him, he still never forget the heroic act of that good fisherman.
I was indeed amazed and sad at the same time hearing my dad's terrifying experience from the ocean, and if I we're in his shoes, I might lose my mind and got panic or maybe eaten by the shark, geeezz just by imagining it I got goosebumps.
Thanks for reading, hope you'll have a great weekend!
Check their amazing works!
All photos are from google.com