The first opening of my 220 Chaos Legend Packs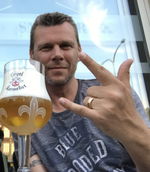 Guess that I am not the only one who did purchase some Chaos Legend packs. I did save 800 credits in the past months. Due to the fact that I also had more than 20 vouchers, I could purchase 200 packs and got 20 as bonus.
While everything is itching to open them all at once. I won't.
There is even a probability that I won't open them all. I could be that I will save 10 or 20 to sell when all packs are sold out.
The rest will be opened in batches. So I did start with the opening of 25 packs today.
To make the math easy let's forget about the vouchers and just set the purchase value on $100.
I do open them in batches of 5. I still have some Alchemy and Legendary Potions. So let's see if they do their work.
Well the first 25 cards weren't exactly a dream opening.
No Golden foil; no legendary. With a value of $7.79, way below the purchase value of $20. The best set of 5 was this one.

A little bit better with 2 golden foil cards.


The packs did have a combined value of $16.43.
Not bad at all. $24.22 after 10 packs but would have been better off purchasing those cards on the market.
The opening of the next 5 packs, was more or less back 2 square one.

So again a loosing opening. But the combined value of $12.11 isn't bad at all. Remember that when you are opening packs, you are hoping on Golden Foils, Legendaries and Summoners.
Still waiting on the magic of my potions. They could kick in at any moment.
And voila; a golden foil Epic card. That's why we do this.

To bad that the other 4 packs were just fillings.
So after 80 packs we have a value of $73.02.
The last 25 cards for today. Would be great if we could score another Legendary or a golden foil.

That's more like it. A legendary and an Epic in one set. That does push us forward.

And a golden foil in the last 5 cards.
To my surprise, the combined value of the cards was more than the purchase value of $100. A profit of $5.87. But like we all know, lot's of packs will be opened and probably lot's of cards will be offered to the market, which will have an effect on the value.
After opening 84 packs, the combined value of my Chaos Legend cards is $356

So more or less break even. But with the purchase of those 220 packs, I will have more chances on some airdrop cards. Also due to the fact that I won't open them all, I will get some extra SPS airdrop points.
Let's hope the openings of tomorrow will be better!
Cheers,
Peter
Sponsors of TheCryptoGambler