KCS accumulation phase is completed! What crypto to buy next?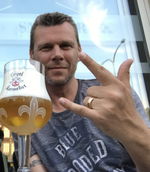 I have been working on this for some time, but finally I did accumulate 400 KCS, the native coin of the Kucoin exchange. I do know that there are/were rumors about their solvency, but so far they only look like rumors. I did sell a huge sum of my tokens in April with a value of around $17, so buying them back now seems like a bargain. Time will tell if this was a bargain!
Now this accumulation phase is over. I will let it ride from here. When the value go above 10 again, I will sell 25 and will sell another 25 when it is above 15, leaving me a healthy 350 KCS. While the snowball effect isn't as big as on Hive, it does have staking.
So I have been looking around to see in what other coins to invest, but all the articles I do read are way too positive about cryptoshpere in 2023. I am not as much looking for a coin which could go over 1000X, but a nice, steady and decent investment.
I rarely find articles which coins not to buy. And believe it or not, they can't all go 10x times in the next year.

I also need to write that I do believe that we haven't seen the bottom yet of this crypto winter yet. The global economy will continue to be downwards for some time, so not a lot of people are willing or could to invest fresh fiat money into crypto, which is needed to start another bull run.

We also know that we have to buy when the value has dropped/is dropping and have to sell when it is climbing, while blood has run through the streets and probably some more blood will follow. I will start investing again on a weekly basis, cost averaging my targets.
There are almost 8700 coins listed on coinmarketcap, so it is not surprising, that I can't see the wood anymore due to the trees. Just to many of them and we can't investigate them all.
Of course we do have the main contenders like Bitcoin and Ethereum but I did read from a stock trader that it is better to have 40 different stocks, than 10. It is all about spreading the risks!
I do think that Binance could become one of the big winners of this crypto winter. They really seems steady and healthy, with competitors falling over it give them a lot of market space to conquer! So, yes Binance coin is on the list. Also as one of the top coins it doesn't have enough share in my portfolio! Only a portfolio share of 2.5%, which is too low.
I also am thinking about Cronos, while not in the best shape and the moment, I am willing to take a risk and invest into it. Also with the possibility that it could go bankrupt, but also could go up 3 to 4 times when the bulls do enter the market.
A dream I had when I did enter crypto, was to have 100 NEO. With it's current value this could be in reach. But there doesn't seem to be a lot of activity going on there! At the moment I do have 40 NEO, which the most I ever had in my portfolio. But this seems lot a decision of the heart and not the mind. Those are mostly stupid ideas!
But what other coins are worth to investigate? Which coins are you buying at the moment?
Always open for some ideas! Of course I will do my own investigation!
So, some of my personal ideas in here, not a investment advice. I just don't know enough of all the cryptos to give any advice!
Or is the best to convert into fiat and run away, never looking back? Could be, but that's not my plan!
Cheers,
Peter
Sponsors of TheCryptoGambler