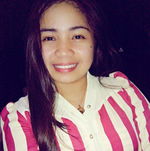 Hello, readers. How's the start of December? Is everyone has already a presents for their loved ones? How about you? Remember that, we deserve a reward, a treat after all that we've been through this whole year. We deserve something to have this Christmas. A simple gift is enough. 😁
Thank you my dearest blessings. 😍
We all know that 18 days from now it's the Christmas holiday. I hope and pray that we will celebrate this year Christmas with great joy and unending Thanksgiving to God for He deserves it. He makes all things bright and beautiful from the dark days we encountered just this year. I pray also that we will be able to celebrate this coming holiday with good health even if the virus is still roaming around looking for another victim. 😅 But we are done with that. We see in full confidence now because of the remedy that we took which is the vaccine. Thanks to God for the solution. 🙏
This is the first-ever Christmas that we celebrate with my daughter. Last year, I was still pregnant. Now, that she has arrived, we will be able to celebrate it as family. I am much excited to rejoice in this holiday that our daughter will be going to witness the essence of Christmas now. She will be able to see the Christmas lights everywhere. I am excited also that any time from now, she will receive gifts from the people around her. I am much happier seeing her happy with her presents soon. 😃
But in my part this Christmas, I am contented and satisfied that she is healthy and happy. As long as she is in good condition. I am okay with that. I don't wish for somebody to give me some wrap gifts this season, it's fine with me if my baby is well and delighted. I don't ask for more this Christmas, but only good health to my whole family especially to my lovely daughter. It is the best give that I am going to receive this Christmas and I am still praying for that now. 🙏
It is okay if you will say or call me that I am overacting or whatever. What I know deep in my heart, the truth within me is that I am okay, 100%, regarding my baby's health. For me, I am more blessed with that. I don't know but as a first-time mom, this is sufficient. This is more than enough seeing my baby happy, healthy, and far from any danger.
As a mother, I am always rooting for my baby's sake rather than mine. It is okay with me if I don't receive anything for this Christmas as long as my baby is fine and healthier. But if someone insists to give me some, then I will still receive it anyway. It is a blessing. 😁
---
That would be all for today. Sorry if my content is boring. I just want to express what I felt at this moment because just this morning, I saw some people who received already presents from their loved ones. And I come to realize that for me, it is okay if I don't have something as long as my baby does have. This measures a mother's love for her kid/s.
Thank you for reading and dropping by. God bless us all. Shalom! 😇🙏
Date Published:December 7, 2021
Blessed Author: Thania05 📝👌💰
        BCH DREAMER 🤑