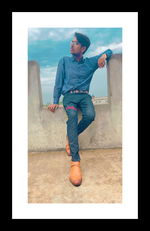 Wires have decreased the beauty of buildings. These wires look like cage against the beauty of buildings.Hafizabad city is an old city dating back from Mughal's era. If you visit the main market of Hafizabad you will be amazed to see the beauty of market. But stop here, take a breathe and look over your head then you will remain stuck when you will see that market has a unique architecture dated back from old era.
The shine of market along with the technology and lights have faded away the real spark of old buildings. The real picture of city is now fading away as many coverings of modern era has covered it.
There are so many buildings on which Hindi letters are mentioned but you can only see them if you are curious and explorer.
Oh, I forgot to mention that not only wires but banners are also hindrance to fade the beauty of urban area.
May be you are thinking that why i went Hafizabad City?
Today i got my salary from school where i did work.I already had plan to buy new shoes for me. That's why i went to city.
After ending the shopping session, we headed towards Fancy Food Corner.Well, People were moving in the market. Some were buying and some were selling.
Fancy Food has parking area in basement and it is a famous food spot in the whole city. Biryani of Fancy Food is just awesome.
On entering the restaurant you will see stairs which will lead you upstairs. But naaaah, don't go up because i would like to sit downstairs. So let's go.
We ordered two plates of biryani. Biryani was tasty that we finished in just 5 minutes so you can make guess that how much tasty it would be.
Later on, Moaz and I went to Train Station Hafizabad. I was sad to see so many wrappers there.
Moaz clicked me in the mobile's camera. I was not intentionally there to snap myself. I was actually focused to see the beauty of railway station.
You see, There was another person along with us. Are you seeing him on the ground? No?
Focus - that's shadow, which was also with us.
Just three steps away from this railway station, there was an abandoned government building and that was closed. That's why i could not enter it. It was looking so beautiful. I don't know why i am in love with abandoned areas.
That's the story of Today's Travel To Hafizabad City.