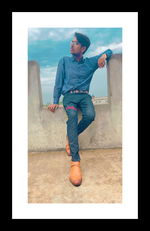 I was thinking that when these brick kiln were not?how people used to make their houses? Only one answer popped up in my mind; they used to live in caves and they used to live in the houses made of clay.
Then second question came to my mind; Are these brick kilns are inventions of Industrial period? Well, to know the answer i googled this question and i found; Yes it is somehow linked with industrial period. Every country has seen industrial period in different dimensions. Some countries are seeing industrial period in the recent times and some have already witnessed it in their lands.
Coming to the point, i went to village canal with my friends. We ate Samosas there. We saw a swimming pool close to us, we could not stop ourselves to jump into it. We enjoyed the water for thirty minutes and then we headed back towards home.
But we thought that we should not go on bike rather we should walk so that our dresses will get dry.
On the way, We saw a brick kiln. Unintentionally i opened my mobile camera and went near to it.
There was a little tunnel or i don't know what was that. May be it was the way to go to the other side.
When i went inside those walls which were built around the kiln, i found that there were so many bricks which were not placed in fire. Workers were doing work but they were working about 3 meters away from me. I didn't disturbed them and i just seeing their work.
When i was walking there, my mind was constantly thinking about wages of the workers. They are hard workers and they do work all the day. But i don't know what is their pay.
Bricks were placed in a manner under the high sun which was helping them to become rigid because they have to be ready to face severe environment.
Close to the brick kiln there was a marriage hall. Most probably this was built by the bricks which were fired in that kiln.