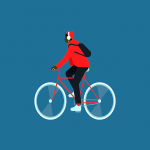 The title itself says it all. With the emergence of read.cash, you will not only turn your hard work and passion into a few amounts worth of BCH, but you will also learn different things about cryptocurrencies, and most especially to BCH. It is a continuous process. You are learning and earning at the same time.
When I first joined here, which is about a week ago, the fund is just half of the fund's current amount. Now listen to me. It reaches a million-dollar amount of BCH now! Thanks to the very generous man, Mr. Marc de Mesel, who has always been good. A million blessings to come to you, sir.

As of the moment, we can see seven digits from the fund - $ 1,106,135.04 to be exact. By doing the math, it is about 2,322.98 BCH with 1 BCH, amounting to $476.14 each. Note that these values may change over time since it is volatile, meaning it is liable to change quickly and unpredictably.
By utilizing your talent, passion, heart, hard work, and determination, you will also get a share from the fund. Like they say, it is free to dream. And in here, your dream of earning while learning and doing the things you like to do, such as writing, will come true.
At first, you may experience having a low number of views, but do not be discouraged. It is always the biggest test for newbies. Been there, done that. But if I have one thing to share, that is to never stop on writing. Think out of the box and show your own style. If you already gave up in the beginning, you will never reap the sweet fruits you may get if you give your passion and hard work to it. Remember that there is no such thing as a piece of a cake. We need to work hard in order to attain it. Because the fruit of our labor will be the sweetest ones.
As per read.cash's stats, the platform has 50,222 users now. This means that more users are becoming aware of it, especially to BCH. We can share it with our family, friends, and even classmates to know this good news and have a background regarding Bitcoin Cash.
The number of users increases, and the competition to get a share from the fund is becoming more challenging. But do not think of it as a competition. Instead, think of it as a hobby where you offer your time and passion with love.

Just like read.cash, noise.cash is also another site that helps you gain a few amounts of BCH. Still, you will also be able to find friends by interacting with numerous users and expressing your thoughts towards something that others who have the same interest may find interesting.
Remember that if you put extra effort into anything you do, you will be able to reap a sweet fruit. Do not get tired of writing. Instead, love it more to earn and learn more about BCH. Because again, BCH is you and you, and you, and all of us. (Ops, you might sing as well.)
In the near future, it is not impossible that BCH will become famous all over the world. As it continues to be renown in the whole wide world, it could be that it will also then used as a payment method beginning from small businesses. Together let us claim that this year will be the year that BCH will fly to the moon. So, just hodl and aim for the best! It could be a dream come true once BCH starts flying high.
---
Thanks for sharing your time in reading my article! Rise and shine!