September 2020, live in Confort with Alchemic Journey.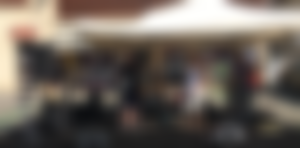 So why this picture which is already 8 months old?
"Le Temps Qui Passe.. (The time that passes). Yes! 8 months without being able to meet people on stage. Time seems so long sometimes.. That said. Despite everything, we have not stopped working. The access to our rehearsal room forbidden, we organized ourselves as we could.
Let's thank once again Anne Bardoux who warmly hosted us the time to record the Single "Un Espoir" for the CD "Je S'aime Et Vous?" and some good rehearsal jams from the end of December 2020 to mid January 2021. And then, we managed to find a slot to rehearse quite regularly at our bass player Jimmy Creton's place. Sincere thanks to him and all his family for putting up with us as the work sessions went by. A beautiful place, very inspiring. New ideas were born, like for example the title "Je suis" ("I'am") that you will discover very soon. We were able to reinvest our rehearsal room, so we are very happy! :0)
So we are back, we will announce you the dates that are preparing for this summer, as they are confirmed. You can already note the concert that we will do on August 20th 2021 at Les Allobroges. "Les Allobroges - Alchemic Journey Rock Concert".
On the other hand, the concert which was also planned for this day at the Allobroges is cancelled. The containment measures do not allow it yet. Sorry, so..
See you soon! :0)