Business Of Cosmetics Can Be A Good Start Up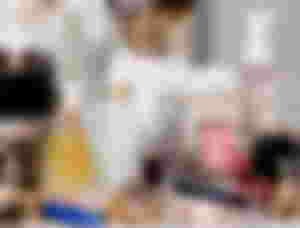 Here I come with another business idea or a good start up for beginners. It doesn't take huge money to start but if you've enough to invest then feel free and promote any reputed brand of cosmetic. Many women found very much interested to make-up, fall for perfume and hobbyist in purchasing beauty products. A new start up cosmetic business need to target women who loves to makeup and love to use beauty products regularly.
Personally I know a person in my city who was start selling cosmetics by doing job in a local biggest cosmetic store. Later he launch his own cosmetic business in the same city. He was very good at selling beauty products. He convince women very quickly by praising the beauty of buyer women and it really works. I was school student when my mom and I went to his shop and the uncle welcome us humbly and show the best product btw he had both cosmetics and stationary products in his shop. He become a shop owner from an assistant of a reputed shop.
The shopkeeper was just an example. He did a great job as he joined a reputed cosmetic shop, he learned business strategies and selling methods for several months. When he start his own cosmetic business, buyers found crowded in his shop. He hired three more assistant as helping hand. His selling was really good and as a business owner he become successful shortly.
The story of the seller to motivate freshers who is thinking about a business that can be profitable. But before launching the business you should work for several months as assistant somewhere which can help you to get more product knowledge, selling ideas and so many things that necessary to run a successful business. In cosmetics mostly imported from foreign countries so networking is also important here beside marketing. Promoting a specific brand can be also helpful as brands offer good money for promotions.
We should be sharp about networking. Target a quality product or brand to promote as cosmetic. Import quality products even the price is high, many buyers believes that a good quality product is always pricy or expensive. Ask customers to buy your new arrivals and suggest buyers good quality products to buy. Offer them free samples if possible. Tell them to invite more cosmetic lovers to buy from you. Be gentle and humble, some buyers will try to make you panic but never be and deal with it patiently, be cool and confident.
Beside cosmetics you can add regular stationary products too in your shop for extra income. Open a social media active page and start online delivery service of your beauty products. Share eye catchy photographs of your beauty products or cosmetics for sell. Let buyers contact you when they like the product for purchasing. So as I said, at first start work as assistant and later be a boss of your own launched business. Good luck!