A Good Practice Takes Time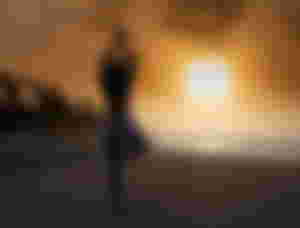 A good practice left by me and from the realization today's article will be written. Two months ago I was regular at my morning walk but gradually the good habit left by me. At first when I came to this new hostel here I met a bad roommate who was really very rude and not so cooperative. She sleeps in the morning and I can't wake her up when go for morning up. So I had to leave this good practice which I made regular activity in my routine. Bad roommate was not fully responsible for this because now the good practice can be get back as afternoon walk.
Yesterday I had plan for afternoon walk but unfortunately it was cancelled. I was sleepy in the noon and asleep for tiredness. When woke up, it was my prayer time already. So the good practice left me and I just can't manage time to get back it. Every good practice takes time but it can be left easily anytime. Holding the good practice is really very important and I love to be regular at my good practices. There are many good practice can be left for our surroundings or for several reasons. Just a strong desire can help us to get back it.
How much walking good for our health we all know more or less. An hour walk for a day should be done and this good practice shouldn't be left. In this summer walking is not as fun as walking in winter. In this summer sweating is really very irritating that discourage me to walk in the morning and the hostel gate doesn't open timely. So afternoon walk after afternoon prayer can be a solution. A good practice need to include in routine time could be compromised.
One more thing make me stop from walk outside and that is rain. In this summer we also experience rainy weather and wet roads discourage to walk. Don't get me wrong that I'm making excuses. Walking is important to me because as a freelancer I spend half of my day in front of computer and long time sitting can be a reason of my obesity that I don't want to be. So a walk in everyday life is really very important and surely a good practice.
Actually I've one more problem and that is buying unplanned things like spending money even the thing is not that necessary but I can't control me to buy. Mostly buying foods like fruits, chocolates, Ice-cream etc. So this is the side effect of my regular walk but it can be get in under control by having strong determination and yes I can do it. Evening is my prayer time and I don't like walking alone in the dark. I don't like to go out when its dark outside. Evening is my prayer time which can't be compromised with anything else.
Anyway, a good practice takes time and I want time to switch on the good practice of walk regularly. Just don't want any obstacle when I'll start the good practice once again. Badly waiting for winter which is the best for walking, Summer is not bad but rain surely become a barrier to this good practice. A day off sometimes become the reason of several day of and gradually I find myself away from the good practice. So no more now, I'm going to have strong determination to keep practicing good habit of walking. What's your good practice for everyday life?