Good things happen when you distance yourself about negative people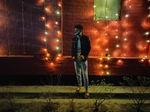 Hello my dear all friends,what's going on today...?Guess that you guys are okk and fine by the grace of God.You know how much difficult to find unique topics per day for writing regularly.Today I didn't find any topics to write but I want to share one message with you guys in a very short time.I won't gonna talk too much today...just want to share one information.One good thing for me that I have made some good friends here like Mazekin who always supports me here.
Now again like everyday I just want all of you to give a look to all of my superb sponsers...thanks a lot to them for their unconditional love and supports.
Now the thing is that some years ago,I was in depression,started to taking cigarettes and other drugs for some times..my girlfriend left me.I then stated to face a lot of negative comments from other peoples.I began to move with some drug addicted and selfish friend's who used to talk negative in absence of me.It was like impossible to get out from that situation if I didn't leave their company.Those negative comments didn't affect me and I always try to ignore them.Then I started to make good friends with good students.My best friend helped me to get rid of that situation.So I am so grateful to her as well.
End of this year,I am a fresh boy without taking any drugs,my result is good and now people say good things about me.I won't be able to achieve this if I didn't leave the evil company.So I think you may have realized the points.Today in the morning,I saw that those drug addicted,eve-teachers doing the same things they do usually disturbing a polite school going girls.After some time,I noticed that some police came and arrested them.If I stayed them,I think today I will go to the jail.
A man is known by his company which is a well-known proverb.And it is absolutely true.I totally experience it so far in my life.So I recommend everyone if you have any bad habits,drug addiction,eve-teaching problems then just try to stay far from those places,those peoples with whom you do this rather than make good people as your friends.It will help you in your personal life for improving.So I think you guys are mature enough to understand what I try to say in this post.
Thank you so much for reading till end....have a nice and beautiful day guys...bye bye