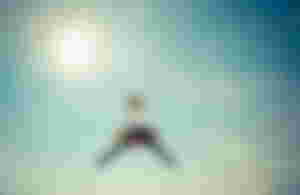 Let there be light...
A blank canvas
Lies...
Open.
Unique palettes,
Artistry at work.
A rainbow of opportunity...
Broken?
Noises clamour,
Compete
for attention.
Pandemonium consumes his world.
Fists clenched
He beats himself in time.
Torn apart, he curls.
Clothes scour
His very self -
regulation eroded.
Abrasive to his being.
Skin on fire.
"No! No! No!"
He melts
down
Inside
His monotropic mind.
Why? Oh why...
Can't he just let it go?
She thinks...
Deeply,
Fingers tapping,
She speaks well...
No hi or goodbye
She interrupts...
A lot.
Her brain
Focussed
Unyielding
Will not switch tasks...
Will not stop.
Unthinking?
Unfeeling?
Imperfect?
Incomplete?
Dehumanised
Spectres
Of mankind;
In defeat.
"He's extremely autistic;
She's just a little..."
'They'* think they're being kind,
But they just belittle.
Because it's not a scale,
No gradation
Of degree...
It's a palette,
Of difference...
Of disability.
It's a spectrum of traits
Unique works of art
Who knows where it ends?
Who knows where it starts?
Like a prism of colour
Red is not blue
Meet one autistic person
You HAVE NOT met two!
Humanity
Challenged
And
Awakened.
Darkness retreats;
Chinks in the armour
Of ignorance
Unseats.
Neuro diversity
Understood.
Real people.
No longer ghosts
Of themselves.
Knowledge is truth,
And truth must take flight.
Let's treasure the spectrum...
Let there be light!
Copyright asserted: Samantha Smith 31/07/2021
Notes:
1) They * refers to those referencing the autism in the poem, and not to those with autism.
2) Poem inspired both by my personal experience with my youngest son who has sensory processing difficulties and demand avoidance, and is awaiting assessment for autism, and by an article by C.L.Lynch in Neuroclastic.com: It's a spectrum doesn't mean what you think
*3)Photo credit: Froken Fokus
Sponsors of Samantha-Smith