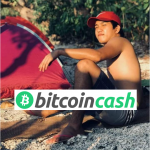 For everyone's information, Mr. @georgedonnelly is currently looking for writers who can make an image series that's all about Bitcoin Cash and willing to buy your work by up to $150.00 that will be paid in BCH.
The tasks are a little bit for confusing for some people, even for myself, so I'll be sharing my own interpretation that I gathered about it.
Task requirements.
1. Take a look on Mr. George's past 3 image series in the Bitcoincash.site.
Here's the series links:
https://bitcoincash.site/blog/2021-01-vision-graphics/
https://bitcoincash.site/blog/bitcoin-cash-use-case-graphics/
https://bitcoincash.site/blog/did-you-know-get-the-facts-on-bitcoin-cash/
2. Follow @DavidShares, @be_cashy and @bitcoininfo on Twitter.
3. Write an image series with a minimum of 12 concepts, on spec.
Or you can just follow him in noise.cash : https://noise.cash/u/georgedonnelly
PS:
Just write an image series and you don't need to design it.
It says on spec, and it means that there is no assurance that your work will automatically be approved by Mr. Donelly and all you/we can do is hope that our work is acceptable.
And if Mr. Donelly like your work, you can have the chance to be paid by up to $150.00 worth of Bitcoin Cash.
1. Decentralized payment.
BCH and uncentralized authority to make the transactions will be a lot safer than with the use of a third-party authorization.
2. Faster transactions and no stacking.
Receiving and sending tips/donations with the use of BCH in a stream will directly go to the recipient's wallet and doesn't need to be stacked first in the streaming platform.
3. To be accepted by gaming merchants.
It is not impossible that BCH will be soon accepted by gaming merchants because of its great fundamentals which is a must for a transaction - speed and fees.
4. More gamers will be onboard.
As we all know, gaming has a very wide communities. And if Bitcoin Cash succeeds on being adopted by gaming streamers, it will probably risen the chance to onboard more people into the Bitcoin Cash community.
5. Million of Streamers accepting Bitcoin Cash in the next 5-10 years.
Bitcoin Cash adoption is increasing day by day, and once it succeeds in the Gaming industry, more and more people/streamers will accept Bitcoin Cash as a form of payment in their streams.
6. Take away the risks of unabling from withdrawing funds.
Some platforms can disable its users from withdrawing their earned amount for some reasons because it is accompanied by third-parties. But with Bitcoin Cash, it won't happen because sending and receiving are decentralized.
7. Buying in-game items.
Bitcoin Cash, if adopted enough in gaming, will also be used as a mode of payment for buying items in the game.
8. BCH sent as a support to the Streamers.
Everyone can use Bitcoin Cash from their own wallet and doesn't need to buy any form of donation item from a third-party to support the Streamer whenever a BCH wallet address is present.
9. Neglect the fee of withdrawals.
As we know, most streaming platforms uses bank accounts to receive the Streamers earnings and it comes with a huge fees for making that transaction. While with Bitcoin Cash, you won't really feel that transactions in Bitcoin Cash uses fee because it will only need a very small amount of cents to make the transaction.
10. No more authorization over your earned assets.
Mentioning YouTube and Facebook Gaming, both of them have full access over the amount you have gained. And they can do whatever they can/want with it if they have reasons simply because they are authorized. But in Bitcoin Cash, authorization doesn't exist. No one can have access to your earned amount but only yourself.
11. Safe place for storing.
Internet grows day by day and people are also gaining more knowledge every single day. And with that, it is not impossible that anyone can gain access to your account in that platform making you vulnerable for losing your account and money. In the case of using Bitcoin Cash, there is not a chance because it is backed by blockchain technology and the only way anyone can gain access to your asset is by giving them your wallet's seed phrase.
12. Overtake Facebook and other platforms.
We know Facebook and YouTube are some of the famous place for uploading contents. But in the Bitcoin Cash community, noise.cash has the potential to overtake them with the use of Bitcoin Cash when the time comes that noise.cash will be fully developed.
Decentralization, faster payment, lower fees and secured is what is all about noise.cash with Bitcoin Cash.