Last Night "Ganap" at the Town Plaza
Yo' ╮(^▽^)╭ what's up guys? Wahhh, it's been 4 days since I last post here. I just got busy over something. We also had some event yesterday which is an annual celebration here in our place. It is the Basudani Festival which celebrated every year in my town Bansud. It is a big amd happy celebration for us Bansudeño and seriously, this is the event that we are all anticipating.
It is last December 1 when the Vice Mayor in our place announced the guest that they invite for the Grand Variety Show for Bansud Fiesta. When everyone heard it, a lot of teens even adult scream in delight because of it. I mean, who wouldn't? We had Yeng Constantino and Mayonnaise, to name a few. There's more actually and for that reason, a lot of people filled the Plaza de Bansud last night.
Imagine, nakipagsiksikan kami ng malala ng mama. When we decided to go out to where the crowd is. It is super hot that night because even though it is windy because of the rain. And more, rain is not enough to stop people from watching that Grand Variety Show. Ahh, it is really fun experience. It is fun but also challenging because I am a small woman and I can really see the stage because of those bigger pipz in front of me. And another is those umbrella's, lol.
Ahhh, this is what I really missed when celebrating Town Fiesta. And, OMG, the Street Dancing is back. I was able to watch it yesterday with Mama.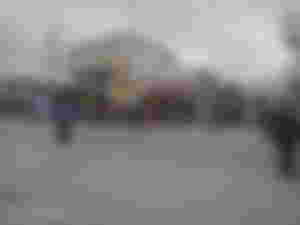 Seriously, a lot of people are anticipating the street dancing. This is what the road looks like yesterday. There a lot of these men uniform to manage all the people that will watch. They also created a way for those vehicles that will past. It is actually a good strategy, no one get disturbed, no traffic jam and all. And all are well taken cared.
Even the time when the grand variety show started. They are everywhere. And thats what I like about this. For safety purposes and also the peace and order haha. Anyways, we had a blast yesterday. It's fun and exciting. I also feast my eyes with a lot of good looking men in there. Sad, all I spotted was a good looking young men, huehue. And most of them has partner with them, pweeeeh.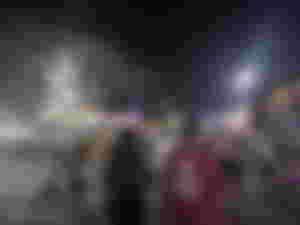 Here's the low quality picture I took last night, lol. I took this earlier that js why people is still few but on the other side of the Park, they are already flocking.
What a lively night ╮(^▽^)╭.
---
January 20, 2023
--