Double Celebration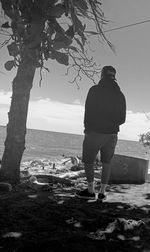 Good day everyone. Hope your doing great today. Me? Nope, I'm still feeling this unusual thing in my stomach that I've been experiencing this past few days causing me to be not much active in here. I think I already have stomach problems. I already bought some medicines for this, hopefully it will disappear soon. So here today, I think it's already late to post what happened during the last weekend celebration. And without further ado, these were the things that happened during that day.
As what I have said in my previous blog "Turning a New Chapter", I have stated there that my actual birthday celebration will be held on Saturday, December 03, 2022. And that really did happened.
I was very happy that fate adhered with me at that time because some my of working schedules was cancelled. And one more thing was, we were able to get our funds from the COOP we joined together with my colleagues. So, we decided to went to Marikina Riverbanks Center and boughts some items as a reward or a gift for ourselves. I was so stunned because the mall had their Christmas sale where I was able to buy three shorts and undergarments for a cheap price. The original price of the said shorts was PHp 1099.75 but I was able to buy it at PHp 350 only. See, how big the discount I get from it.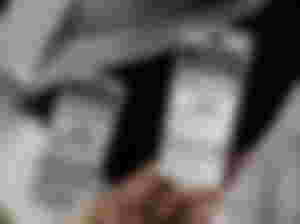 After which, we all decided to go home because I am not feeling well. Amidst the situation, I was thankful because I then able to sleep for a while. As a matter of fact, I thought of not going at Makati anymore due to this unusual feelings yet, however the schedule was all set and I don't want them to feel any regrets and disappointment if I will not really go there.
So fast forward, I traveled from Pasig to Makati at around 5 PM after I got out of my work. As usual the heavy traffic greeted me because it's Saturday. Mostly, the people went to their homes during those days that's why it causes a heavy traffic. On my way I saw some buildings that are fully decorated with Christmas lightings. I wondered how much they spent on everything.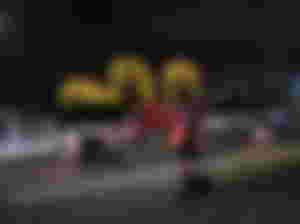 I was able to arrived at Makati around 8 pm and they really waited for me to arrive before the celebration started. They immediately started it because some of them still needs to travel back their homes. More than that, its not just my cousin Abby were celebrating, there's another celebrant who joined us. She is one of the Abby's unit mates.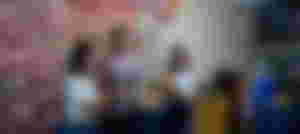 We all shared the foods being prepared and after that, had our talking and drinking sessions. Like I said, I was not feeling well so I didn't join them drinking. Before the visitors decided to go home, we had our picture takings. To tell you, these visitors I am referring to are my cousins.
After that thing, they finally decided to have their travel back home and us were left in the venue. As for me, I decided to sleep already because of the unusual feeling that I am experiencing but after almost an hour laying in bed trying to sleep I still can't able to do it. So I asked my younger sister to accompany me at any drug store but we can't find one so we went at 7eleven to find some medicine to buy and went home after. I took it and went off to bed right after. Thank God, I was able to sleep already.
The day after I rested for almost a day because I still feeling the unusual thing in my stomach. Then I decided to prepare all of my things and went back to home afterwards.
_____________________________
It was a great experience for me since we cousins got together for a long time. It's a rare opportunity for us to be together because they already have their own families and they don't have much time for things like this due to their busy time with works and their families.
I think this ends my blog again. Thank you for your time and efforts reading this blog. Have a great day ahead and see you in my next blog. God Bless always.