Homemade Burger
Ingredients for 12 hamburgers of 120g each:
1 kg against ground fillet (with fat)
1 finely chopped onion
1 tablespoon of Dijon mustard
2 tablespoons of dried tomato paste (I beat dried tomato in a blender)
6 tablespoons chopped parsley
2 tablespoons chopped basil
100g (almost 1 cup) breadcrumbs
2 gems
salt and pepper to taste
Finish:
100ml sunflower oil, 250g mozzarella cheese, cheddar, or the cheese of your choice
12 hamburger buns (I used brioche bread)
romaine lettuce and tomatoes
homemade mayonnaise
Procedures to prepare it:
Place the ground meat in a bowl and place this bowl inside a bowl with water and ice (avoid contamination). Add all the ingredients of the burger and stir the meat well to be homogeneous. Weigh each hamburger with 120g. (Wet your hands when shaping the burger so the meat doesn't stick to your hands). Do all and leave on a baking sheet.
Heat the plate. Sprinkle oil on top of each burger and place the oiled part facing the plate. After 2 minutes, pour oil on the top of the burger and turn. Place a slice of cheese on top of each one and cover with a pan lid to melt the cheese. Put homemade mayonnaise on bread and serve with lettuce and tomatoes. You can heat the bread already broken in half in the oven for 10 minutes before serving. Mine were still warm.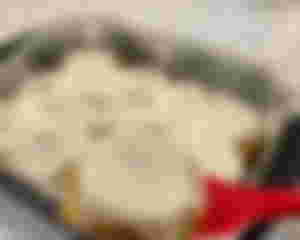 Cinnamon rolls, top recipe
Ingredients for 24 rolls:
Sponge:
1 sachet (10g) of dry biological yeast
1 tablespoon sugar
Col 1 tablespoon wheat flour
1/4 cup of warm water
Pasta:
4 cup (660g) wheat flour
3/4 cup (175ml) milk
1/4 cup (50g) sugar
1 egg
1/4 cup (50g) soft unsalted butter
1/2 teaspoon vanilla extract
1/2 teaspoon salt
Filling:
5 spoon demerara sugar soup
2 tablespoons brown sugar soup
1 spoon of cinnamon soup
1/3 cup (70g) soft unsalted butter
Roof:
1/2 cup (110g) cream cheese
2 tablespoons (30g) softened butter
1 teaspoon lemon juice
1 teaspoon vanilla extract
pinch salt
2 cups (200g) sifted icing sugar
Col 2 spoon of milk soup
Procedures to prepare it:
Make the sponge by mixing the yeast, 1 spoon of sugar soup, 1 spoon of wheat flour, warm water. Mix and let stand 15 minutes. Add the mixer to sponge, milk, vanilla, egg, salt, butter, sugar and 2 cups of flour. Beat for 2 minutes, until the ingredients are incorporated. Add the other 2 cups of flour and beat with the hook for 8 min. (You can knead in your hand if you don't have the hook).
Transfer the dough to a lightly oiled bowl, cover with a cloth and let the dough rise in a warm environment for 1 hour (or until it doubles in size). Take the dough to a floured bench and open it with a rectangle-shaped roller until it is very thin, but still easy to stir.Brush the dough with the softened butter.
Mix the sugars and cinnamon and sprinkle over the already buttery dough. Carefully roll the dough like a tight roll. Cut the pieces using a dental floss (as I show in the video) and place on a greased baking sheet lined with parchment paper (I used 2 small 28 x 21cm baking sheets). Cover with a cloth, place in a warm place and let rise for 40 min. Place in preheated oven at 180C for 28 min. While the rolls are baking, prepare the icing. Place the ingredients in a bowl. Mix with a spoon and then beat with a mixer (or fouet). Place the cover over the hot rolls. Serve.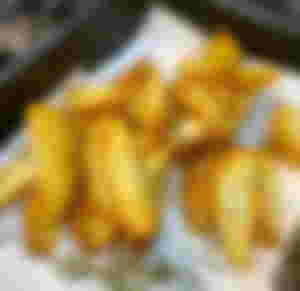 Boiled and fried potatoes with peel and rosemary, accompaniment for a tasty day to day food
Ingredients for 6 people:
1kg potatoes (5 large potatoes)
4 branches of rosemary
1litro oil
salt to taste (or salt flakes)
Procedures to prepare it:
Place the potatoes in a pan and cover with cold water and a spoon of salt. Light the fire. When it starts to boil count 17 minutes, remove, pass in cold water to cool and place in the refrigerator. Leave at least 2 hours in the refrigerator or until they are cold (you can leave it overnight).
Cut each potato into 6 parts with the skin lengthwise. Heat the oil in a high pan. Place 1/3 of the potato parts using the slotted spoon so as not to burn yourself. The potatoes should be submerged in the oil. Also place a rosemary branch inside the pot. Remove when golden and the rosemary is fried. Add salt as soon as they come out of the pan while hot. Repeat until the potatoes are finished.