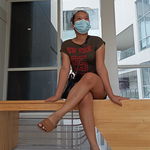 Hello everyone. Its another day and another gift from God. I hope you all are doing fine.
I didn't really expect to be part of this platform. It was just one fine day while I had make a call to my sister via messenger, asking if how was her day, she just simply reply that she really felt tired,because she assisted a lot of customer that day, she is working as a chat support in a BPO Company,aside from that she said that she need to do OT so she can send a big amount of money for our mama, yeah she's kind a little bit busy that time. So the time that I was supposed to hang up her boy friend or shall I say one of her circle enter her room and asking some random question about something, I dont know what was it exactly, instead of ending the call I hold on and listen to their discussion and I felt a little bit curious about the topic that they both tackled to each other. And it seems so intereseting because they talked about dollar currency, so out of my curiousity I asked my sister about it, but she declined because she is so busy, but I did not stop, I keep on asking her until she felt annoyed to me, and she just told me that she will be discuss to me everything after her work. Then I wait, unfortunately she did not contacted me, she just ignore me.hahaha. Well it fine for me,maybe she has her reason.
But nothing can stop me, I look for another way to know what its all about, and because Im so determined, I did try to ask my cousin @Janz about it, luckily without any hesitation she shares to me everything she know about read.cash. And I feel so happy and satisfy that day because of her, she help me on how to register and give some tips so that I can start as soon as possible. And because of her kindness,I promise to myself to strive harder so I can also earn soon like her.
After few days I already made my first ever article, and say to myself that I am no longer a jobless because I have read.cash now. Yes I really feel blessed because of read.cash, even there is some time that I can't able or skip publishing article because of a very slow internet I have, but I will do my best, because most of the writer's here give me the reason to continue,they inspire me so much by their work/article and by their achievement, that is why I need to work hard.
I may not know who is the founder of this platform, but if I will be given a chance to know them I will say Thank you to them because they given us an opportunity to earn money by just publishing article everyday, and share our experiences in life and able to meet as well our virtual friends.
At first I admit that I am in doubt because maybe I need to invest some money before I can join in this platform, but gladly there's none, unlike to other site that they required a big amount of money before you can go through. And now that I am part of it, I will do my very best, because Im doing this for my mother and to help as well my partner.
Indeed read.cash is a blessing in disguise for me. And I also thank God for it. God really provide everything.
And I think that's all for today. Thank you so much for spending your time reading this nonsense article.hehe
Keep safe everyone.Godbless us all❤️
I want to say Thank you to my sponsor as well.🥰
Lead image and quotes from Google.