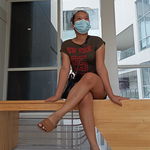 I read some articles about relationship, and some of the writer here do a challenge of answering some questions for those who are single. But then oneday, as I open my notification bell, I saw Miss @Eybyoung publish her article and its all about answering questions,but now its for those who are taken, and since I am already taken I just want to give it a try, and because Miss @Janz tag me, I accept the challenge. So I am here to share to you some of the random questions that I picked from this link https://www.mantelligence.com/relationship-questions/ where Miss @Eybyoung get as well.
And here is the first questioned that I've got;
WHAT ARE SOME ANNOYING HABBITS OF OTHER COUPLES THAT IRRITATE YOU THE MOST?
Well I get easily irritated with couples who's sometimes kissing in public area. I mean, yes its their choice, but for the reason that they doing such thing in public and there are childrens around who can see them,its a big no for me. And I hate as well to see some couples who's keep on arguing through social media.
IF YOU'RE HAVING A BAD DAY WOULD YOU WANT ME TO LEAVE YOU ALONE OR SPEND TIME WITH YOU AND CHEER YOU UP?
Since I hate being alone, I choose to spend his time with me everytime Im having a bad days, because he can help me to ease the pain, he's the one who comforting me when I feel so down,and doing something just to cheer me up,that is why I prefer to be with him if I am not okay,than to be alone.
HOW WOULD YOU WANT TO SPEND SPECIAL DAY WITH EACH OTHER?
In 12 years of being in a relationship, we haven't try yet spending our special day in a fancy way. We just make it simple but memorable. Like doing some road trip, eating some streetfoods like fishball which is our favorite, and watching some movies, because what really matter to me is each other presence.
WHAT'S THE THING ABOUT ME YOU'D LIKE TO CHANGE?
I did try to ask this questioned to my partner before, and he said that, he want me to change my attitude of being so mean and being ma pride haha, para daw mas lalong mag grow pa yung relationship namin. Well tama nga naman siya. So I change myself from being negative and mean, to being a positive person.
DO YOU THINK I CAN BE YOUR BEST FRIEND AND YOUR LOVER?
I like this questioned. Yes why not? It really feel so good kaya that my lover can also be my bestfriend, lalo na magkasundo kami halos sa lahat ng bagay. And I am feel safe and secure with him, I can also share to him all my dramas in life because I know he cant judge me.
WHAT IS THE BEST RELATIONSHIP ADVICE SOMEONE HAS EVER GIVEN YOU?
The best relationship advice that I receive,is from my dearest mom and I will never ever forget those words, She said that I should not make a decision when Im mad, because I might regret it.Tama naman si mama,minsan din kasi nag dedesisyon nalang ako ng hindi tama,lalo na pag nag aaway kami ng partner ko, yung away na pwede namang madaan sa maayos na usapan.
And lastly
WHAT ARE YOUR BIGGEST FEAR ABOUT THE RELATIONSHIP?
Losing the one I love, specially when I know to myself that I did my very best just to save our relationship, and aside from that Im afraid that he might cheat on me again like what he did before. I feel traumatize for what my parnter did before, kasi alam ko sa sarili ko na hindi ko magagawang magloko, I admit sometimes may pagkukulang din ako,pero ni minsan di pumasok sa isip ko ang mag cheat coz I know how it hurst.
There is no perfect relationship,we just need someone who can't easily give up on us, and fight for us no matther how hard it takes.
So I think that's all for today,and to Miss @Eybyoung and miss @Janz here is my entry of "Random questions for taken challenge"
Thank you for your time. You can also leave some comments below.
Keep safe everyone and Godbless us all.
And to all who upvoted my articles, specially for my sponsor I would like to say thank you.❤️
Lead image from Google