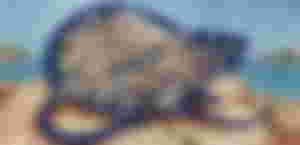 On a late-summer morning in 2018, Paul Melovidov walked into the freezer section of the Trident Seafoods processing plant. The weather-beaten building stands where breakwater meets land in Saint Paul, Alaska, a community of around 500 residents on an island in the Bering Sea. Behind the plant, rows of colorful houses march toward green, treeless hills and the steeple of a Russian Orthodox church. Hundreds of kilometers of moody ocean stretch away on all sides. Melovidov's flashlight beam swept the room, then paused in a far corner. At the circle of light's center crouched a rat.
Melovidov, soft-spoken with snowy hair, is the ecosystems coordinator for the Aleut Community of St. Paul Island Tribal Government. He'd been trying to catch the rat for a week. That might sound inconsequential, but it had big implications for Saint Paul Island, the largest of the Pribilof Islands, a critical stronghold for marine life in the Alaska Maritime National Wildlife Refuge.
Nearly 200,000 seabirds nest on Saint Paul Island's cliffs and rocky beaches, among them murres, kittiwakes, puffins, fulmars, auklets, and cormorants. On neighboring Saint George Island, about 75 kilometers away, the number pushes past two million. Hundreds of thousands of northern fur seals gather each summer on the islands, also home to endemic species of Arctic fox, rock sandpiper, shrew, and lemming. Rats and mice don't belong here. They can transmit diseases to other mammals, including people, damage buildings and vehicles, and foul crops wherever they make their homes. But invading omnivorous rodents wreak special havoc on islands, where native plants and animals, seabirds in particular, have no innate defenses against them.
Entire seabird colonies, even entire species, can vanish into the maw of rats' hunger. Between 40 and 60 percent of all recorded bird and reptile extinctions since 1600 have been attributed to rats, with Norway, black, and Pacific rats the most destructive species. These losses warp ecosystems. Without seabirds and shorebirds to control intertidal invertebrates, for instance, populations can surge and decimate seaweed. Deprived of ocean nutrients found in seabird poop, island grassland can turn to tundra. Rats may have even contributed to the fall of civilization on Easter Island, devouring the environment out from underneath its human inhabitants.
Almost three months after it was first sighted, a wily rat was captured by a wildlife camera in the Trident Seafoods processing plant in Saint Paul, Alaska. Photo courtesy of Paul Melovidov
And now, for the first time known, a live rat had been spotted on Saint Paul. For decades, the tribe and its partners have successfully maintained a network of traps to protect the island. Melovidov checks them regularly as part of his duties for the tribal Ecosystem Conservation Office, or ECO, where he's worked for a decade. Melovidov is a subsistence hunter. He has called the island home for most of his 58 years, and belongs to the Unangan people—Aleut is their Western name—who have lived in the Pribilofs since the late 1700s. Standing in the doorway at Trident, he knew intimately what was at stake. Even a single pregnant female rat or mated pair is a grave threat to Saint Paul's birds, seals, and other creatures. "That's our livelihood right there," Melovidov would tell me later. "[The animals are] what sustains us here." They don't just make the island beautiful and whole, they feed its people and help them maintain their culture.
The rat seemed to grasp the gravity as well. It hopped onto the plastic housing of a rattrap and regarded Melovidov for a moment, as if to make clear that it should not be underestimated.
Then, it vanished into the wall.
---
Alaska is one of the few places on Earth where rats are still rare. Only a handful of mainland communities have established populations; Anchorage, the state's largest city, isn't considered one of them. Only about a dozen of the larger islands among the 2,500 within the Alaska Maritime National Wildlife Refuge, which stretches from the Aleutians to the Pribilofs to the shores of the Chukchi Sea, are known to have rat infestations. That may partly explain why some 40 million seabirds—80 percent of the state's total—still flock to the refuge to breed.
Rats first showed up in Alaska around 1780, when they escaped from a Japanese ship that ran aground on a western Aleutian island that the Unangan people had named Hawadax, meaning "those two over there," after the island's low hills. A Russian explorer later renamed it Rat Island. As more vessels traveled the Alaskan coastline—Russian and American fur traders translocating Arctic foxes to farm, US and Japanese ships sparring during the Second World War—they inadvertently introduced stowaway rats to other islands. Scientists now call this kind of event a "rat spill." The animals scampered down mooring lines, found their way from hideaways in cargo to terra firma, even paddled to shore from vessels and wrecks. Norway rats, perhaps the most destructive species, can easily swim 200 meters. In warmer waters, the distance stretches to two kilometers and they can survive adrift for up to three days.
The story elsewhere is similar. Pacific Islanders brought Pacific rats to new haunts by canoe as a food source thousands of years ago. Ships on missions of war, colonization, and trade later spread Norway and black rats. Today, rats inhabit more than 80 percent of the world's islands. They are famously prolific. With the ability to produce several litters per year of babies that sexually mature quickly, a mated pair quickly multiplies to thousands. Where food is abundant, they'll dine on the richest parts of what's available, killing more than they can eat, devouring seeds, plants, fruits, reptiles, bugs, eggs, chicks, adult birds. On Kiska Island, in the Aleutians, researchers have stumbled on rat dens beneath the rocks packed with auklets, including one charnel house of 148 dead birds.
Seabirds, in contrast to rats, produce just a couple of babies each year; many species have just one. In thin years, these long-lived creatures may not expend scarce resources on breeding at all, a strategy that helps the species weather the vagaries of a harsh environment. Many seabirds choose remote islands to breed where isolation and rugged terrain offer protection. Like salmon, many are loyal to the speck of ground where they hatched, returning each year, sitting resolutely on eggs, even, in some cases, as introduced rodents eat them alive.