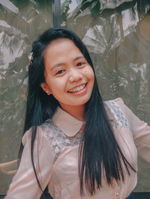 "I open the door and there you are. Your eyes widened and greeted me with a lovely smile. But this time you look different – pale and weak."
Title: It's okay, I'm fine
Author: Petite
Article: 7
Date: October 4, 2021
I have been staying strong despite this sickness I've been; I want to keep up the fight, I don't want to be seen as weak. I have been fighting for 1 month and I can fight another one if that's how long it takes, but my body betrayed me and it slowly devoured my fighting spirit.

It's been a month since I was diagnosed of having Leukemia, I've been receiving treatment since then but just how fast the night changes so as the spread of these cancer cells. Now I don't know how long can I keep up, all I know is that it will not take long because my body is slowly giving up.

"I know I won't last long."
~~~~~~~~~~~~~~~~~~~~~~~~~~~~~
*Phone Beep*
"Hey! You okay?" ~Tim
I don't know what to reply, I never contacted him for a week because I don't want him to see me like this – weak. I don't want to add up to his gloomy and troubled mind. But I don't want to leave him behind unexplained.
*Phone Dialing*
"Hello? Who is this?"
"Hey! It's me are you free today? Can you pay me a visit? I'm at the hospital. I'll text you the address."
"Why are you at the"
*Call Ended*
"I'll tell you everything once you're here."
~~~~~~~~~~~~~~~~~~~~~~~~~~~~~
The door opened, and you came in.
"Hey!" and I put up a wide smile.
~~~~~~~~~~~~~~~~~~~~~~~~~~~~~
Tim's POV
As I was getting close to her, my knee weakened and with trembled hand I reach you out. I can see how hard it is for you but you still manage to put up a smile. I don't know but why you have to suffer like this alone.
"Hey!"
"Why didn't you tell me?" my voice starts to crack.
"I don't want you to see me like this, a weakling."
"You were always there for me, but I …"
With her weak hands, she wiped the tears on my cheek. Lifted up my chin and look straight to my eyes.
"Hey, don't say that. This is want I want, you already carried too much I don't want to add it up."
I hold back my tears, with my heart aching I swallowed it in and held her hand tight. I need to be strong for her.
"Okay, is there anything you want? Or something you want to do. Tell me."
"Nothing much, I just want you to listen."
"What do you want to talk about?" I tried to sound good.
She looked at the window with a black space face.
"No matter what happens, please be strong. Even if I won't be there anymore."
"What do you mean? I"
"Please just let me finish. Just let me say what I want to, that's why I texted you to be here. Just listen okay? We never know this will be my last words." She looked at me and smiled.
"Don't say that, not a good joke."
"Hahaha okay. (Weak laugh) I want you to take good care of yourself, I know your old enough to do so but please grow up! cuz I won't be there always to look out for you."
"Hey! Are teasing me?"
"No, it's just a reminder."
"Are you leaving me?"
Her tears are now starting to fall, but she's trying to held it in.
*sniff* *deep breaths*
"Just let me finish. Do you still remember how we first met? Haha you looked dumbed that day."
"Okaaay, here we go again."
"I took a picture of you that day and kept it in my wallet."
She handed me the picture.
"Keep it, it's yours now. I just want to look at it to remember you as a dumbed one forever. I hope you will remember me as someone who live a happy life and not like this. Weak, pale, and skinny."
I don't know what she's trying to say but I don't like where it's going.
"You don't have to spoil me anymore, haha."
My tears are starting to fall, I squeeze her hand tight and look her in the eye.
"What are you saying, let's stop here."
She touched my face with her weak gesture
"You are an amazing person. I'm so blessed to have you. Always remember that I will always be rooting for-for you." Her voice is starting to crack.
"Please don't say that, I"
"I-I am happy to spend my days with you, sadly it's only for a while. Don't forget to eat your meals every day, no skipping this time. I won't be there to monitor you. Don't forget to take you meds when you're sick, don't expose yourself to much on … "
Now she's crying, and so am I.
"Pleaseeeeeee don't say anything, I don't want you to say things like this. We can still find ways; you can still be cured. I-I will help them find a good …"
"No, I can't I'm tired. I want to rest."
I know but it's just that I can't let you go like this, please I know it's a selfish wish but,
"Can you come closer? I want to hug you."
I come closer to her, and hug her tight.

We didn't say a word, just feeling each other's warm hug.

She whispered to my ear and the last word she said was,
"Thank you"
And her hand fell.
*beeeeeeeep*
and the line on the monitor went straight.
~~~~~~~~~~~~~~~~~~~~~~~~~~~~~
It's been 6 years already since you left but the memory of you is still as fresh as a new bloom rose. I hope your happy wherever you are right now. You don't have to worry about me anymore, you don't have to feel sad about leaving me behind, it may be hard but,

It's okay, I'm fine.
~~~~~~~~~~~~~~~~~~~~~~~~~~~~~
Author's Note: If you have any reaction about this one please feel free to comment it down below. I would love to read your response. Thanks for reading my lovely one. ~Love, Petite.🦋