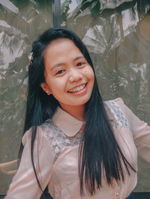 Good morning everyone, I just wanna share my sentiment first. My first read.cash account was marked as sp*m where all my comments appeared to be a sp*m and I don't know why is that, so I decided to just make a new one. By the way I'm Teensy now reborn as Petite.

To all my amazing 30 subscribers thank you very much, I hope we can unite again in this new account of mine. And to my lovely sponsors @charmingcherry18, @breadchamp, @micontingsabit, and @Niazi420 thank you for the sponsorship I'm really grateful for it. And lastly to my friend @Sequoia who introduced me to this amazing platform and helped me make it through. Thank you dang.
Just as the title of my article maybe what happened to me is a blessing in disguise that wants me to make a new fresh start. Hello everyone, this is Petite.
In life we see every good thing that comes to our life, every success, every answered prayer, every goals that has been achieved as BLESSINGS. And failures, hardships, and challenges in life we see it as something that we should not be looking up on, something that bothers us, we see it as test that measures us on how to overcome it.
But are we certain that all those failures, and hardships are not often referred to as blessings? Well, sometimes we may not notice it but they are called BLESSINGS IN DISGUISE.
There are blessings that we don't usually see as one, and here are some of it.
Being in a relationship that failed are sometimes a blessing in disguise. Most inspirational love stories we hear, and see from televisions sometimes came from those people who once failed in it – lead them broken and alone. Why is it called a blessing? Mainly because that person was not really meant for you, your relationship failed because you do not deserve to be with each other, because you are meant to find someone your destined with, someone that you will spend the rest of your life with. When you once failed in a relationship, don't feel too sad, think that it's one way of showing that the two of you was only meant to cross paths but not to journey it together.
Every success lies behind the blood and sweat being shed. Our life struggles are not meant to torment us, it sometimes fuels us to push through, it drives us to be motivated. Real-life stories of successful business man/woman are driven by poverty, and that made them think of a way to take a step up and overcome the poverty they've been. That's why don't think negatively of having these hardships in life, think that behind it is a success. Because you will never experience success without experiencing failure.
Death of a loved one may sometimes be called as a blessing in disguise, why? Because family conflicts are often solved when death among a loved one is involve. I personally experience it; it was our relative. They are having a conflict due to a misunderstanding that took them years of having not to speak at each other even though they are neighbors. Imagine how bad was it that it took 2 years to be resolved, and it was only settled when their mom died. They united again as it was their mother's last wish – settlement among them. And this is not a common situation to us, I know some of you also have a story just like this one.
Rejections are sometimes a blessing either on work or to someone you confessed your feelings to. Rejection is another sign that you don't belong there. You won't grow in that environment; you are not recognized despite all your efforts made to contribute for the benefit of all. Like they say you are not just in a place, find a better place that suits you and sees you as you are.
Those are just some of our blessings in disguise, though we may not it as a blessing sometimes. All we have to do just to look at it in a bigger picture, and once you do you will be more amaze of how this twist and turns of events in our life became our fuel to go on. So what's your blessings in disguise?
Author's Note: Thank you for reading lovely one, hope you will have a blast today. Declaring more blessings to come. ~Love, Petite.