Overnight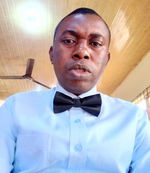 Abel woe up to an empty bed. Usually, he would wake before 6:00am with his wife of a ten years old marriage. So, he started to sing worship songs, hoping that his wife would join him in the process. At some point in the course of the worship session, something told him to stop and ask his wife to join. 
Reluctantly, he obeyed. Knocked at the bathroom door but no response came from there but the water was running silently. So, he pushed the door, to his amazement, it opened freely. Linda was not in there. The question of where she could be raced in his heart. 
The frightened young man rushed downstairs to check the kitchen, perhaps she had started to prepare breakfast that early. When he got to the kitchen, there was not a sign of his heartrob. 
He became confused the more. Linda couldn't have been in the children's room. He ran upstairs quickly to check on the kids but no one was there. 
How come he didn't even think about checking in them before heading for the kitchen. How come he didn't notice that the television set in the living room was on. 
Again, Abel who was not restless and experiencing a racing heart pump picked his phone and took a shirt with his car keys and scaled the stairs as quickly as possible to the living room so he could get to Emillia's home, the elder sister of his wife perhaps she could tell what has happened to them. 
Good morning Nigeria. Welcome to the Thursday news broadcast. The Federal ministry of health have reported the first case of……..
Abel couldn't place it. He had returned from work on Tuesday evening. How come it is Thursday now? 
He started wondering if he is still alive. He switched off the television set and made for his car. He got to the garage but his was not parked there. Everything seem confusing. How was the car driven from the garage without the key? 
With a heavy heart, Abel returned to his bedroom to search the locker where he had kept the spare car key. Now, things are getting very weird. They spare keys to the house aren't there, even that of the car. Opening other lockers to check his vital document, everything is gone. His bank cheque book is also not there. 
He stopped for a while. Walked to the living room and poured for himself a tumbler of whisky and gulped all it content in a single swoop, then he sat on the couch in the living room and put a call to his banker. 
Good morning Manager. Please, kindly freeze all my accounts. The company and personal accounts. I will see you later in the day. 
The manager was so shocked to gave received a contrary message from him. Wasn't he the one who had written a check to withdraw the last two million dollars in his private account? 
Sir, you don't seem to be in a clear state of your mind. You wrote a cheque through your wife that all money be withdrawn. Only your company account is intact sir. 
This was the beginning of the end of Abel's vast empire. He has been a very hardworking man. He worked tirelessly before he attained wealth. Linda had suffered with him when they had nothing. There was a time when they could not afford to pay rent for their one room apartment at Ajegunle. It was Linda who went to do menial jobs to get the rent paid. 
The night that Abel returned home, he had gone to take a shower and his phone on the dinning table when a message popped in. The message was from Abel's secretary at the office and it reads:
Hey baby. I just left the doctor's office now and he confirmed that I am pregnant and that it must not be aborted. Meet up at our usual with the money you promised to get Junior's Christmas wears. 
This message sent a shock to Linda's spine. It was at that moment that she decided to drug Abel's meal so that she could drain everything she they both had gathered over the years and elope with her children. 
Linda did not carry anyone along as she used a whole day to the parking of her belonging and travelled with her kids to somewhere that she cannot be traced. 
She changed her phone and logged out on all her social media account. This the action of a bitter woman. She was not only disappointed at her husband, she is not ready to share what they have gathered with another woman. For her, justice have been better out in her own way.