The Four Cryptocurrencies That Matter To Finance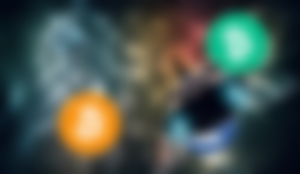 In case someone still hasn't figured it out, here is how the landscape of cryptocurrency changes and where to focus from now on.
Finance has decided what matters to funds and institutions from the field of cryptocurrency.
This time instead of condemning cryptocurrencies, finance pushed for institutional adoption instead, and it seems that the SEC delivered clarity.
However, this type of institutional adoption is solely about the investing aspect, not the unique features cryptocurrencies contain.
Let's find out the four cryptocurrencies that will make an impact in the market in a possible 2024 bull run.
Finance has decided not just to include cryptocurrencies but also which ones will be.
These are:
Bitcoin (BTC)

Bitcoin Cash (BCH)

Ethereum (ETH)

Litecoin (LTC)
Perhaps from now on this table is what matters. Coinmarketcap will have to adjust and remove all the centralized tokens that flood indexes as they become irrelevant.
Everything else comes with the risk of getting delisted by regulated exchanges.
Finance that enters cryptocurrency with trillions of dollars will not risk adopting unregistered securities.
BTC, Bitcoin Cash, Ether and Litecoin are the four cryptocurrencies Gary Gensler specified as "not being securities" in his 2018 MIT lecture.
Regulators have decided. They wouldn't want to mess with top funds that plan to enter cryptocurrency. Regulators reached clarity.
Ethereum is still at risk after it altered the consensus procedure into proof-of-stake. The regulators will probably require more time for Ether, although, it will be impossible to designate Ethereum as a security when if top financial institutions already invested in it.
If Ethereum is in trouble, we will learn about it in the following months.
Finance is rolling out the big guns this time.
Citadel, BlackRock, Fidelity, the banks, funds, and fintech corporations enter a race to offer cryptocurrency investments.
Perhaps trillions of dollars will flow into crypto.
The SEC has decided that Bitcoin (BTC), Litecoin, and Bitcoin Cash are not securities. As said previously, we still have to keep our eyes on Ethereum, as Gary Gensler recently avoided answering questions regarding Ethereum when asked at a Congress hearing this April (2023).
BTC, Bitcoin Cash, Litecoin and Ethereum are usually included by funds and corporations when adopting cryptocurrency and offering investing options to their customers.
Can the regulations reverse this decision when the new institutional exchange EDX listed only these four assuming the SEC decided they are not securities?
Apparently, such a decision would create several issues.
The SEC will not risk damaging its credibility (further). Moreover, the cryptocurrency industry was the one asking the financial authorities to provide regulatory clarity.
We have two worlds colliding today, cryptocurrency and traditional finance. Yet, several cryptocurrencies (blockchains, tokens, projects, custodians) are simply tokens and blockchains controlled by private companies.
Solana, Cardano, Polygon, Polkadot, and several more blockchain structures (Ethereum clones), operate with a small team or private company controlling the network.
The teams issue native tokens and sell them in presales, ICOs, and private placements. This is how private companies operate, not decentralized cryptocurrencies.
The worse of all was the illusion of decentralization they promoted. They just marketed blockchain and played with words convincing their investors they were buying trustless and censorship-resistant networks.
They used deceptive practices and lured investors into networks that sometimes were not even ready.
Finance decided, but finance is not the people.
Perhaps Ethereum could become a high-cost institutional settlement platform with smart contracts and DeFi for banking.
Bitcoin BTC, probably nobody knows yet, although Saylor has given some intelligent use cases with institutional use cases for accounting purposes.
Besides the use cases for the financial elite, another 8 billion people out there need censorship-resistant digital cash.
The decision of the SEC to bring regulatory clarity gives us a hint of what the actual market considers valid cryptocurrencies.
Decentralized or not, if cryptocurrencies contain no utility, they will eventually be forgotten and dismissed as failed experiments.

Follow me on YouTube: @panteraCrypto
Donations Bitcoin Cash: tipb.ch/Pantera
Cover picture on Pixabay (modified)
Images and material in this article are used for research, and educational purposes and fall under the guidelines of fair use. No copyright infringement intended. If you are, or represent, the copyright owner of material used in this article, and have an issue with the use of said material, please notify me.
Also Read:
● read.cash ● noise.app ● Medium● Hive ● Vocal ● Twitter ● CashRain
● Me.dm ● YouTube
Don't forget to Subscribe and Like if you enjoyed this article!