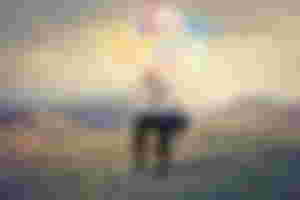 The king said to a dervishes:
"Ask, what do you want?"
The dervishes put forward their kashkul and said humbly: "Holy Prophet, just fill my kashkul."
The king was in a state of generosity. He immediately took off his necklace and rings.
But Kashkool was big and his possessions were low, so he immediately called the treasurer in charge.
The king in charge came with a bag of diamonds.
The king felt insulted. He opened his mouth but did not mention filling the cupboard.
After the treasury came the turn of the ministers. Then it was the turn of the courtiers and safes, but Kashkul remained empty.
One by one, the whole city became empty, but Kashkool remained empty.
in the end the King lost and beggar won,
The dervishes bowed before the Kashkool king, smiled, greeted him and turned back.
The king ran after the dervishes and tied his hands
Please tell, whats the story of them big puppys .....
The dervishes smiled and said, "This is a kashkool made of desires, which can only be filled with the dust of the grave."
"Even if a person continues to fulfill his desires, his desires never end, even if his death brings him to the end.