Story Of The Cat That Accompanies Me When I'm Alone
When I am working or not working, sometimes I always come to the WiFi provider service. There I usually use WiFi when there are files that I need to download that are quite large in size. Not infrequently I also take advantage of that free time to play online games so that I don't get bored alone. But at that time, exactly a month ago, one of the orange stray cats always came near me. I don't know why there are stray cats that are completely unafraid of people.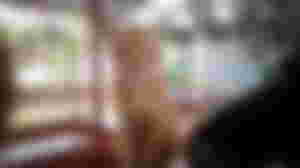 Usually stray cats that have never been touched by people, of course they will get scared and run away. But this orange cat is different. Instead he approached me and did not feel threatened. Without me thinking, the cat who dared to approach me indicated that he was very hungry. And sure enough, when I gave him a piece of bread, he ate it voraciously.
Because I felt sorry to see him starving at that time, I finally stopped by the convenience store to buy cat food that I was going to give him. At first he didn't want to eat it because he didn't seem to have eaten anything like it. But after I told him that I would not buy it again if I met him, he slowly tasted the food and in the end he ate it. I myself was confused why he immediately ate the food I gave him. As if he understood what I was saying.
But after he ate all the food I gave him, he thanked me by rubbing his head against my hand. Honestly, I was touched by his actions at that time. It's just that I did not immediately believe in his actions because there must be a purpose and purpose to give him more food and then leave. But I was wrong, when I gave him food he didn't leave me. And you know what happened? Yup he sits on the table like the photo below.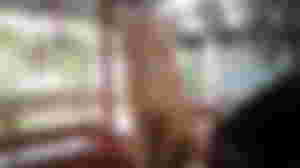 He always rises on the table when the food runs out and he accompanies me all day when I hang out alone at this WiFi provider. I tried to push him away but my attempts were unsuccessful. He would come back and sit on the table again.
" When you go home, does he stay on that table? "
Precisely this cat is different from other cats. When I come home usually the stray cat will stay there and will not go anywhere. But this cat is different, very different in my opinion. When I came home he followed me then rubbed his head against my feet and then left. I think that he was previously a cat that had been cared for by his master and for some reason he was finally dumped and left to live in the wild.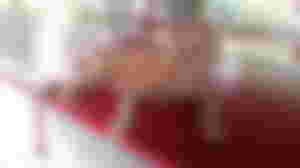 I can think like that because this cat's body looks like it's well-groomed. Maybe my opinion could be wrong because in the area where I hang out there are many stray cats that are being fed by people who also relax at this WiFi service place.
And it is also necessary to know that until now this orange cat has always been as I described. And if you ask me if I teach him, the answer is no. Even I myself can not train animals to learn discipline like this story I tell.
So, that's the story of the orange cat who always accompanies me when I'm alone. Until now or maybe after this article was published, he still carried out his ritual as usual after I fed him. For him I was a good employer in my opinion. I don't know how in his heart hahaha. How about you guys? Do you guys have a similar story? Let me know in the comments.
Lead image from pixabay.com
All ilustration image from my own capture