Tuna Panga with a View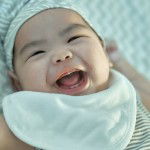 A few weeks before Odette, my husband and I decided to try dining at Jagna Baywalk food park. Jagna is two towns away from us, it isn't too far though, it would take around 15 minutes drive only and since we haven't been here, we decided to go before sundown so we could witness some sunset view but as we were on the car, we saw the sun was already setting, I guess we have to come earlier next time.
Only a few people were at the bay when we arrived, this bay walk though has become a spot for which locals of Jagna would chill in the afternoon, watch the sunset, and the port at the distance.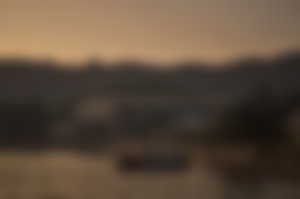 It was not too long ago that some business-minded individuals opened up some eateries to cater to the hungry stomach of these locals and even visitors too. During our visit, I found two eateries.
We hopped out of the car and decided to order food first. I had to look for the best option, there were only two, one was offering grilled food while the other offers fried. There was Carl's Fried of Jagna and I forgot to note the name of the grilling station.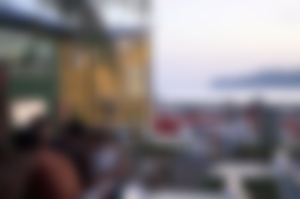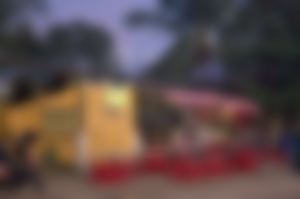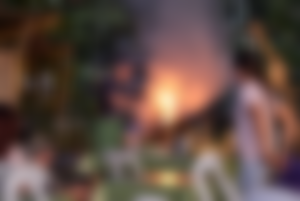 I guess they don't have a name yet, the customers had to just go to the stand, pick whatever is available and ask them to grill the food. They also have hanging rice. At Carl's Fried of Jagna, I ordered Tuna Panga meal and a chicken with fries meal. They are very affordable though.
The person who attended to my order told me they will just prepare the food and will call me when it is ready. It should be ready in 10 minutes. And so it was photography time!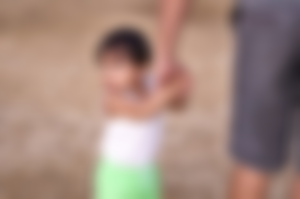 Matti got so busy looking here and there, a few minutes after, more and more people are coming! He seemed to be looking for something.
Oh, I guess Matti was looking at this vendor who has her goods placed on her head. That balancing skills though, I know elderlies today were used to carrying things like this in their head. Vendors love to do it too hands-free.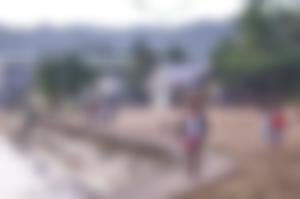 It's time to get our legs to work. Walking at the bay and seeing other kids roam around, I guess that entertained Matti for awhile while the sun was still up. In just a few minutes, the skies turned to gold and the environment started darkening. The solar street lights just turned automatically.
Speaking of solar street lights, I truly appreciate that these are being installed in many parts if not all in Bohol, during Odette, if not for solar lights, the streets would be dark every single night but lo, they became a source of tiny light for us too as our house is near to a lamp post.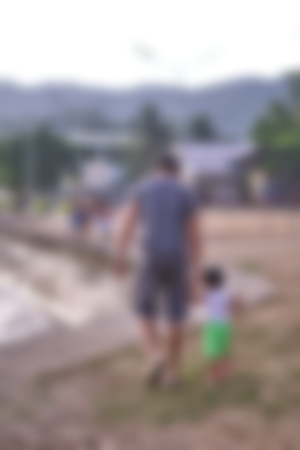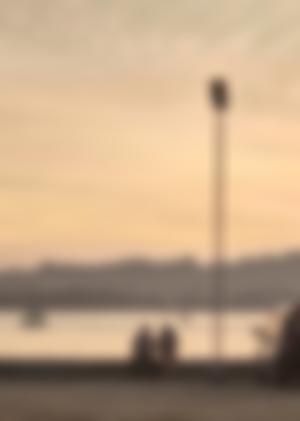 Now, let's enjoy some views of the port where there are boats and a ship docked along. There were also fishermen starting to go out to fish. The golden sky was dramatic as always. But the surrounding is now filled with smoke from all the grilling happening at the distance.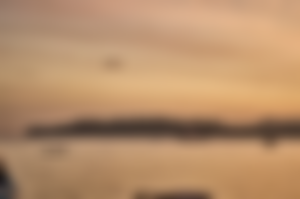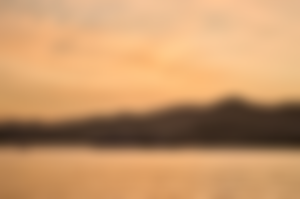 We saw friends and perhaps lovers just enjoying the view. I found these three at one side of the bay walk and what was on my mind was that the guy might be courting this lady and the other guy, the one on the right side who looks like playing a game on his mobile phone is their bridge.
It is indeed nice to chill here during sundown, the ambiance is peaceful, the waters are calm, there's the aroma from the grilled fish and meat which will invite our tummies to get a few sticks, some frying sound too and more that could make us go hungry but the view is definitely inviting.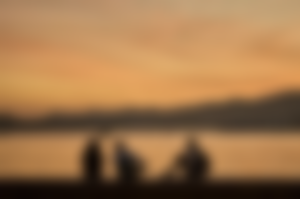 We were glad we got the chance to visit this area. I guess they need more of those who are selling food, there must be a variety of goods offered here.
It's been more than ten minutes, perhaps it's already past 30 minutes since I placed our order. I guess we need to get back to Carl's Fried of Jagna to have dinner. More and more people had arrived, there were more motorcycles parked now and cars too!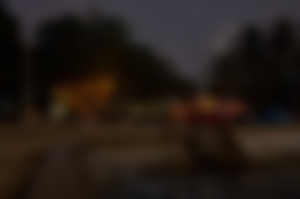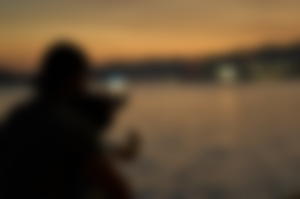 I took a few more pictures of Matti and James, he was trying to take photos of the port too using his mobile phone and Matti was very patient with him. I bet he is already hungry so I suggested we go back now before our food goes cold to which he agreed. Matti was carried by his father as we go back to the restaurant.
As soon as we were approaching the restaurant, the lady whom I ordered our meal saw us and said she had been looking for me for a while now. I apologized for it and she served our orders.
Coincidentally, we saw my father's client, Paco, and company dining at the same restaurant! His house is currently being constructed in Jagna, just a few minutes' drive from here. It seems like they were also having dinner here. Perhaps they love eating out.
Here are our orders: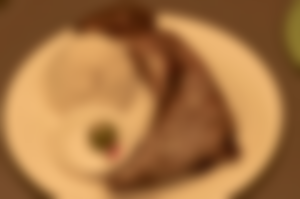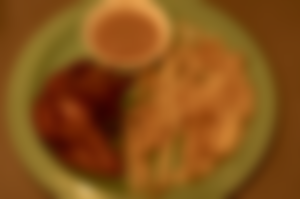 We ordered additional rice because the panga was huge. The chicken and fries were eaten by Matti, I guess he liked the chicken, or perhaps it was just because it was a crispy part. James and I shared the Tuna Panga and I forgot the pricing but they are all affordable. I hope we can go back and treat our family too. But I also hope that the next time we go here, there will be more options to eat.
We also had cold drinks but we decided to visit a nearby milk tea station which had just opened recently. I will talk about that in the next article.
Also, as of today, I found out that a food park will be built at the bay soon, it will be a more presentable type and more vendors will be allowed to sell and offer meals here. I can't wait for that to happen. Food parks are a thing nowadays in Bohol. There's one in Panglao which we have not visited yet, I guess soon, we will do so.
---
xoxo,
momentswithmatti Mother | Boholana | Cebu | Philippines | Travel | Photography Enthusiast | Calligraphy | Art | Crypto Noob