Reminiscing Hubby's Birthday!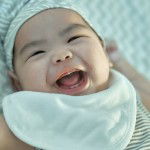 A birthday is ought to be celebrated, this is our family's goal. Knowing that our lives are just borrowed ones, it is just right that we should cherish our time while we are still on earth. One day, all of us will just become memories and thus, whenever we reach a certain age, we celebrate that we still have time to be with the family, to create memories.
On my husband's 34th birthday, our plan was to treat the family to dinner at Sunkissed Resort. It was plainly dinner but I realized, the resort has a pool where kids could swim and all our kids in the family love swimming, even our young lady, Zaila who also celebrated her birthday the other week.
But since James, the celebrant has work to do, we ended up going to the resort ahead of him, he followed us there at dinner time.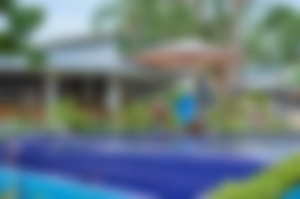 Sunkissed Resort shows a little to zero damage from Odette, or maybe they had already fixed them. For me, the only major thing that has been affected was this huge tree on their garden lawn. The tree shows growth and new sprouting leaves but it was super pretty the last time we had been here, around October 2021.
It got lesser leaves but I believe that in no time, its beauty will grow back. Since my mother has Matti in the pool, I decided to roam around and take photographs for blogging purposes. I checked out the view and I found that the resort now has a gazebo and a new building being constructed in the distance.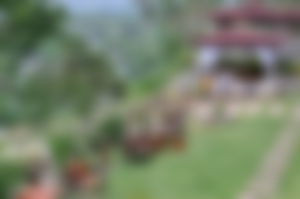 I just wanted to share that the owner of this resort also owns a shopping center here in our local town, and a hotel and they had also ventured into gasoline stations. Before they only have a store in the wet market, they sell sharp knives and machetes. Now, they had expanded and are continuously expanding.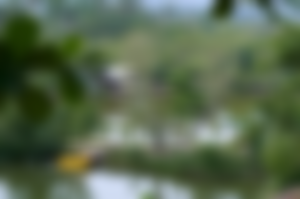 What's cool and unique about their resort is that it sits beside fishponds which the resort owns too. They bought this land though so the fishponds came with it. After the typhoon, the bridge on the highway is now visible from the resort.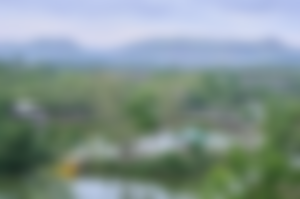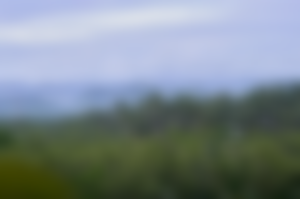 They set up a Valentine's Day backdrop here, I bet many couples had visited the resort during the hearts' day. The resort also has some benches scattered all over the fishing area, any guest who would do so will have a treat from mother nature as there are many wild birds over there perching on tree branches.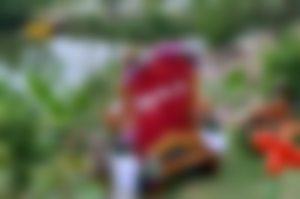 And so I wonder if there were couples who spent their afternoon on one of those benches? Perhaps there were.
Some of the views from the resort. The first image below is an area below the infinity pool. During our visit, there were also guests staying next to that tree, drinking some cold liquor. I hope they have not drunk afterward.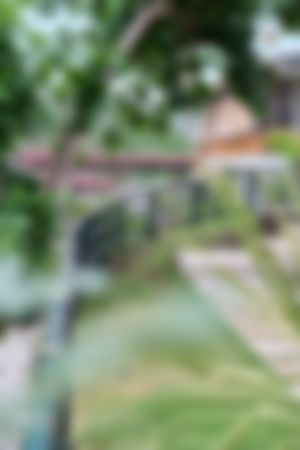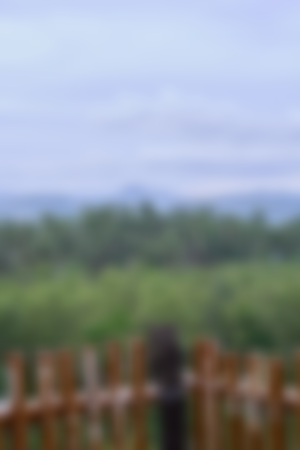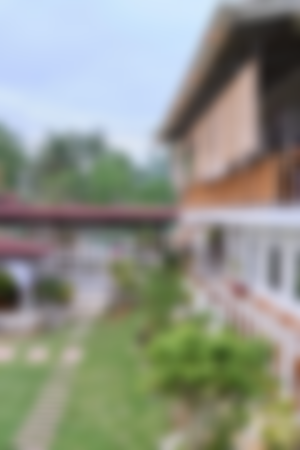 The second image is the view of the mountains and coconut trees can be seen as well from here. This is a bamboo viewing deck next to the pool. Lastly, the third image is the view of the restaurant and the resort's function room on the ground floor. There have been wedding receptions and actual wedding ceremonies helped here before.
As soon as we arrived at the resort, we headed directly to the pool. Of course, I have to pay the entrance fees first, it's quite affordable, Php 90 for adults while PHP 40 for 8-15 years old and below that are free of charge!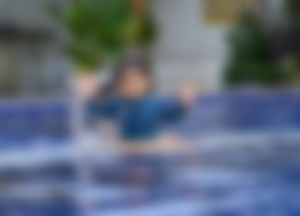 Matti has learned to love the waters. I remember his first time at the beach, he was crying all the time but later on as we expose him to more beaches and pools, he somehow learned to love swimming. He even had attempted many times to jump into the water.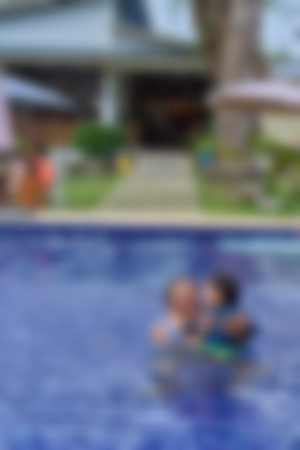 This was also an opportunity for the grandparents to spend time with their grandchildren. Matti super enjoyed his time with mimi or mommyla. I actually like that it was just us who were at the pool by this time. Going to the resort at around three in the afternoon is a perfect time because most guests who came in the morning are done and so we got the pool to ourselves. The water was also clear and clean.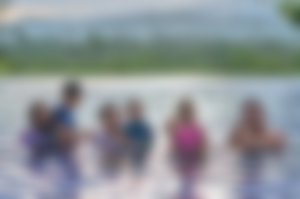 Kids always have the most animated faces, just look at Matti and his cousins in the photos above. Matti and I also had our moments. I am glad that I was able to get these moments taken, thanks to my brother who got the courage to click the shutter button.
In times like this, I miss my husband. He was the celebrant but he was not here with us due to work, I wish he had applied for a vacation leave though. Anyway, he was able to come by dinner time, he brought his laptop so he could work after dinner instead. I already suggested that he should just come with us and bring his laptop but I know that he won't be that productive if he had done so. All was well!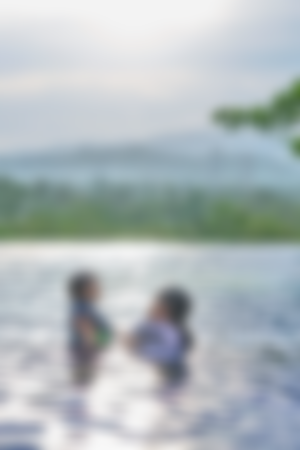 I ordered food beforehand and I asked the staff to serve it by 5:30 PM but we were still in the waters by that time. It was already past six when we headed to the restaurant. But I have to stop to take photos of the skies because it's so dramatic! Look at the reflection of the water and the skies, just mesmerizing. The sunset was not very striking though because it was cloudy but the blue hour got fiery skies which made my jaw drop!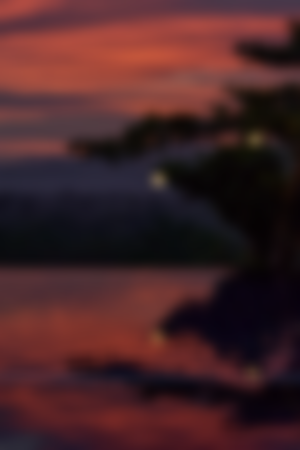 I have used a 50mm lens so it couldn't get a wider shot of the skies, I was already okay with it. We headed to the restaurant after changing dry clothes.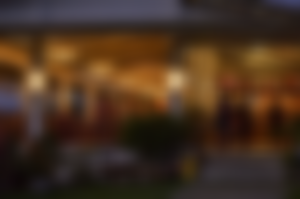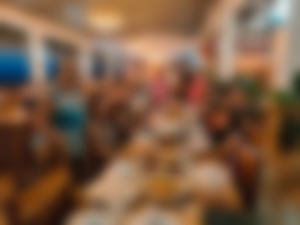 A family photo is required before eating of course. From left to right, let me introduce you to my family. Left most is my mother, then my sister-in-law, Mimie, her son, Kuya ZM, then my younger brother, JayR, our older brother, Jonas, his daughter, Qwyn Amari, his wife, Gecell who's also 8 months pregnant, then the guy in pink is my father, Narciso, next is my son, Matti, then the celebrant, my husband, James, that's me in pink then my sister in law, Mae, my nephew Seth, then that's Jam, ate Mae's niece and lastly, the young lady is Zaila, my niece, ate Mae's eldest.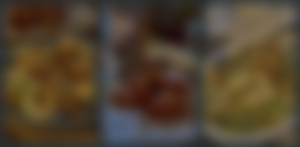 These were the food we ordered: Ceasar Salad, Buffalo wings, mixed vegies, Hawaiian and Meat Lovers pizza, pork sisig. Not in the photo: we also ordered Pochero, carbonara, sizzling squid, drinks and rice were also there of course. On the rice platter, we ordered three and I guess everyone was hungry as everything was eaten except for the pochero which we had to bring home.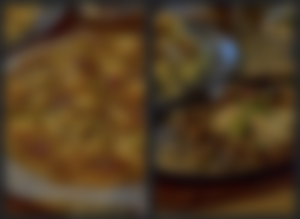 It was amazing because most of the time, we would leave some but this time, everything was eaten, perhaps it was also because we came from swimming so it was super energy draining.
But prior to us heading to eat at the table, I asked the husband to pose for a photo with the dramatic skies.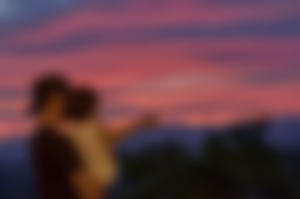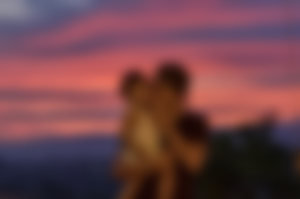 The others went right away back to the pool for a night swimming while my husband and I relaxed on the bench near the pool and just watch the lights and the family enjoying the water. I love to see them happy and I am happy as well that my husband feels at home with the family, he too loves my own and with that, I am thankful.
It was his birthday but he had dedicated the day to work without complaining. Thank you Lord for this man's life, I praise God for what He has been doing in my husband's life and I pray without ceasing that my husband will fall more in love with Jesus, be God-fearing, and always be an example, an inspiration, and a blessing to the people around him.
---
Great thanks to Sunkissed Resort for accommodating us, I really love that we felt very secure in the resort, it was clean, very tidy in fact, and I appreciate how clean their pool water is. I also admire the view of the mountains and the trees around, and the food of course was a bomb!
---
xoxo,
momentswithmatti Mother | Boholana | Cebu | Philippines | Travel | Photography Enthusiast | Calligraphy | Art | Crypto Noob