How To Cashout STEEM to Philippine Peso (GCash) with Binance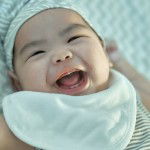 Today's blog is all about how to withdraw earnings from SBD/Steem to GCash. There might be a lot of other ways how to cash out but this is how I do it on my end. I only hope that this will help my fellow Filipino users! If you are from another country, you can still use this as a guide but you can skip the last part with the GCash P2P steps.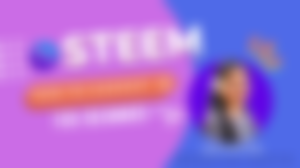 Also, you may look forward to a separate blog tutorial on cashing out your TRX earnings in the future.
This might be challenging to the newbies to the site but it is also a way for you to build your account. The same applies to those users who have been with Steemit for perhaps a long time.
As a tenure user here, I am also investing in my account which is why I have been powering up 100% of my earnings, which made me part of the #club100. There's also #club75, meaning 75% of the revenues are powered up in the last 60 days.
Without further ado, here's the step-by-step process of cashing out your SBD/Steem earnings on Steemit!
Notice that this requires you to log in using your Active key. Some may complain that they don't have access to it because they are logging in with their posting key. These two keys are different, make sure to use Active Key instead.
From there, you'll find your balances and if there are pending earnings to be claimed, they'll show up here too! Make sure you claim them!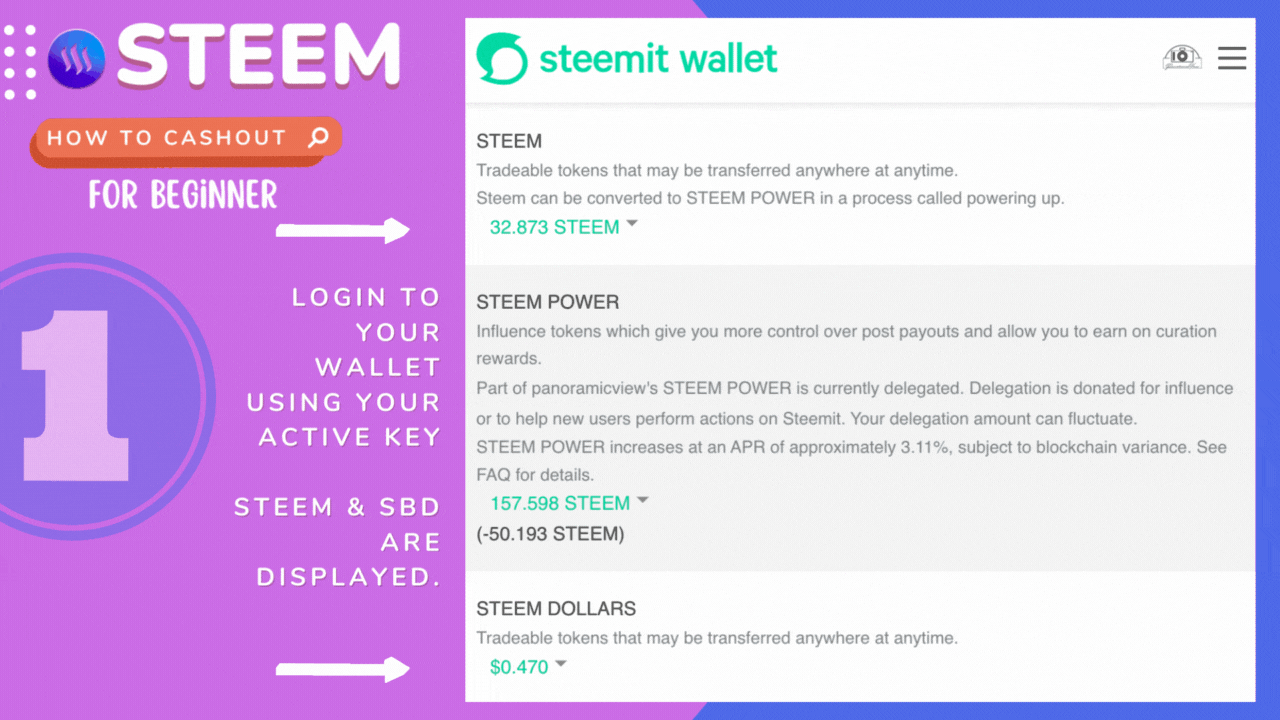 While it is possible to get your Steem Dollars to an external exchange, I usually use Steem instead for cashing out so I can just do the transfer once instead of transferring SBD and Steem separately.
Also, for this tutorial, we will use Binance as the exchange app. So you will need to sign up if you don't have one and get verified!
Under the Steem Dollars portion, if it shows a value, it is best to convert it to Steem by clicking on the drop-down arrow and selecting Market.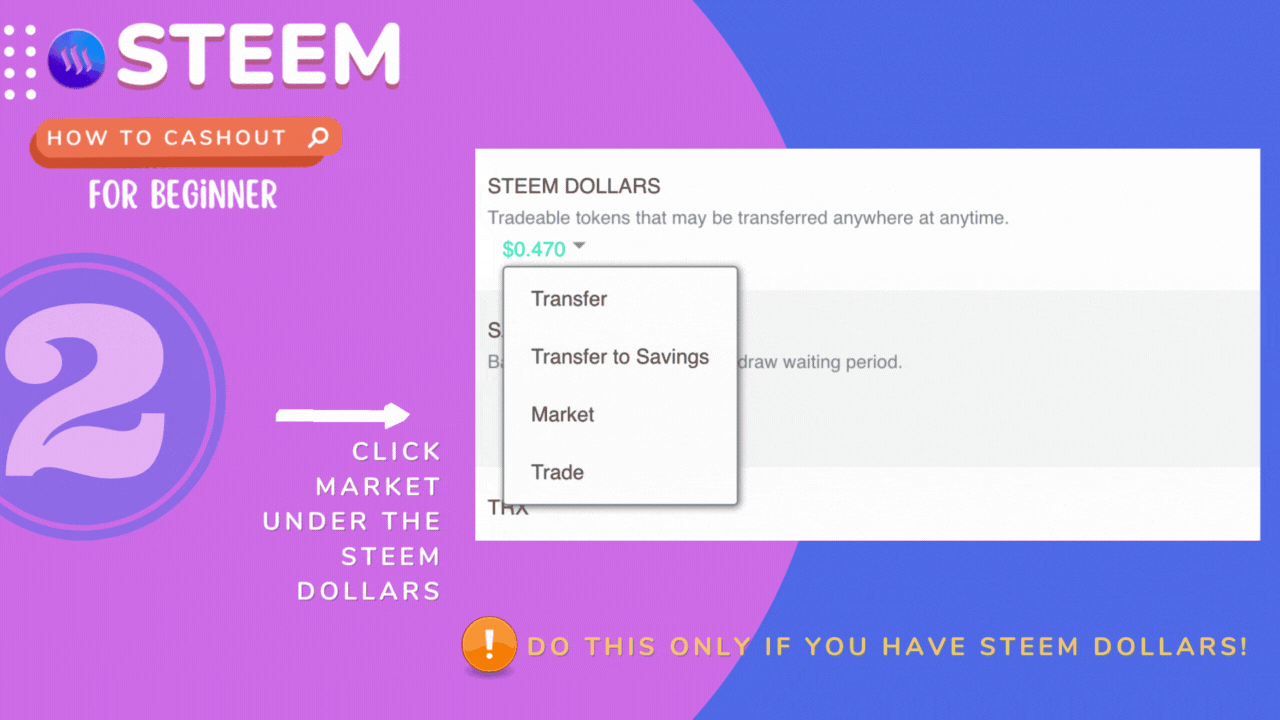 We are buying Steem.
Click on the green texts "Available" and "Lowest ask", this will automatically input the details on Amount and Total.
Disclaimer: You can set the price to a lower or higher amount too, it may take time for the buy order to be filled, and the amount of Steem will reflect later on your wallet.
Click Buy Steem. A confirmation prompt will be displayed and the open order will show at the bottom of the page. Wait for it to be filled.
I usually refresh my Steemit Wallet to check if the order has been filled. It should show the new value after a few minutes.
Steem is listed in different exchangers such as Poloniex, Bittrex, Upbit, GoPax, and Binance, for this tutorial, we are going to use Binance, it will be the same process (*hopefully*) for the other exchangers but the screenshots here are for Binance.
Open Binance Wallet Overview, and click on Deposit.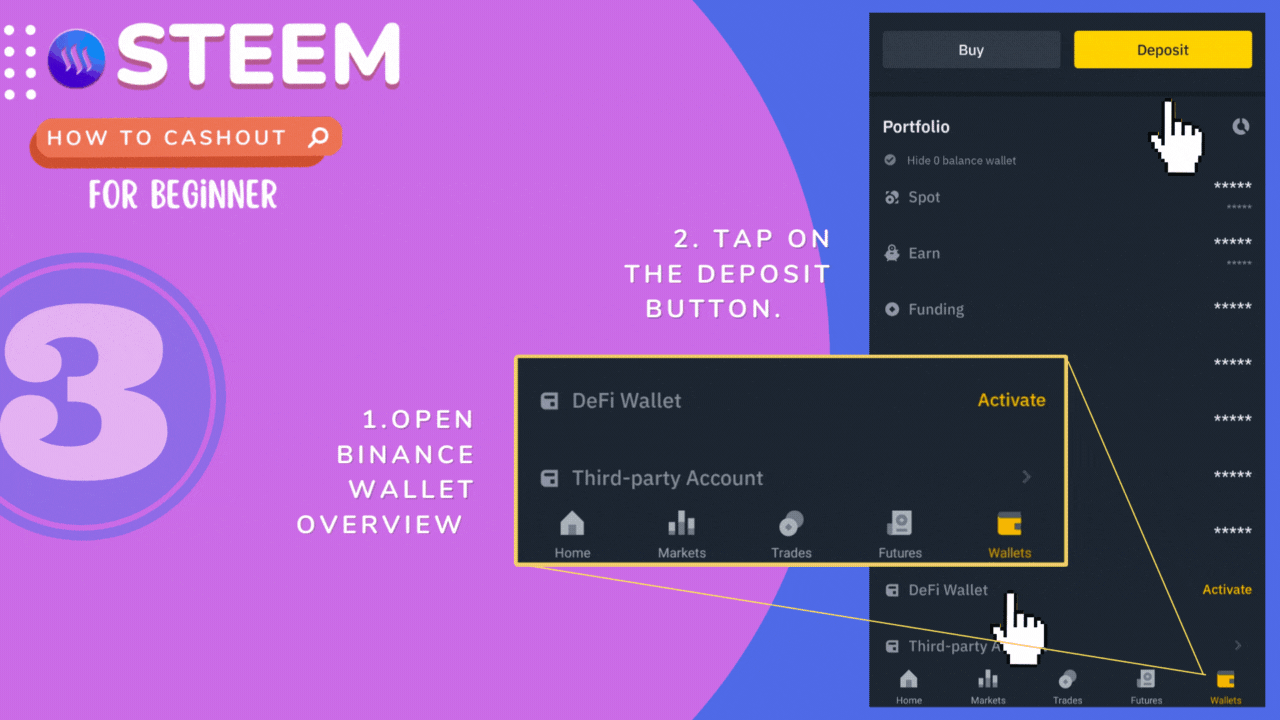 Search for Steem and tap on it. Choose Steem as the network. Now, the Wallet Address and Steemmemo are displayed. Keep this open.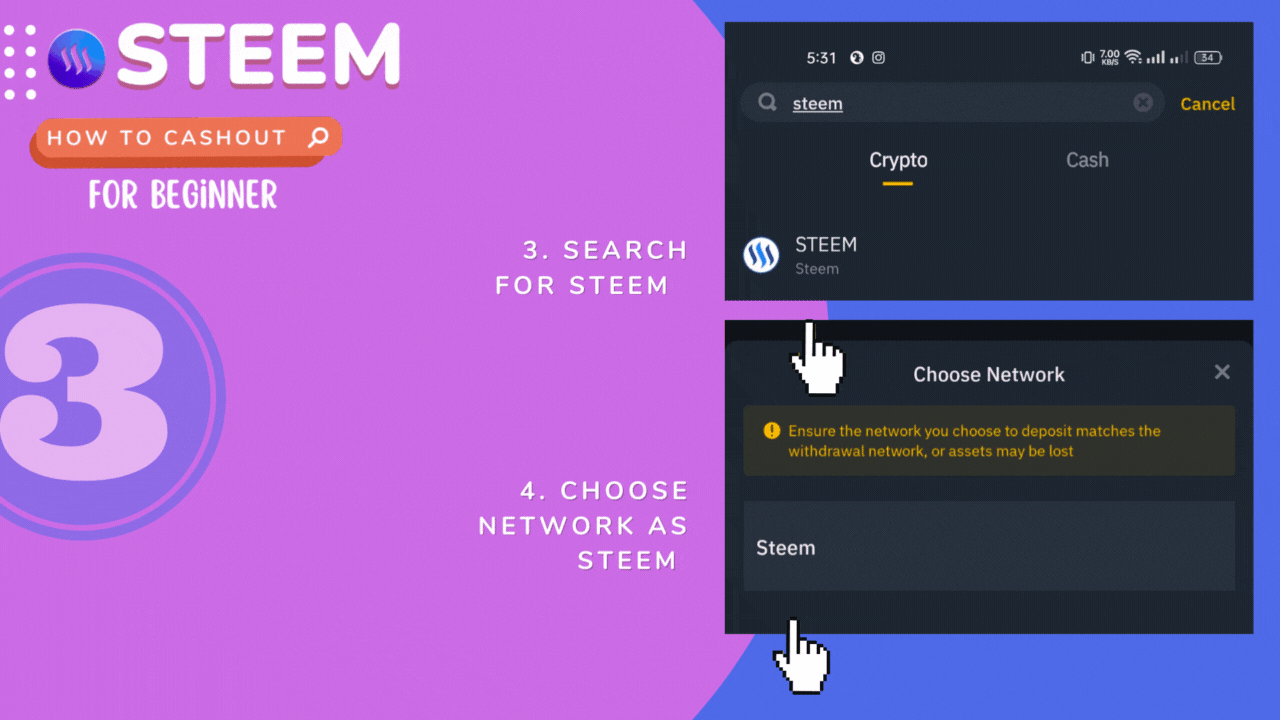 Note: It is important to take double-check the Memo and the Address, or else the funds might be lost! Click Ok.
Go back to your Steem Wallet and click on the drop-down arrow under Steem. Click on Transfer.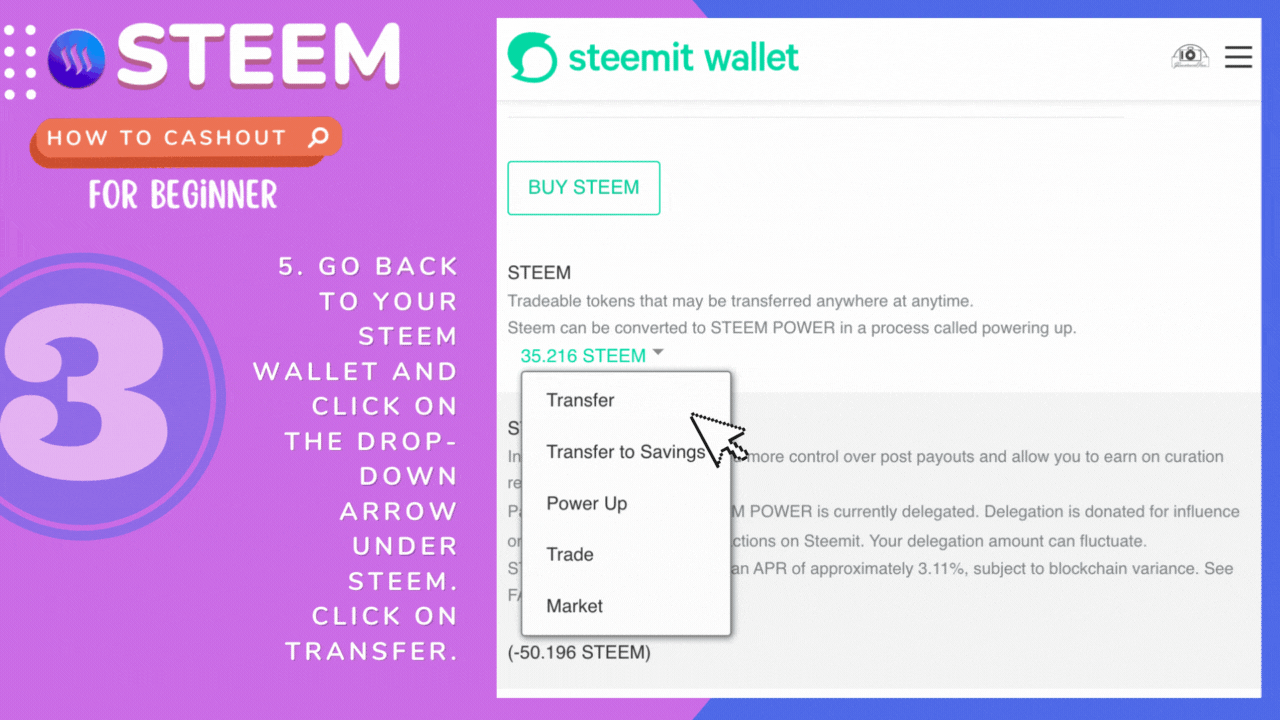 Now input the Binance Wallet Address and Memo.
Press the next button and make sure to double-check the details, then confirm the transfer, and enter your Active Key again for this to proceed.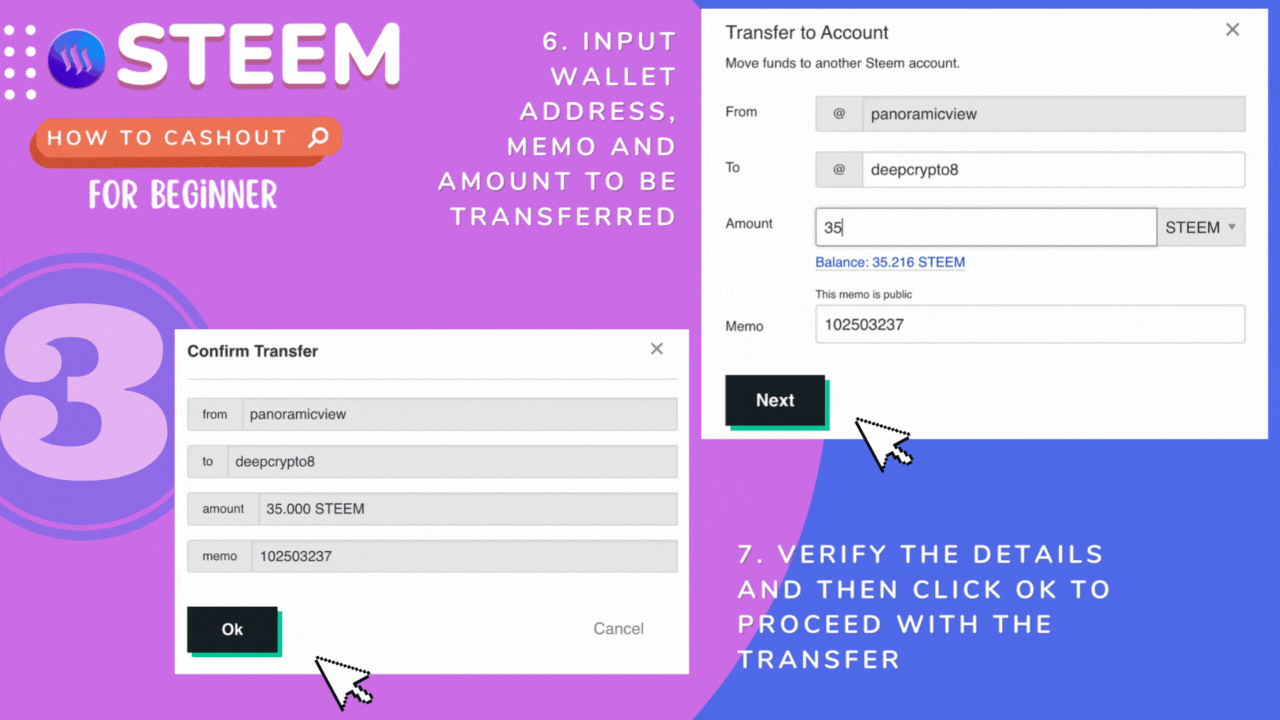 After transferring your Steem, it may take a few minutes for the funds to reach Binance. You'll get a notification on your application once the deposit is completed.
Trade your Steem now to USDT, this is necessary because there's no Steem in the P2P Sell option. Notice that you can choose whatever you want, you can trade it to USDC, BTC, ETH but for this tutorial, we will use USDT instead.
On Binance, tap Markets then search Steem, the options will be displayed, since we are going to use USDT, tap on that.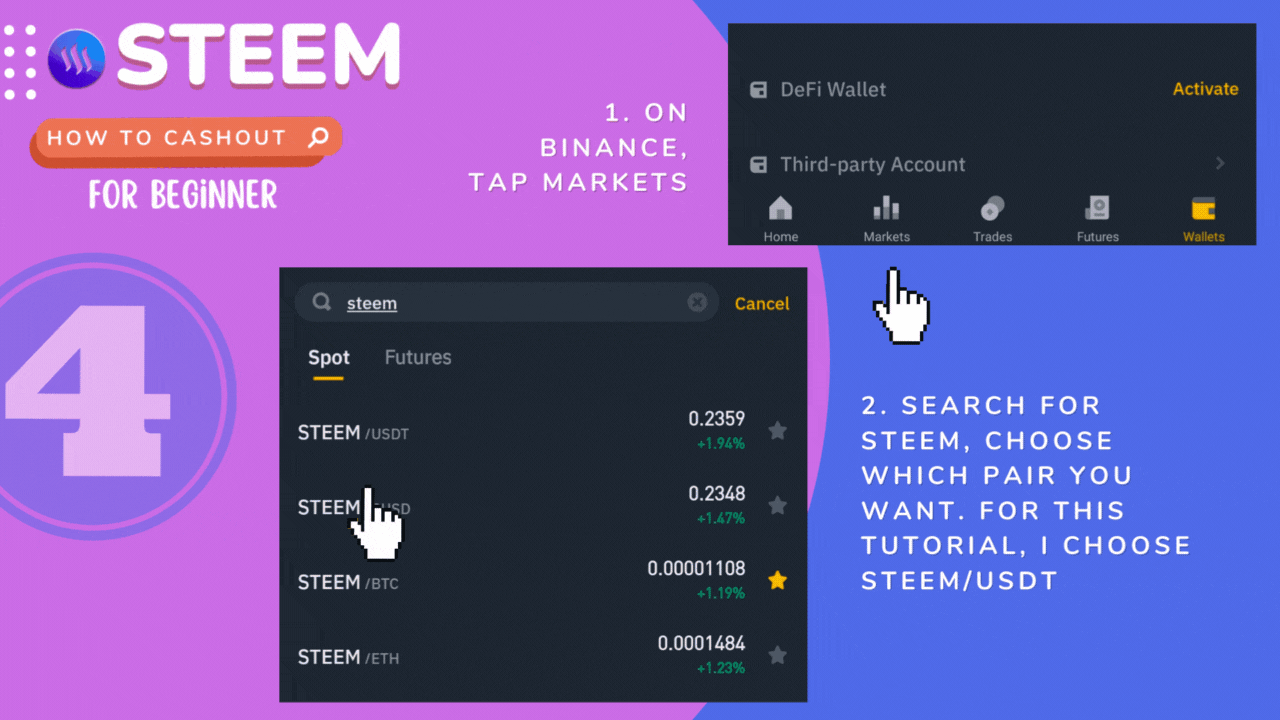 Tap the Sell button. On this page, we will input the amount of Steem to convert. I inputted 42.4 Steem and this shows 10 USDT (appx. PHP 560). Binance requires a minimum of USDT 10 for this transaction.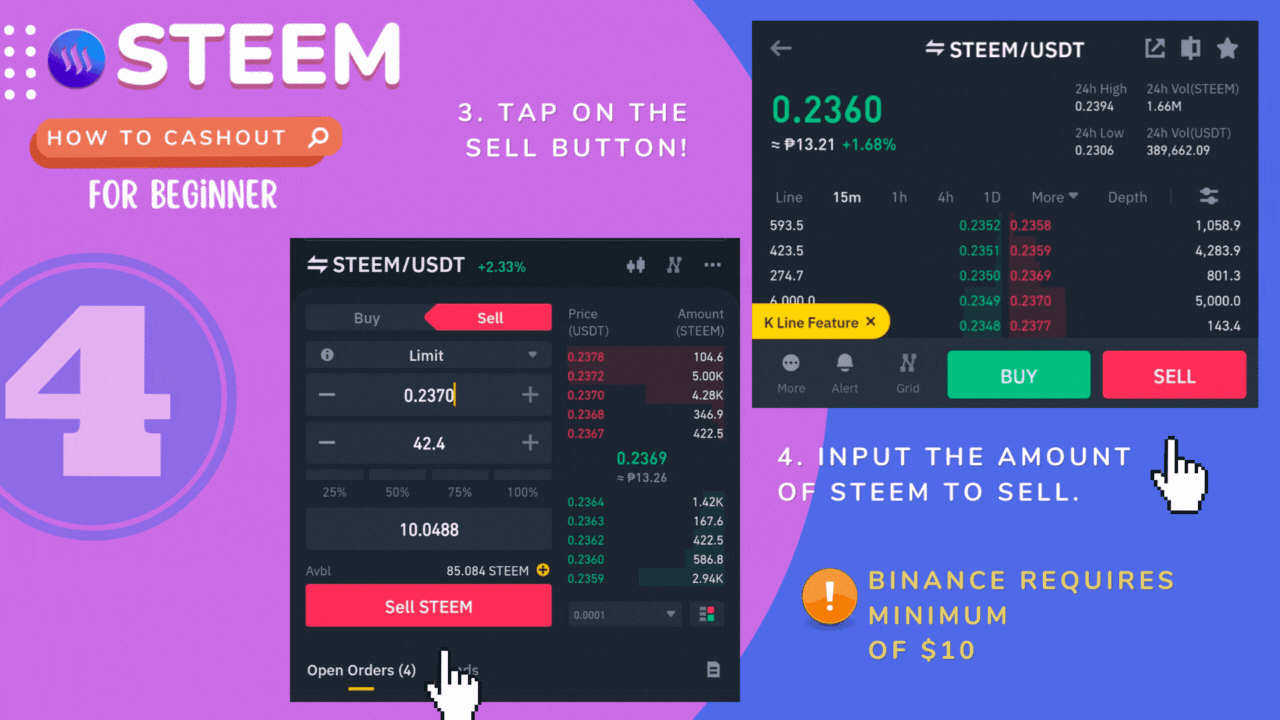 Tap Sell STEEM and wait for it to be filled or completed. The order is shown in the Open orders section. Once filled, the USDT value will be updated on your wallet balance.
Go to Binance Wallet Funding then tap the Transfer button. Update From to Spot Wallet by tapping the up and down arrow keys at the side. Then select USDT from the list and input the amount of USDT, tap confirm to transfer the funds.
Now we proceed with P2P, tap the P2P button in your Funding section and tap Sell. Notice there are many buyers here with different options, bank transfers, Cash, etc, and their specific limit requirement. We will use GCash here I looked for a buyer who can accommodate at least Php 500. In this case, I found the buyer named Joy and immediately tap on Sell.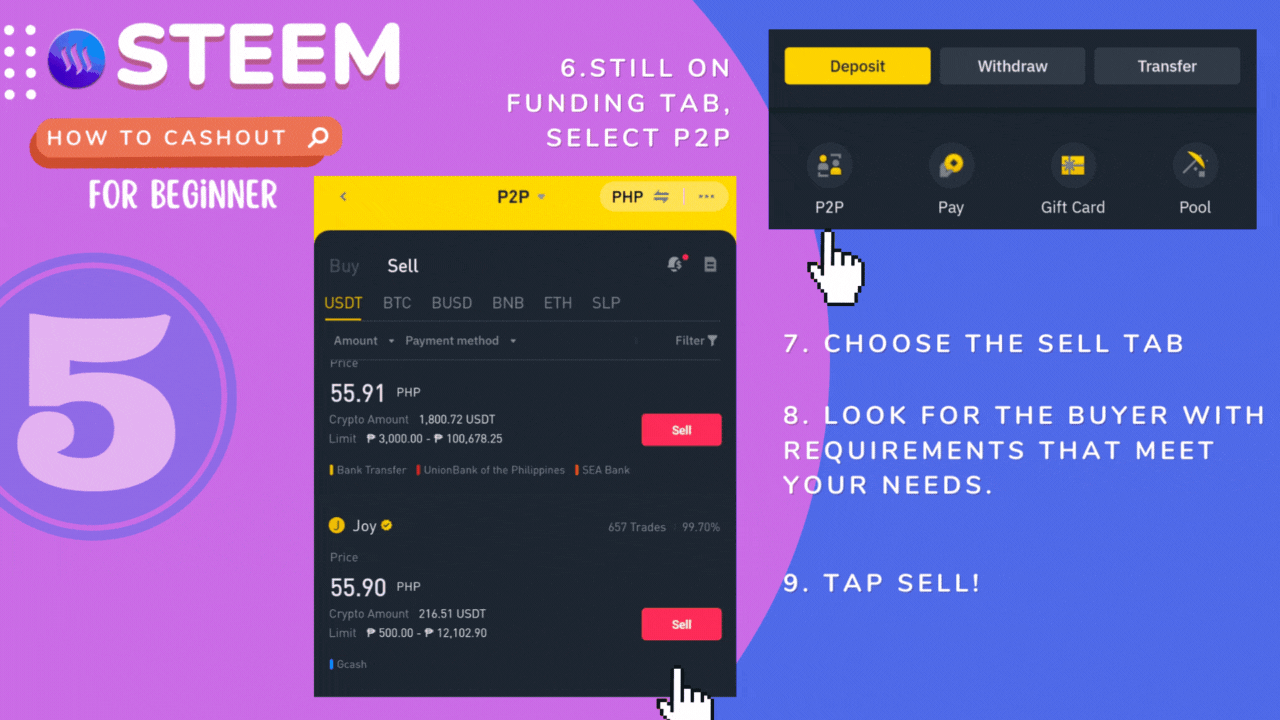 On this page, you can enter the total amount to be sold, the GCash number to receive the payment, and tap on it to add the GCash number. Tap Sell with 0 fees!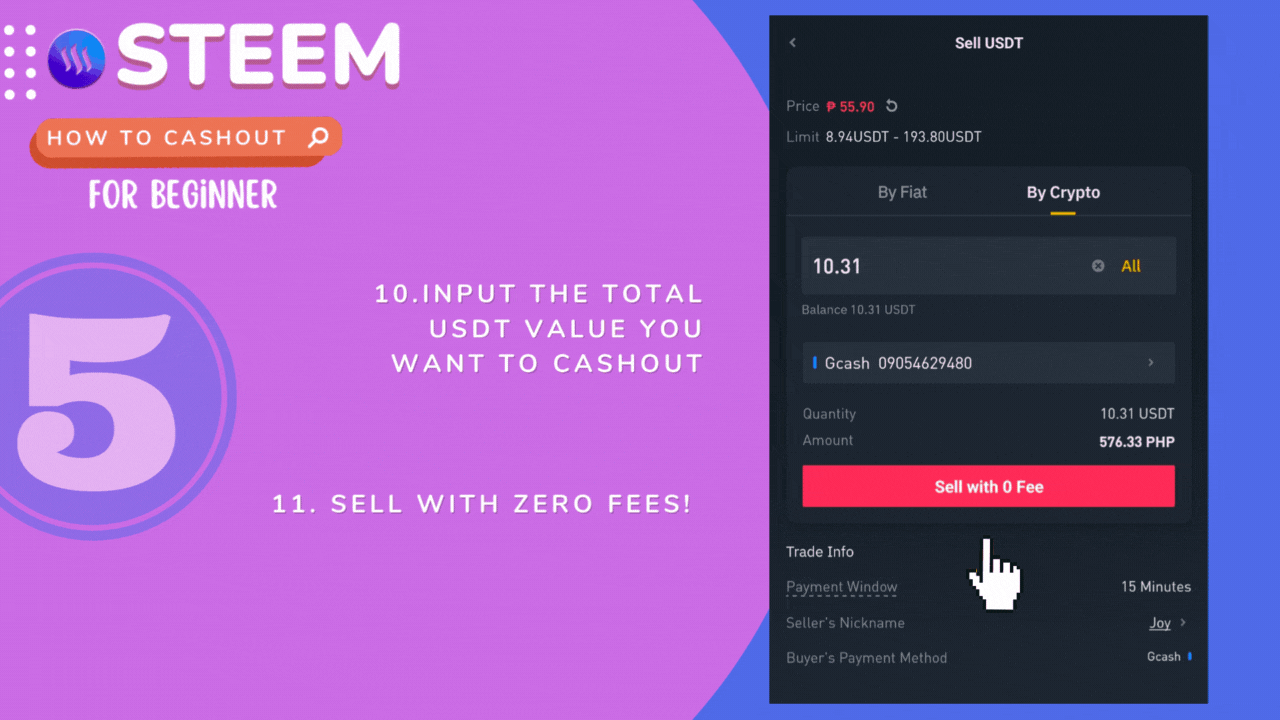 Wait for the buyer to send the payment! Notifications will be received once the GCash funds are sent. Release the USDT funds and authenticate it via SMS or Google Authenticator and Done!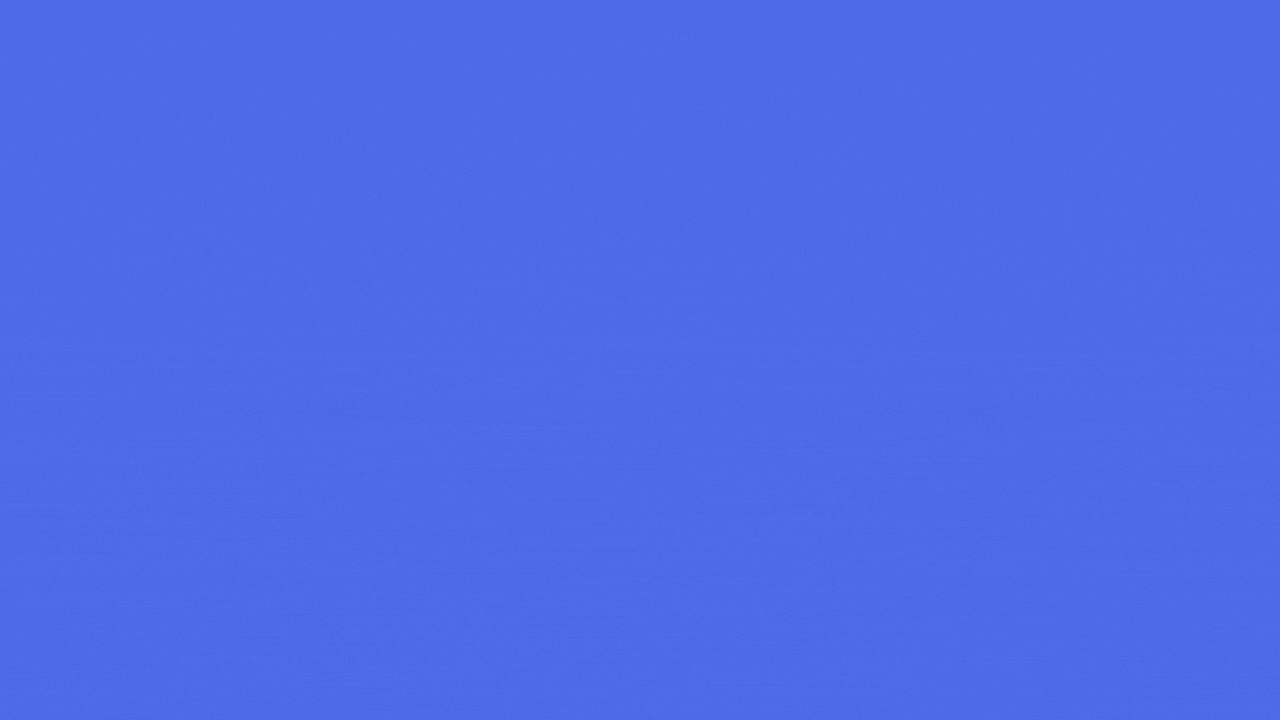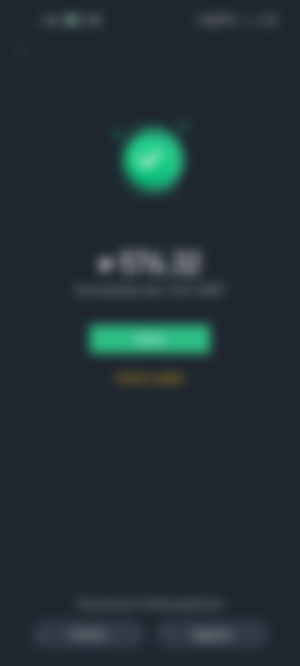 I hope this helps! I also generated a video summary of the entire process! You may watch it here below:
Thanks for reading! Here are some of my articles:
xoxo,
momentswithmatti Mother | Boholana | Cebu | Philippines | Travel | Photography Enthusiast | Calligraphy | Art | Crypto Noob
Sponsors of Momentswithmatti