Feria of Radisson Blu Cebu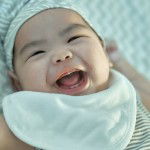 Feria is an in-house buffet restaurant of Radisson Blu just beside SM Cebu City, this hotel is located at a strategic area since there's a mall beside it plus it is also just along the road going to the Mactan International Airport and the Cebu sea ports! So that means a lot of tourists prefer to stay here and it is also a favorite place for those who are getting married, there are a lot of prenuptials happening here.
I had been to Feria a few times and the very first time was when our pilot boss came to visit us early last in 2018 and I won't forget how good their Crazy Basil juice was and their Japanese Maki and Sushi corner. So let's go and take a look at what we had eaten at Feria!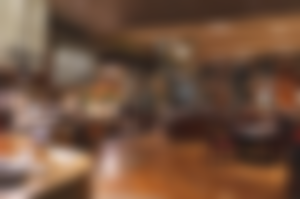 The buffet restaurant looks elegant and how they had positioned the food trays are well thought of. The lighting however is very challenging plus we sat at the corner where the room was dark and only a few tiny corner lights were on!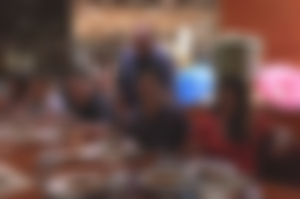 Above are some of my colleagues with the company employer, he is not the pilot boss though. As you can see, our plates contain food already! But let's go around and look for some other food this time!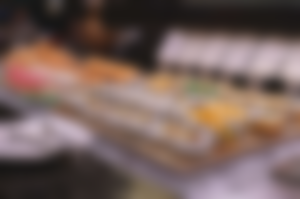 Japanese Maki here at Feria is definitely good! I can't anymore remember each of their names but I remember how good they were!
Any other maki lovers here?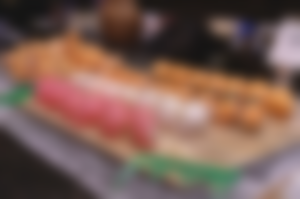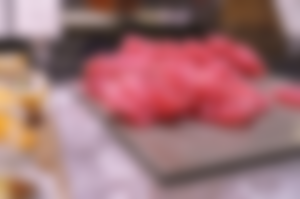 Sushi were another hit! I came over twice on this section. Got two pieces each then went back once again for another batch.
Look at how my plate looked! This was during my first round of sushi and maki!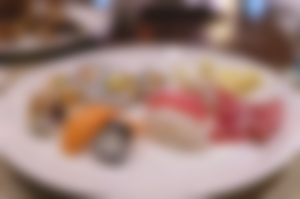 This time, we have to move on to another set of food, perhaps meat! But first, take a look at my boss' plate as we were just sitting next to each other here: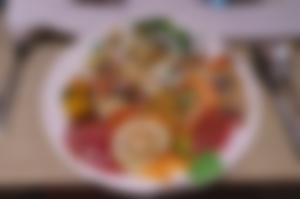 Seriously, I got jealous with how colorful his plate looked! Can you see how much Wasabi he took? I can't remember if he loves spicy but perhaps that is true!
Okay, let's roam around again and find things that would encourage the appetite!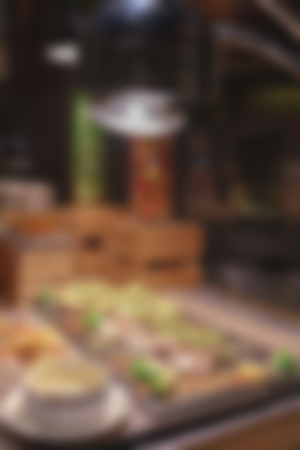 This one looked appetizing actually at first glance because even though I didn't know what these greeny thing above it, I believe that would still taste good because that's a huge chunk of tuna so I took a few and added some sauce on top however, when I was already eating, I realized it wasn't really that good.
Looks indeed can be deceiving!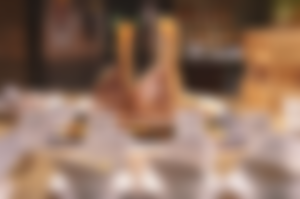 Hmm... this comes with so many spices and sauce all displayed in front of the huge platter. The crews has to slice them first. I had to wait for a couple of minutes before the good man came from the back. I believe he was also cooking!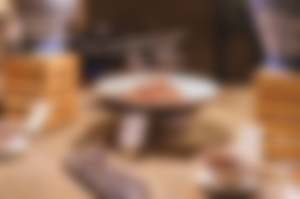 Roasted Duck anyone? This reminded me of the roasted duck at Dubai mall. My friend and I love dining there because the meals are affordable yet the serving is huge and the roasted duck tastes really really good!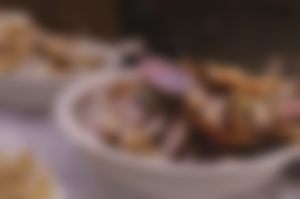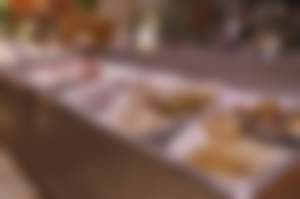 A row of many seafood and seashells in here. I didn't get any from this area though because I already had a lot of lobsters.
More food below!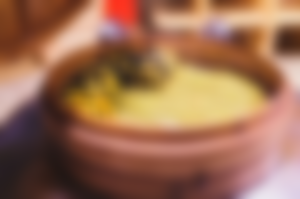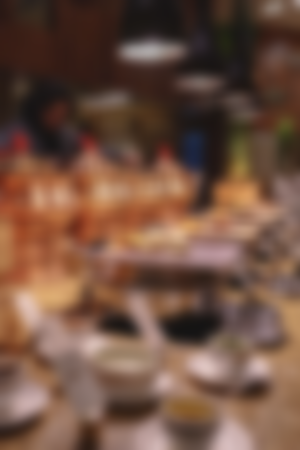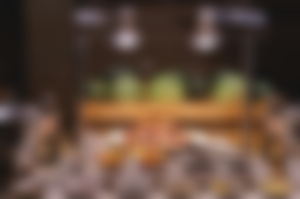 I love samosa so I didn't miss to get a few pieces of this vegetable samosa. Note the guy from the back? He is getting some Indian food from there. I really like their containers, elegant and very middle east.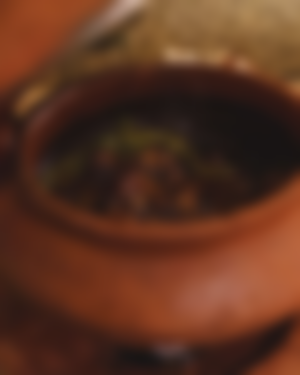 Of course Filipino food won't be missing from their menu! This clay pot right here contains pork adobo, a common Filipino dish which can be cooked in so many ways with just a few ingredients. We all love adobo here.
I also appreciate that they got a corner for all Filipino goodies and dishes! Here's my colleague posing like she owns this entire section! Teehee!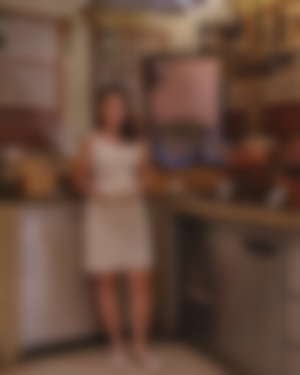 This corner looks like a Filipino kitchen too with those windows and wood palettes and clay pots! Awesome!
I got really full after eating a lot of meat, but I guess I over ate sushis and makis so my stomach was full already! This time, I went to find the dessert fitting for my taste buds. I actually had ice cream which was really good specially the rocky road!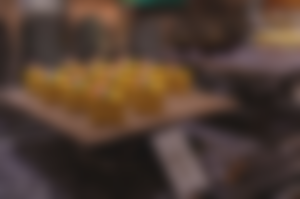 Since we are in Cebu Mango Creme Cake is definitely a go! This tasted really good! At first I thought I should just skip it but I was glad I took one slice.
Here are other desserts: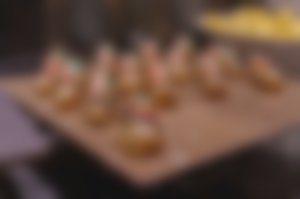 They had more desserts than these photos, I was just a little shy. They got bread and pastry area and this is included together with a corner where you can create your own personalized halo-halo, a Filipino dessert where you'd be adding many different ingredients and mix them all together.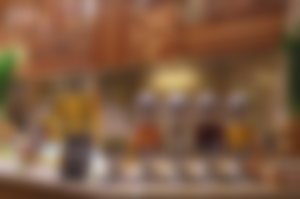 And my favorite Crazy Basil drink! As you can see, it is the most in demand of them all! However, I noticed that this time, it is not that tasty as compared to what I had a year ago, I don't know why but it seems like this one had more water, it wasn't that sweet but still was good.
It's a pity that if you have the camera, you won't have any photos yourself. I got used to it now but I really love taking photos of random stuff as well as these foodies! It was good that there wasn't that many people around when we dined in.
---
xoxo,
momentswithmatti
Mother | Boholana | Cebu | Philippines | Travel | Photography Enthusiast | Calligraphy | Art | Crypto Noob
Sponsors of Momentswithmatti