Barrio Kusina in Dalaguete!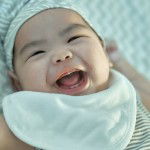 The trek at Osmena Peak had taken all of our strength and after we toured the Sunflower Garden, we were almost dying of hunger (a little exaggeration here). Instead of returning to my colleague's house which was a little far from the main town, James and I voted to go visit a restaurant that we often pass by when we commute to Oslob.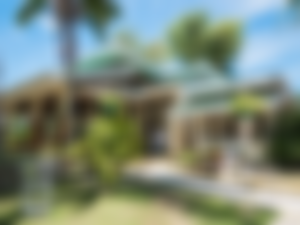 Barrio Kusina sounds really Filipino-ish. It makes me think of the provincial style of eating where boodle fight sorts of dining are available. Where there are crabs, shrimps, and squids which are mostly grilled and then served in a banana leaf. This term also makes me reminisce about my late grandma who would make "suman" or those Filipino sticky rice treats that I enjoy helping her roll and set for cooking.
I had been daydreaming about all these things, humans have the tendency to think about food and get more hungry whenever they are starving. Then I was awakened from my daydream and realized, we were already at the restaurant's gate entrance.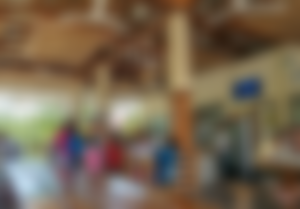 The metal gate was opened by the residing guard to let us come in. With a smile, he revealed where to park our motorcycle while I went straight to find our table.
While walking towards the Barrio Kusina restaurant, I noticed there were already customers seated at the front tables. On my left was a native cottage which also has native chairs and tables in it, all made of bamboo and nipa. Perhaps the guests were allowed to stay there and dine too, I thought.
Beside the hut was a mini garden. A cocount tree stands there amidst the green grass with shrubs and even flowers dancing with the wind. I actualized it also has a pomegranate plant and it has a lot of fruits hanging from its tiny branches. Next to it was a mini display of some platform stands which shows Barrio Kusina in it.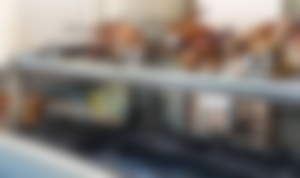 On my right was a grilling space, electric and automatic. It was grilling some whole native chickens over medium charcoal.
Wooden tables and chairs, native ceiling decorations, and some wine bottles were displayed at the restaurant's core counter while the cashier table was positioned at the end where I noticed another bar connecting the kitchen and the cashier section.
All orders were coming from that board and their energetic staff would immediately pick them up from that expanse towards the customer's tables. There were around four staff when we arrived. One came to our table and gave me their menu.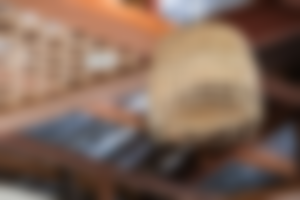 I sat at the far ridge table near the fence which allowed us to see the neighboring land. It was already past ten when we arrived thus the sun was really gleaming and shimmering but from where we were seated, there was ventilation thus we didn't feel really warm at all.
But this restaurant is definitely more attractive at night. I discerned it could have been better if we went here the night before instead of that morning, presumably, the experience was way better!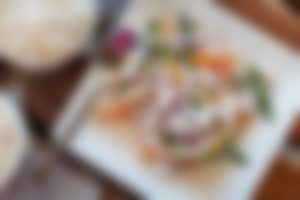 Barrio Kusina takes pride in its food choices which are all inspired by the Filipino style of cookery. They got Filipino breakfast options which usually include a whole set of "tapsilogs" from fish, to pork, to ham and hotdogs, to bacon and beef, all of these prospects include sunny side-up eggs and fried rice which compose a common Filipino food breakfast meal. Of course, it can be paired with coffee but they also offer iced tea which is included in the meal set.
Then there are appetizers as well such as sauteed shrimp, calamari, gambas, ceviche, eggplant selections, and a lot more. For soup, they have shrimp or pork sinigang, fish tinola, pochero, and balbacua.
Noodles and vegetables also got a space on their menu. Chopseuy, pinakbet sa bagnet, and mixed veggies are part of the list. The rest were for the main dish, pork, chicken, seafood, beef and other types of meat recipes were available.
Also, they have desserts and beverages suitable for a Filipino set up such as halo-halo, fresh juices, and even puto cheese! They also offer liquor drinks!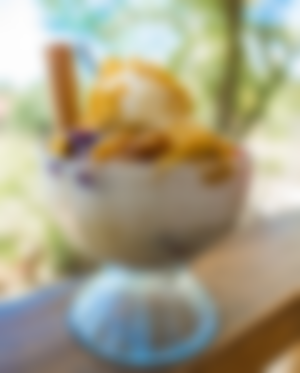 Our orders were only good for two of course. James and I agreed to order seafood instead. So our appetizer was Kinilaw na Tangigue which cost Php 200. Then we also ordered Tinolang Malasugue for our soup, it cost Php 250, and Bihon Guisado which cost Php 100.
I regret not ordering the shrimp and the sizzling squid, perhaps we'll do that in the future. Aside from that, we also requested two cups of their fried rice and a cup of plain rice plus halo-halo for dessert.
The soup and the ceviche were both good. I like their soup, it was tasty, just right in terms of the seasoning and the fish looked fresh!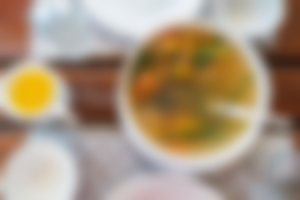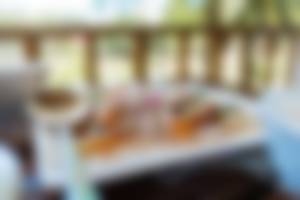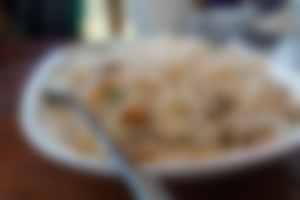 However, when the Bihon Guisado was served, I was a little disappointed because it tastes different, we only tasted it and never took any more. I don't know if it was just us, but we didn't bother complaining because we were already full as well.
The serving was good for two to three people so it took us a little time to finish the fish soup. Lastly, the ordered halo-halo was very pretty with lots of icecreams. However, the ice was a little stiff when served but it was all good after mixing everything.
There's a fast internet connection too available upon request and we spent our remaining hours at the native cottage near the entrance where the wind breeze was cool and relaxing. Also, it is wise to note that Barrio Kusina only accepts cash, so those who should be visiting ought to bring with them their cash or perhaps withdraw money from the nearest ATM.
Service is quite fast and whatever asked from the staff were all considered done once you approach them. Their food is also well covered with elastic-plastic to ensure it won't be infested with any insects or flies as the location is an open area.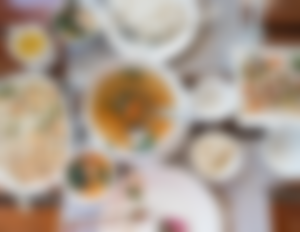 Overall, we rated Barrio Kusina restaurant 8 out of 10. This is due to the Bihon Guisado. Plus they could have stayed with their strain of being a barrio which shows native cuisines, perhaps they could serve their dishes in a Filipino way. Perhaps they could add more decoration that depicts how the barrio really resembles. Anyways, this is really not necessary but I only felt like it might also supplement the restaurant's overall theme.
Thanks for reading! Check out my previous article:
xoxo,
momentswithmatti Mother | Boholana | Cebu | Philippines | Travel | Photography Enthusiast | Calligraphy | Art | Crypto Noob
Sponsors of Momentswithmatti