Sunset Hits Different in Highschool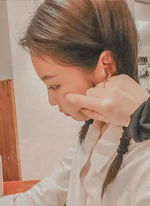 Missing my highschool days, the nostalgic vibes, the place to hangout after a long tiring day, the lining up of streetfoods outside the school, the bond, the random familiar stranger you often bumped in to, and specially your circle of friwnd who always there with you inside and outside the school.
I miss face to face classes where I could hangout with my friends after a long stressful day in school. Those high school friends that until now is still there but we barely hangout since we got into college and also because of this pandemic.
Why does sunset in Highschool hits different? It's because of those after school bonding with my friends. I miss those nostalgic vibe everytime we hangout after school, waiting for the sun to set, the darkness to took over, the light in the city coming into the view, the noise from the students who have their own world and the others who's waiting for a cab to go home.
When I was in my highschool days I used to go hangout after school with my friends house or we evwn go to malls and just waste our time enjoying in the arcade games. We used to spend our friday nights after we got out on school we plan to have an overnight with one of our friends house. And that's the best part of going on highschool days, less stress, more enjoyable but I think it's just me that really enjoy being highschool student I don't take it seriously but I don't ignore it also I'm just an average student and my only goal is just passing grades. So almost the happening in my highschool is juat more on hangouts with my friends.
I do really believed in Highschool friends supremacy, I mean it's not bad to have friends in college but I just noticed being friends in college should be beneficial, I don't know ha its just I noticed it maybe in our class but not in others, come on guys we have different views hahaha. So yeah I think my highschool friends is the best people I ever met untill now.
They still there in every downfall and every wins, we celebrated it. We celebrated each others birthdays together even there's nothing much to do we still have time for it. We have this special date that we will bond and have an overnight or a stay cation just for one to two days hahha we do it yearly, we always make sure that everyone is free to be present in that day but when some is not we adjusted it so that we could go all together.
We're still in college and soon to be graduate and I'm grateful that they're still with me even we separated in different school because of different courses. I'm always glad I met amazing people in my highschool days.
Sunset hits different in highschool when I'm with them.
Good afternoon my skies, how are your tuesday so far? We are in the 11th day of January and it feel likes there's a lot happen in a span of short time. Stay hydrated and eat healthy foods okay? There's a lot of people who is sick please take care of yourself.
Have a great day everyone. Specially to these wondeful people, stay healthy, alive and happy, God bless to you all!