DecemBreak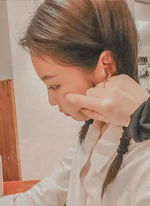 Howdie folks, it's been a long quite time since my last entry here, I apologize to myself for being that aloof again, to be honest I still write stuff on those days of my absences, but just not here, I'm preserving it in my journal.
These past few months has been a crucial and burdensome to this mini stage of mine, I'm the player who often loses her own game and in a mundane of sloppy act that slowly making me tired and formidable.
It's not just about academic stress but everything is just seems so draining, family issues, personal, and my own existence is just a pure emotional burden, sometimes I think its the hormones that makes me feel like this but can't help but to admit that there is always the reason why I felt like that, but I'm trying to distract myself, coping by the use of avoiding the topic of personal issues or if people is asking me if I'm fine, I just nod, or act like its nothing, but deep inside it breaks me, and not having someone to talk to about this is just so heavy.
I spent the mundane of notions running through my mind, making me feel the void of heaviness and it kills me figuratively, the emotions I gate keep as always, I'm so selfish to my own self that I can't even utter my insecurities and this emotional burdens I'm carrying, I have no guts to speak it in people, even with my closes ones, I don't want to add more to their own burdens,
Now, if you all wondering, why I'm writing it here, well I felt like I need a validation from people whom doesn't know me very well, strangers if that's what they called it, it's just feel so nice and maybe unload for a moment, breath for the meantime, release those grips that keeping me on leashed, I can't help but to be so open here, now I'm just here in a coffee shop writing this one, I felt like walking a while ago then decided to spend my afternoon sipping some coffee and decided to write here again.
I'm so hooked up on writing letters and messages these past few days, so for anyone who's gonna reas this, I hope this message will somehow even a little bit lessen your burden on our own predicaments we walk through...
Dear whoever you are,
You might not be quite feeling well right now, and felt like this whole scenarios are a bit overwhelming, being in the midst of this vast stage that is crowded by your own notions that keeps encircling in your mind every time you are left alone in a dim of the darkness, remember that a glimpse of light will still always be the thing that give you a hope, for a better tomorrow, for you to find your own purpose, for you to feel and go to your own solace,
There's always a sight of undiscovered path, to be scared, to be lost, and to be in a battle on your own self is normal, it's part of those challenges in life that makes us human, and makes us much more stronger in this voyage of our own, every step we take lead us to something, maybe if the time it's not for you then there's always awaits, there's always a better place for us to be, maybe not now, but soon we will be standing in that, and we will just look back, and see that it's all worth it, every hardships, every risks is worth because now that we are here, we found our home, we found our place that we can called our solace.
I'm in no position on writing this one, it just felt so good to tell it here freely and no judgements, it's easy for me to say all of this but deep inside applying it to our own is such a difficult thing to do, but no matter what, atleast we tried, at least we keep on tring and not giving up, becauae we are the main characger of our own story , we just need more time to learn to be one.
"keep on going", "don't give up", "stay strong" seems a little toxic to me, those words is so easy to say but when reality hit us really hard, it will never been easy, keeping on tabs on this mundane of painful struggles, not giving up on things even it consumes us, drained us, its all overwhelming, maybe for some angle it helps a little as it serves as the words of affirmation, but what we all need is a rest, a halt, a time for us to calm everything out, when it gets messy and feels nothings is going on, stop, let it all out, let it flow like a river of sour thoughts and emotional burdens, be fragile, its okay. But please there's always a limit, there's always a need to comeback, life will continues even we don't, so we need to move forward even if its difficult, but it's up to us how we will survive on this predicaments of life.
Lead image source:
https://troymedia.com/viewpoint/healing-pain-heals-world/
Image source:
https://bellamonterecovery.com/how-to-heal-from-spiritual-trauma/
https://www.peakpx.com/en/hd-wallpaper-desktop-oxzcs