A funny dog on court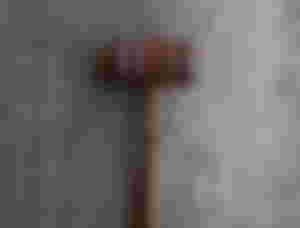 I recently had an opportunity to observe an amusing scene in a divorce court.I saw this in an episode of a TV series, where amazing court cases happen.
On a typical day, the divorce court is a solemn place for important legal proceedings. However, the presence of several hilarious figures managed to lighten the mood.
The situation in question took place during a heated argument. One divorcee had recently become embroiled in a dispute with her ex-husband over a number of problems - primarily about the fate of their joint property and the custody of their child. Due to their altered and tense relationship, both parties took to the divorce court.

As the judge and both parties were in the middle of attacking each other's arguments, an unexpected guest suddenly entered the scene. To my surprise, a small dog wearing an absurdly large doggy tuxedo jacket entered the court. It appeared to be the pet that both parties were arguing over. The tension quickly broke and a wave of laughter filled the court. The judge, taken aback by the dog's grand entrance, started laughing heartily. Everyone in the court, including the ex-spouses, soon followed suit and let out a roar of laughter.
The dog seemed to enjoy being the centre of attention and showed off by barking, hopping around and running circles around the court. Everyone was captivated by the dog's antics and unable to do anything except chuckle in amusement. As the humour died down, the judge went back to addressing the ex-spouses and their issues. However, the comical sight of the little dog had lightened the mood and the court was much more relaxed.
In the end, the divorce court managed to see light in humour and find a resolution that fulfilled the needs of both parties. This moment stands out as one of the funniest and lighthearted scenes I have ever seen in a divorce court as it reminded me that sometimes, a little humour can help to find a resolution.

Sponsors of MicroReylatos