Did you go to church?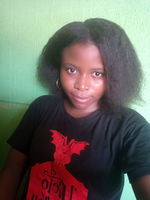 Happy Sunday Lovelies 😍 It is another week and also the last week in the month of November. December is here already...
My church holds two services; first service starts by 7AM while second service starts by 9AM which makes it four hours for both services. Workers are meant to wait for both services. It is actually compulsory. For regular members, you can choose to wait for both or just attend one.
I really enjoyed today's service. In my church, every last Sunday of the month is usually our variety service. The service includes thanksgiving to God, child dedication, quiz and other games.
Those that wedded yesterday came to church to do thanksgiving and those that also gave birth or those that celebrated their birthdays this month also came out to dance and praise God. And even whatever you are thanking God for no matter how minute it is, you can still go out and thank God because we were told when we thank God for His finger, we will surely see His hand.
For other varieties we had quiz. About ten people were selected to participate in this quiz. For the questions asked, some verses of the scripture were called and if you can tell where it is found in the Bible you earn a point. While some, only phrases were picked and who did this questions were also asked.
Lastly, teenagers, preteens and toddlers continued with their rehearsal in preparation for the upcoming Christmas Carol celebration which will be done on the 17th of December. I can't wait to snap with Santa Claus A.K.A Father Christmas and wear red and white or is it red and green? Whichever one it is, I still can't wait.
Yes, the service went well. The regular thing done in every other service was also done. Things like praise and worship, prayer, testimony, announcement, offering, preaching, welcoming of first timers and thanksgiving praise again. Just like I mentioned above, the last Sunday is usually about thanksgiving. We sang, clapped, danced, danced and danced. Who are we not to be grateful?
And guess what? People came in their best especially in native attires with gélé widely tied on the head of the women while the men wore caps. But the men had to leave their head open inside the church which means they had to remove their kind in honour to God. But ladies are free.
How are services done in your church? Is it like mine? It does not have to be as long as you love it.
And since is Sunday, I wish to sleep but I don't feel like sleeping probably because I am not used to afternoon naps. It is good though since I can use that time to do other things like what I am doing right now. If I had slept, I would not have been able to write this article until I woke up which will most likely be in the evening.
Have a splendid week ahead ✨