A Day into Wilderness.
Hey Guys, What's up? Hope you are doing good. So, without wasting a second let's jump into my today Topic that's all about fun and too much craziness. So, stay with me till the end.
It's been on my mind for quite a long time to visit some beautiful places in my country to capture some nature scenarios. These beautiful places are not far away from my house but the roads are not so friendly.
Asked a couple of cousins for the company but they denied it because of having bad weather and other lame excuses. At first, I become so disappointed but then I call one of my best friends to arrange a mini trip because she is a member of the tourism planner.
In less than two days, she arranged a trip to Abbottabad. This city is also known as the city of pines and the city of mountains. The pleasant weather and water coming from the mid of the mountain make it more beautiful.
I took my camera, books, and Air Pods with me and left my house, and free myself from all the anxiety and overthinking in the world, and I didn't hesitate in making up my mind.
The destination was about 60 kilometers so we took off a couple of hours early before daylight.
On my way up there, We took a little break there about halfway to take some rest and eat some snacks. There I saw a bunch of cows minding their own business across the stream, but human that I'm, I broke their peace by running around them with a camera looking like an absolute fool, had to maintain my reputation as a human being.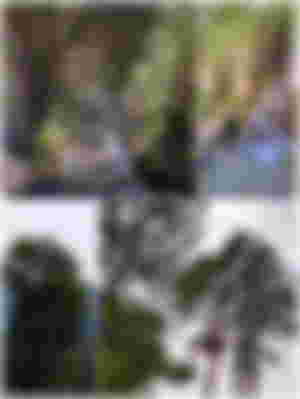 After that, we enjoyed time on the Riverside. Like we could have spent an entire evening there and called it an adventure but we had bigger plans, so we took off towards our final destination that's a waterfall with absolute uncertainty, will we get there on time, we could be mugged easily, but took off anyway.
A villager pointed us in the direction and asked us to follow the water stream and it'll get us to the waterfall, we tried our best to drag our car in the water but it was getting difficult so we had no other way but to leave our car there and continue on foot. And we did.
We ran towards the waterfall, enjoy ourselves a lot there and capture some nature clicks by walking in the water for a few minutes. Eat our delicious dinner with fandom and sing some songs.
Then at last thought of going back started to occur. Meanwhile debating if we should return Or another sound of water got louder with each step so I accelerated the pace and found the top of the waterfall more enhancing and wonderful with every step up around the stream.
Eventually, it felt like solving a mystery case I have been working on for years to find such kind of nature peace between the huge Mountains and water falling from them.
The place was as empty as heaven except for one cow. I wondered why wouldn't people come here, till I saw the cliff that leads you towards the top. It was a hard climb, took a few scratches but it was worth it.
Took a few pictures, washed up my face, and we headed back in a hurry because the car was left unlocked in the middle of the woods. Took a run with my fandom and all the anxiety back. And there we saw our car safe and secure it was an inner peaceful moment. After wondering here and there for some time, having sad hearts but with lots of memories, We left for our homes.
Not gonna lie, this was one of the best, scariest, and full of adventure trips so far. The only thing that I experience so well is I went with a bunch of strangers but never knew when we all became good friends and we enjoy ourselves a lot.
Well, it's been an hour since I was trying to upload images but my internet connection suck. That's why I didn't upload more images even waterfall gifty was not uploaded too. I wanna share it with you guys but don't know why it's not uploading.
Tell me guys you are facing the same issue or is she only me?