As promised, this is the continuation of the anticipated celebration where my nephew had his birthday. There are so many mouth-watering foodies in this one, so stay alert and don't let the cravings get you!
After the fun midnight, preparations and cooking was done early in the morning. As a zombie, I slept way too late that time at around 4am and woke up at 10am lol. I went downstairs to have a quick breakfast and noticed that my aunts and mother had already done most of the cooking. There was still a chance for me to contribute however, as I did the pork belly and arranged all the plating in the dining table.

At exactly lunch time, we invited one of our neighbors to eat in our place along with their two children to have some fun with our celebrant.
You have been warned, as there are several food items presented below. Take at your own risk. If you ever crave or feel hungry, I feel bad for you. At the time of writing, ( 3 am) my stomach already want to take these and my hunger just gets worse and worse and worse...
Pancit Bihon
To begin with, here's bowl full of pancit bihon. Our recipe really puts emphasis on the toppings or sahog since this really helps give the noodles a good mouthfeel. Pork, veggies, and some fish balls were added on top and this makes every bite satisfying.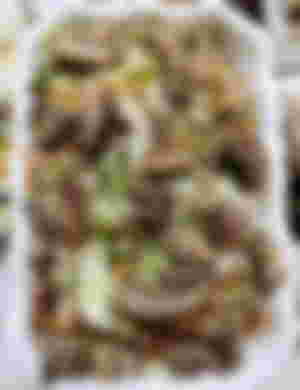 Putok-Batok Pork Belly
This was the only food that I was able to prepare because of sleeping late and waking up late... Sigh... At least I was able to contribute something.
This pork belly was cooked on a turbo broiler in order to quickly achieve the right crispiness, which is the main feature of a pork belly. After the photoshoot, we chopped it into tiny pieces to increase the amount of servings.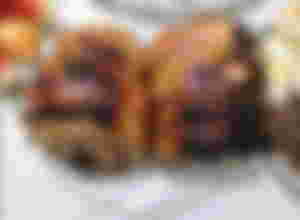 Kakainin (Rice Cakes)
This set of rice cakes were just delivered to our doorstep. It was pretty convenient to have three different kinds of them in one huge plate. The one on the top is called Puto Pao which contains an asado filling, topped with salted egg and cheese. The one on the lower left is Biko, a sticky rice cake that is sweet, with a hint of coconut milk in it. Finally, on the lower right we have the Maja Blanca which is made of a pastry that has a jelly-like consistency, topped with some corn bits and cheese.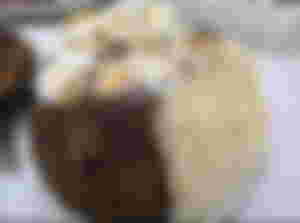 Super Jolly Spaghetti!
I was shocked to see the spaghetti made by our aunt, because she literally covered the pasta with a lot of cheese and hotdogs! The Filipino-style spaghetti is often sweet and full of cheese that everyone loves.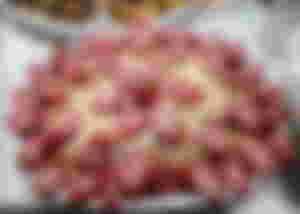 Nostalgic Pineapple Chocked with Hotdogs
When I celebrated birthdays before as a kid, I saw in photos this kind of setup where hotdog on sticks was staked in a pineapple. Kiddie birthday parties often have these kind of setup, and I am glad to see it again.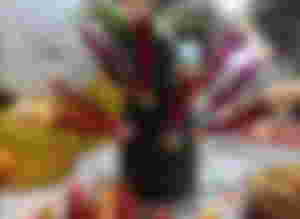 Bilao Full of Spicy Wings, Fish Fillet , Lumpia, and Chicken Cordon Bleu
This is another one that came from a food catering service that was delivered, and it's soo good and worth! There's too much of them that we had lots of leftovers until the next day.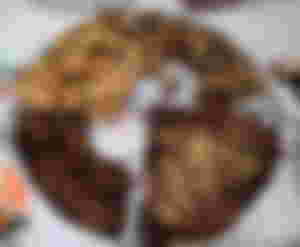 Refreshing fruits as Dessert
Here's an arrangement of watermelons and melon to give some color to the table, as well as to give some refreshment after eating. I am addicted to both and can potentially finish them in one sitting!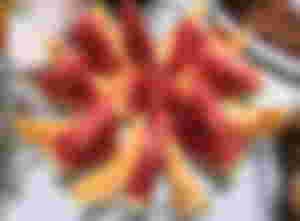 Since our relatives stayed overnight for two days, the party did last up until nighttime again, where the usual eating, drinking, and chatting happened. But compared to the previous day, we slept early ( and I didn't of course) since I was telling what happened to my friends in AxieBCH Dojo Zombie Club.
In the following day, our relatives departed our place at around 2pm, and they sure had a great time throuhout their stay. It feels really quick to be honest, but that took 3 days and 2 nights of celebration. After the celebration, we had an agreement that they will come here again for Christmas, and the excitement is up in the air!
_______________________________________________
That's all for the birthday celebration that we had, and I hope that you're craving and feeling hungry now! There's more to come in the upcoming Christmas and New Year!
[#41] November 30, 2021

Sponsors of MegaKyodaiBanrai