Hundreds of thousands of candidates didn't upload their O'level result during the 2021 Unified Tertiary Matriculation Examination (UTME) registration organised by Joint Admission and Matriculation Board (JAMB). Many completed the registration with Awaiting Result (AR) as they were still in secondary school - yet to sit for the exams to obtain the required results whereas others probably forgot to take their results along to the registration venue.
Also, the use of email was stopped a few days after the start of the registration process, so the early birds provided their email address when they were registered. After the announcement by the JAMB registrar Prof Is-haq Oloyede, email was no longer required.
Now, candidates are required to update or link a personal email to their JAMB profile as well as upload their O'level result to JAMB portal.
This post will guide you on how go go about uploading your O'level result and updating/linking your email address to your JAMB profile.
---
---
Candidates were register without email during the 2021 JAMB UTME/DE registration. And are required to update their email to their JAMB profile.
On Friday, November 5 2021, I tried to help a candidate change her choice of institution. When I clicked to proceed to the change of course and Institution page, I received a pop-up message.
"Candidate Must Update his/her email before Any Amendment is Done..."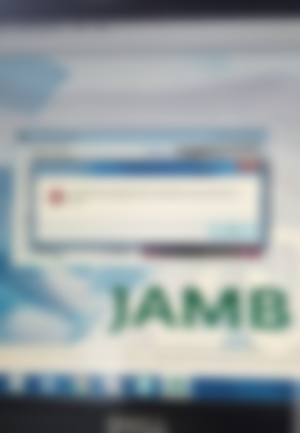 I couldn't proceed with the change until the candidate updated her email address to her JAMB profile.
All candidates are required to update/link an email address to their JAMB profile. If you haven't done so, please endeavour to do that as soon as possible.
Create a new email (if you don't have). Emails that has already been used for JAMB registration will not be accepted. Ensure you have access (login details) to the email you want to update to your profile. JAMB will communicate with you via the email.

Text Email youremail youremail to 55019. You first type the word Email leave a single space and then enter your email address two times with a single space separating each one. So if your email address is macronald@gmail.com you will send: Email macronald@gmail.com macronald@gmail.com to 55019. This message must be sent from the phone number linked to the candidates profile (the one used to generate the profile code during JAMB UTME registration). A network service fee of 50 Naira will be deducted. So ensure you have at least 50 airtime balance.

You will receive a confirmation message containing your password. With the email and password you can login to your JAMB profile and CAPS.
---
---
Please note that your institution of choice can not process your admission when your status in CAPS indicates 'Awaiting Result'.
A lot of candidates used 'Awaiting Result' (AR) to complete their 2021 JAMB UTME registration. These candidates are required to upload their O'level result(s) on JAMB portal from an accredited CBT centre to be eligible for admission.
Candidates who uploaded their O'level result during UTME registration are recommended to confirm that their result was accurately uploaded via JAMB CAPS. Ensure the subjects, grades, examination number and other details are correct. If not, they are advised to re-upload the result.
Kindly Follow the steps below to Upload your O'Level Result to your JAMB profile:

Kindly visit an JAMB office or the nearest accredited CBT centre.

Go along with a copy of your O'level result (WAEC/NECO/NABTEB) and your JAMB profile code.

Once at the CBT centre, request for an upload of your O'level result to JAMB portal. The process takes less than 10 minutes.
Has your O'level result been successfully uploaded? Keep reading on how to confirm successful upload of O'level result on JAMB CAPS portal.
For inquiries and assistance on any JAMB related issues, click here to chat with me on WhatsApp.