Don't bite me, char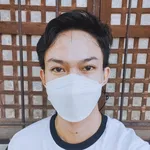 It is not an ordinary day. People are shouting as if they are being chased by frightening creatures. I removed my earphones and I was stuck in the corner of the road. I can't move my feet as if I was frozen. It's cold yet I'm sweating and before a zombie-like creature bites my neck, I closed my eyes.
As I open my eyes, I immediately check my neck but to my surprise, I wasn't bitten. I looked around and I found out I was saved by these group of people whom I never met until today.
"You're lucky, we saw and save you right before the zombie bite you." I must be thankful then. But I feel like one of them doesn't like to have me in their group. He is more frightening than those creatures roaming around and finding their next targets. They're full of blood and some flesh is even scattered. I was about to vomit when the angry boy gestured that he'll kick me out.
What I am thinking about is how it started. If I am not mistaken, I just bought some Yakult in the market and when I go home, it's happening now. I am about to ask the girl who is looking at me when the angry boy went near me and warned me to not get any closer to Athena. Maybe that's her name.
We stopped in front of an old mansion and from there we check the area. Everyone is vigilant. When we are in front of the door already, Jack, the leader of the group, knocks on the door thrice. No one responded so we forcefully opened it.
When the angry boy found the switch, he immediately turned it on. Luckily, there is electricity. But to our surprise, an old zombie suddenly appeared in front of me and almost bite my hand. Thankfully, the angry boy saved me. Before I can say thank you, he told me to pay attention or else he's not going to save me anymore. I felt bad because it seems like I am just pabigat but no, I believe that I'll be the one who will find out the cure.
We looked for food and we are very lucky to see a lot of it inside the fridge. Athena, on the other hand, also shouted there is two shower room on the south. I immediately go there and took a bath because I feel sticky already.
While having a shower, I feel that there is someone watching me. I turned around but I found nothing. I sing a song to subside the fear I have but then I feel a finger touch my shoulder. Frightened, I get the bucket right beside me and put it in the head of the creature. Before I get out, I get the hose and rolled it over his neck, and kick him inside.
I almost forgot to wear a shirt so I went inside the nearest room and locked it immediately and wear something. I was about to get out when I hear some roar which seemed to come from a hungry zombie. I get the shovel beside me and right before it get the chance to come closer to me, I hit it hard to its face. Blood scattered everywhere.
When I finnaly get out from the room, I find jack asking for some help. I saw him together with Rose in one room with Rose's hand being bitten by a hungry zombie. Again, I used the shovel and hit hard the zombie but instead of it, it was Jack's head which I have hit. I feel sorry so I made sure it's going to be the zombie's face which will be hit for the second time around.
However, Rose has already been bitten right before I came to help. Before she turned into zombie she kisses Jack but just after a few seconds, Rose become aggressive and bite Jack's lips. He pushed her so bad and when she attacked, I get Jack's gun on the table and pulled the trigger. Jack is crying but I can't help him. He is also infected now. He said that I will also use the gun to him, but I am not that kind of person. He is still a person, and I can't do it to him. So, I decided to tie his hand and leave him in the room.
While locking the door with, I saw Athena and Angry boy running towards me. They told me to run and so I did. I was advised not to turn my head around but my curiousity told me to look back. There I saw a shambling crowd of zombies chasing us. Too bad, I fell down. But Athena help me stand up. Then I saw my bag so I get it immediately.
There's only three of us now. We run outside and look for the car we used a while ago. But a lot of zombie are roaming outside. Without a warning, angry boy run towards the car and so Athena and I didn't have a choice but to follow. Thankfully, we arrived there safe and sound but we are all catching our breaths.
He turned on the engine while I was trying to catch up some news on my phone. Thankfully, there is a signal. I opened Instabook and I saw posts from other people. Some are frightened, some are crying, some chooses to just jump over the building, some were trapped inside their house, and some like us, are on the road being chased by zombies. Before the battery ran out, I saw a post telling that all survivors should head north.
I told angry boy immediately. While on the road, I can't stop worrying. I don't know if my family is safe or what since I haven't received yet a response from them. I was about to fall asleep when the car suddenly stopped. Unfortunately, we ran out of gas in the middle of the road. Angry boy was so angry and so are we. The nearest gas station is almost half kilometer from us. We have no choice but to get there before the night ends. Athena decided to stay inside the car while angry boy and I will go there in the gas station.
Honestly, I am more frightened to angry boy because he might feed me to a zombie anytime. So I am extra careful. When we have walked a hundred meters already, I feel thirsty. Luckily, I remembered I have Yakult inside my bag. I opened one and right before I can drink it a zombie appeared attacked me. My Yakult fell to the fround and due to adrenaline rush, I kicked its head really hard and it flies. Angry boy told me again to be more vigilant.
When we get there, we saw two galloons of gas. He gets one and I get the other galloon. We are about to leave when a truck came in and two men came out and pointed their gun to us. I hide the galloon I get inside my bag. I thought, they wouldn't noticed it but one of the boys come nearer and he is forcefully getting my bag. At first, I am fighting back but he punched me in my stomach and so I let it go.
On the other hand, Angry boy is fighting back the other guy. The other guy is about to shoot him when a zombie suddenly appeared and bite its neck. While the zombie is busy attacking the guy, the other one is helping its partner. We got the chance to run away. But before that, I get my bag from the hand of the other guy. He tried to shoot me but luckily I only get a graze bullet wound.
We are almost near the car when a group of zombies notice us. Angry boy told me to run and get the car as fast as I can and will just help him later on but I did not follow his order. He may have a boiling blood towards me, I help him fight the zombies. I get a piece of wood and hit the zombies one by one, but more and more zombies are getting our way. But he's too brave. He seemed to sacrifice himslef. He shouted and baited himself to the zombies. A few seconds has passed and I heard him shouted in pain. After that, I didn't hear him anymore. I concluded that he is now being eaten by those zombies.
I told myself I need to fight for these strangers. I won't let their sacrifices go into waste. While running, I saw a zombie which seemed to be a police. I use the wood and hit its head really really bad. I get its gun and continue going in the car. When I am almost near, I hear Athena shouting so I used the gun to make a noise. The zombies go in the other direction and and took the chance to get in the car. My hand hands are shaking while putting in the gasoline. I am about to enter the car when a hand hold my shoulder. I was shocked but before I could punch him, he spoke, and I found out it's angry boy.
"Oh thank God you're alive Jake. I thouht you're dead." Athena said. So his name is Jake. "It's good to know you have surpassed all those zombies back there bro." I said. "It's luck" He said while holding his necklace which seemed to be an agimat.
So we continue heading the north. We are almost in the bridge when I notice that Athena has a wound in her hand. She noticed me that I am looking at it. So she made an alibi. She said it is due to the knife she used yesterday while fighting back a zombie. At first, I belived her because if it was a bite by a zombie, she would have been a zombie now.
I noticed one bottle of yakult below her and so I aksed her if she get a bottle of my yakult yesterday. She smile and said yes. She said sorry but I said it's okay since I still have 10 if I am not mistaken. The other one was the Yakult I would have drinked if not because of a zombie which attacked me. But as I checked it, I found out that there is only two left. The other bottles seemed to fell down sinc I found a hole below my bag. I drink one and save the other for later.
We are almost there when I Jake and Athena started to make weird noise and moves. I feel frightened because it feels ike they are turning into zombie. They told me to run before they could bite me but rght before I opened the door, Athena bite my leg. I closed the door and run towards the soldiers. Thankfully, they are not firing their guns. But then I feel bad because I might turn into a zombie anytime soon. Then I saw hordes of zombies approaching. I drinked the last bottle of Yakult and when I approached the base, I lost my conciousness.
When I woke up, I learned that I am inside a room with other patients. The nurses are smiling at me and saying congrats for finding the cure.
THE END.