Note: Sorry to burst your bubble, this is not about the weed you might be thinking of. :)
This pandemic turned not a few of our friends to be plantitos and plantitas. Our limited mobility and our quest for things that will protect our sanity cause us to venture into activities we may have not thought of before. This includes gardening. Who would have thought that many people will discover that they have a green thumb in them just because they have been quarantined for too long?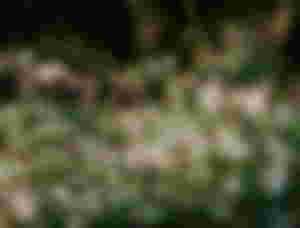 Gardeners and plant-enthusiasts have one thing they hate - perennial weeds. These unwanted visitors spring up in places where they are not wanted. They grow quickly, and produce an abundance of seeds! They intoxicate surrounding plants with the chemicals they produce, and these may also cause bodily harm to humans or animals. They are a nuisance to farmers because they can reduce crop growth or inhibit harvest. 
Weeds are very tenacious! No matter how many times you remove them, they keep on growing. Leave them unattended for long and they'll invade your whole garden or vegetation!
I've read of a prayer saying "Lord, give me the determination and tenacity of a weed". Weeds may be a nuisance in gardening, but we can learn a couple of things from them. 
It's easy to give up and retreat when we are faced with a difficult situation. We apply for work and then we're rejected. We write our first draft and then we receive harsh comments from our editor. We post our first vlog on YouTube but we receive discouraging feedbacks from our first viewers. These seemingly "insurmountable challenges" make us think twice about our life choices. Am I really fit for this? Is this my real calling? 
But we need to realize that it takes determination and tenacity to succeed. Very seldom do people make it in their first attempt. Most of us have to face rejection and failure at some point:
J.K. Rowling's Harry Potter was first rejected by 12 major publishers. Stephen King, on one hand, was rejected by 30 publishers. 

Colonel Sanders, the man behind KFC, was rejected by 1009 people. It was only until he was 65 when his famous fried chicken became a massive hit. 

Walt Disney was fired from the Kansas City Star because his editor felt he "lacked imagination and had no good ideas". It was even reported that during his lowest moments, he survived on dog food and he can't even pay his rent. 
Imagine these famous people giving up. The world would miss best-selling novels, tasty fried chicken, and a major source of entertainment. These people are like weeds - tenacious and determined.
If we fall down once, get back twice. If we get rejected, come back stronger. Consider failures and rejections as pit stops, not final destinations. If you're convinced that you are meant to achieve great things, your tenacity will be put to test. How long will you endure? The size of your dream will determine the size of your effort. If you think your dreams aren't worth it, then your actions and resolve will make it obvious. 
But to a person who believes that they are meant for greater things, tenacity is a lifestyle. Determination is the air they breathe.
Don't hesitate to hit that publish button. 
Don't hesitate to send that resume.
Don't hesitate to post that video, podcast, or graphic design.
Don't hesitate in yourself.
Be like a weed. 
Determined.
Tenacious.
Sources:
https://propertyupdate.com.au/six-famous-people-who-failed-before-succeeding/
https://www.thebalancesmb.com/colonel-sanders-bio-kentucky-fried-chicken-story-1350966
---
I would like to promote my ebooks that you can purchase with BCH! Other payment options are still in process. 
These ebooks are written in Taglish and proceeds will go directly to my wedding fund, yay! My ebooks are worth Php50.00 (~$1.00) but if you get both, you'll get them for just Php90.00 (less than $2.00). Thank you!
---
Hi, I am Marts! Aside from read.cash, I also run my blog - martsvalenzuela.com. I plan on growing my readership while learning to improve my craft and journey towards my passion to write and publish books that add value to people.
Carpe Diem!