It's not the end, I'm just still starting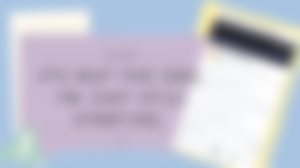 September 11, 2022
The end is drawing near and will undoubtedly take place at some point in the future; either we will all perish or be resurrected from our graves; we have no idea when or how this will take place, but it will undoubtedly be the most terrifying thing that any of us will ever go through.
And I am confident that Noise cash will continue to operate.
So there were rumors floating around that noise cash is going to be discontinued, but I didn't put any stock in those rumors.
Even though some people switch to another platform and leave the noise platform, in the end they will return to the noise platform because they will discover that it is still operational and nothing has changed.
Therefore, I believe that I should be awarded a badge of loyalty in noise cash. Lol.. Since I've become a member of this community, I don't have the courage to leave because doing so would be like betraying your closest friend. I consider noise cash to be a friend with whom I can discuss both the positive and negative aspects of my life.
The "the end is near" noise cash rumor has been going around.
This isn't the first time I've heard this rumor; apparently, it circulated throughout the entire noise cash community, and a lot of people believed it. On the other hand, I never put any stock in those rumors.
Some others remark "No more dollars left" and I almost believed because I didn't much obtain a free gratuity.
Is it profitable
I do not think noise cash that profitable.. And I only want to do this for the sake of my own entertainment and because it will help me pay some of my bills.
And I'm not going to lie, there was a time when I used it as a platform for making money, but not anymore. These days, the main reason I spend time on noise cash is either because I have nothing else to do or because it's an introvert thing that allows me to share anything freely, which is why I've already said that I won't leave noise cash even if it goes out of business.
I have never discussed Noise Cash with my close pal.
Haven't let any of my friends in on the secret for their own good.
I don't want them to see that I'm behaving in an embarrassing manner. Lol.. One of the reasons I don't reveal my my identity on my profile is because of this.
Despite the fact that I do not anticipate meeting any new people here in noise cash or even in read cash,
Not interested in Followers
It's simple: we live in a world in which the wealthy want to become even wealthier, celebrities want more followers, and even average people like me want more people to pay attention to what we have to say.
And from the very first day until I had already reached 50+, I had already focused on the numbers that were increasing as if it were my own personal desire to have as much as I possibly could. But I've decided to chill out for the time being and I'm no longer interested in these numbers.
I dont do spamming
I was able to direct the majority of the people who spammed on noise cash after I found them.
Before I go any further, I just wanted to take a moment to show my appreciation to all of my supporters, including my sponsors, subscribers, upvoters, friends, and readers.

I count it as a great blessing that I was able to find you all; gratitude fills my heart.

You should read some of their work because they are all really good authors.
The noise channel for cash
This is the location where you will always find my posts. I really enjoy it because it gives me the opportunity to talk to people I'm not familiar with. They will leave a thoughtful comment on my post, and when I read their responses, I will find myself smiling.
And in all my years of dealing with noise currency, I've never once done this.
Noise Cash in light mode.
This one will be the last one for this edition, and I literally have never used light mode of noisy currency since it isn't eye friendly and hits hard when turns around from dark to light can't even take it for even a minute, and dark mode is my favorite and will always stay my fave.
The dark mode does not irritate my eyes, makes it simple to see text, and enables me to spend more time in a calm state.
Great news because noise.cash turns into noise. app.. The website or application doesn't completed yet but for the first glimpse of its USER INTERFACE it is a very friendly design, its icons easy to understand on what functions it do.. So I say that noise cash will not be its end but it will exit in its first version and ready to transform into a new look and a new experience. So for those who doesn't transfer its new platforms here is the link: Noise.app
Join me at:
Noise, Read Cash, Hive, Noise.app
Disclaimer:All texts are mine and original, as stated. Any resemblance to other content is entirely coincidental, as is any similarity. Copyright © 2022 JHT — All Rights Reserved